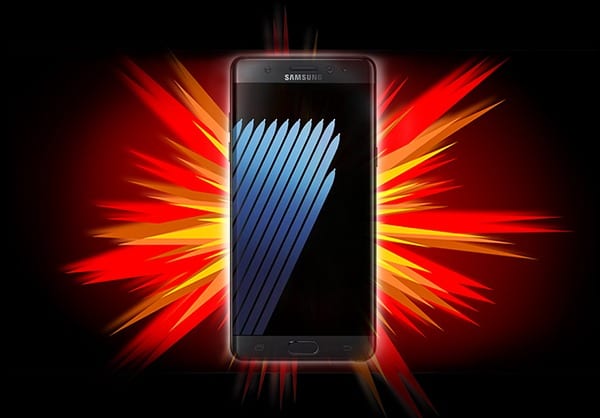 Galaxy Note 7 phones Exploding
As The batteries explode or catch on fire, the company has stated that the best option is to turn the phone off, until the batteries are replaced.  It stated the lithium batteries were overheating and it was working to resolve the issue ASAP.  To date, it has already recalled 2.5 million units
It also said, "Consumers with either an original Galaxy Note 7 or replacement Galaxy Note 7 device should power down and stop using the device."

It's a major setback for the South Korean electronics manufacturer. The company's stock plunged more than 5% Tuesday morning in Seoul.
Article Of the Month
Let's look at another topic besides the Galaxy Note 7 phones Exploding issue.
The masses are always on the wrong side of the markets. They allow fear and paranoia to govern their actions. When an action is controlled by emotion the outcome is always negative.  Hence the solution is to sit down and look at things around calmly. As the main driving force is hot money, all corrections ranging from mild to wild should be viewed as opportunities.
Hope is for fools that have plenty of time on their hands with an inordinate desire for pain, at least as far as investing in the markets go. We do not mean to be harsh, but the stock market is a jungle, only those that adapt live, the rest are cannon fodder.  Thus hoping for change, while doing exactly the same thing you did yesterday amounts to insanity. Central bankers are hell-bent on destroying the value of the dollar and holding cash is not the best way to deal with this threat.
This is why this Bull Market will run much higher than anyone expects; the longer these people worry and ponder over useless facts, the higher this market will run. When these guys finally jump in, the final feeding frenzy stage will be close at hand; after that, we can expect the markets to crash. The Crowd Is Always On The Wrong Side Of The Fence
Random Suggestions for Novice investors
Learn how to invest in the markets and make sure you don't end up at the mercy of some Corporation or government-controlled social security.  Subscribe to our free newsletter to keep abreast of the latest developments; we cover everything from the financial markets to the World's food supplies. Mass Psychology knows no limits, utilised properly it can spot trends in any market, and you can learn how to protect yourself and benefit from these new trends.  Lastly, live one to two levels below your means and put this money to work in the stock market. One thing to remember is that disaster is the code word for opportunity.
Other articles of interest:
Stock Market Earnings Recession Nothing to Fear-Market Still Trending higher (Oct 7)
Fed Directly limiting Market Downside Action-Expect Stock Market rally not Crash (Oct 6)
Dow theory no longer relevant-Better Alternative exists  (Sept 30)
Mass Psychology states Trump win Equals stock market buying opportunity (Sept 29)
Information warfare-brainwashing tricks Government Employs (Sept 28)
Nature created the masses to serve as cannon fodder (Sept 20)
Experts Sell Gilead Sciences-Sentiment Analysis states time to buy (Sept 20)
Gold Bugs: Use worthless Paper to buy Gold for next to free (Sept 13)
Forget Main Stream Media Unless You Love Losing (Sept 6)
Stock Markets & Economy rarely trend in Unison; master this pattern & profit (Sept 3)
Masses hoarding cash & ignoring the Stock Market (Aug 30)
Maestro Greenspan Thinks Rates will Rise Rapidly; dream on (Aug 30)
Crowd Psychology states Uranium Bear Market over (Aug 29)
Economic & psychological warfare Big Money's favourite Weapon (Aug 24)
What's making this stock Market bull So resilient? (Aug 22)
Violence Stupidity & religious intolerance will continue to soar (Aug 22)
Mass Media Turns Bullish: Stock Market Correction likely (Aug 19)
Crowd Control market Manipulation & Pensioners forced to Speculate (Aug 18)
China Following America's lead: Exports Bad Debt Globally (Aug 13)
Crude oil bottom likely to Propel Dow Industrials higher (Aug 12)
Wall Street Journal States that Russia Bombed US-Syrian Base  (Aug 9)
Why won't this cursed Stock market bull market crash (Aug 8)
Investor Anxiety; Rocket Fuel for Unloved Stock Market Bull (Aug 6)
Most Unloved Stock Market Bull Destined To Roar Higher (Aug 5)
Student Debt Crisis Overblown & Due to Stupidity  (Aug 4)