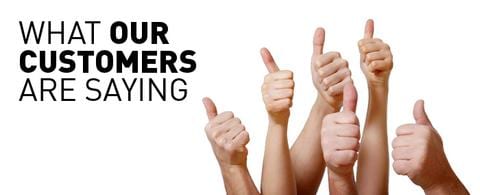 Tactical Investor Testimonials
Testimonials from customers provide a clear illustration of whether one is providing a good or bad service. What separates our testimonials from the rest is not the fancy way they are presented but the fact that the vast majority of them discuss specific events. In many instances, we have published articles on various sites that confirm these events. Furthermore when you join we can provide, back issues of the market update that prove without a doubt that every incident mentioned in these testimonials is valid.

James Lavine London, UK November 26, 2017
Your customer service is excellent. I asked dozens of questions and all of them were dealt with in a timely manner. As for your service the calls are exceptional.

 

Mike Salt London, UK November 2, 2017
Unbelievable - your exact quote from the July 6, 2017 Market update: "Given the resiliency of this market; the Dow could very easily trade to 22K before it trades to 19K" was right on the mark. The Dow is now trading almost at 23K. I will make sure my subscription never expires.

Martin K. London, UK October 16, 2017
I have been with you for almost 15 months and I have always marveled at your great calls, but when you stated the weather was going to go  insane in the Aug 18th market update issue I thought that was a bit over the top. Your exact words were

Erratic behavior will be the new norm. Human emotions and weather patterns tend to go hand in hand; be prepared for extremely wild weather.  

A few weeks later we are hit with hurricanes in the US and earthquakes in Mexico. I am just stunned at this prediction; the volatility and the trend indicator are  amazing tools.

Ramon Monegal Miami, FL October 5, 2017
I can't believe that your call for the Dow to surge to 21k came true and you guys issued these targets in August and Dec of 2016.   The Chart you drew outlining the trajectory for the Dow was perfect.  I thought that was a good call, but then you went on to state that 22K was the next target. Wow, stunning and I held off because I thought the markets were too overbought. Waiting for the next great call.

Chris McNamara New York, NY September 15, 2017
I purchased WBMD stock and options. I got into the stock at around 55 towards the end of July.  7 days later the stock takes off due to the buyout offer. I locked in 21% on my shares but managed to bank almost 200% on the calls I purchased.

Matthew J. Singapore August 30, 2017
Incredible you predicted Dow 21K in advance, based on this call I loaded up on leaps as I thought it would take several months for the dow to trade to the suggested target. Instead, the Dow traded to the target in less than 3 months and I walked away with over 500% in gains.

Randy M. Austin, TX April 28, 2017
I am having a great time; making money and having fun. I love your approach to the markets and your emphasis on avoiding stress. Your sayings are both insightful and humorous; please keep up the excellent work.

Ivo Ferreira Lisbon, Portugal March 18, 2017
Your call that oil would bottom out in Feb 2016 and then trade as high as 60 was almost perfect. I was both stunned and pleased at this call. I used your insights to go long futures and made a small fortune in the process

Jose Carlos Lisbon, Portugal February 14, 2017
I found your site while I was doing some research on market sentiment and trading. I had no idea Mass Psychology was such a dominant force and how easy it is to apply to the markets. Made extra money so can buy some great Christmas presents and take a lovely vacation.

Claudia S. Berlin, Germany December 19, 2016
I have been with you guys for 15 months, and I have never heard any service advising its clients to jump up in joy in advance of a correction.I thought you guys were nuts when you stated we should break out a bottle of champagne and celebrate if the markets pulled back and was shocked to observe that is what you guys did in August of 2015. To my shock, it proved to be the right advice. I thought this was a fluke, but then you did it again before Brexit, you stated that if the markets pulled back, we should jump in and buy. I put this off again to luck, but when you did it again with Trump, I knew you guys were onto something and instead of trying to reason why the markets should crash. I jumped in and opened positions in several of the companies I wanted to buy at a lower price, and boy did the market's rally.  I am sold on Mass Psychology. I have to agree that you are right, the naysayers repeat the same thing each time, and the crowd laps it. Until recently I was part of the crowd, and I am glad that I have finally managed to break free thanks to your guidance.

                                             

Svetlana Abrams New York, NY November 16, 2016
I was highly sceptical that your call on Gold would be right; everyone was stating that Gold was going to take off, but you repeatedly stated you did not expect much from Gold. Instead, you thought the dollar and the Dow would perform better. I am forced to eat my hat ten months later and wished I had moved more money into equities.  Keep up the good work. I have come to respect mass psychology and technical analysis. Until I joined this service, I never knew the two could be combined in such an elegant and powerful manner.

Jimmy H. Hong Kong October 9, 2016
The Trend Indicator and your custom Technical Tools are the most powerful tools I have seen to date. I say powerful because they actually work. I am a subscriber for 6 months and have made enough money to pay for decades of this service.

 

Anthony W. New Zeland September 28, 2016
Perfecto- your call on oil, that's all I can say. I still cannot believe you could predict oil would stop falling in Feb 2016. How did you do that? Muchas Gracias for your excellent service.

Eduardo Molinari Argentina July 2, 2016
Your unusual/incredible call that oil would bottom in Feb 2016 was just stunning. I still can't believe how oil followed the path you laid out in February.  I was initially sceptical, but once oil traded to 35, I decided to jump on board and glad I did. I made a small fortune from this call, not to mention how every call on the Dow you made since Jan has hit the bull's eye. A happy camper.

Stanislav G. Poland March 24, 2016
I thought it was quite insane at first that you were recommending stocks in Russia but as a contrarian, I respected the psychology behind the reasoning. I decided to play along with a small position in Vimpel Communications and walked away with 90% in gains. To say I am sorry that I did not invest more would be an understatement.

Thanks for shocking some sense into me and for helping me put an end to my losing streak.

Garry Adams England January 7, 2016
I do not know how you did but your call that the pullback in August of this year was a buying opportunity proved to be correct.  Had I not forced myself to ignore the fear and follow your suggestions I might have lost a great buying opportunity. I will continue to follow your sound advice as it's based on logic and not fear. I truly appreciate the fact that you denounce fear tactics and try to look at every situation from a balanced angle.

Sergey Mikhaylovich Moscow, Russia September 23, 2015
For the 1st time ever I am having fun investing in stocks. Stress is low, and profits are good. Can't ask for more. Three words: You guys Rock.

Bruce E. Toronto, Canada August 1, 2015
Your repeated bullish outlook on the dollar helped me save a fortune. When President Jakowi came to power in Indonesia in 2013, the rupiah dropped to 11,500, and everyone assumed that it would remain strong. However, you stated that you expected the dollar to continue its journey to new highs. I converted a huge some of my money into dollars and am very glad I did so. Today the exchange rate is close to 13,200. I have managed to make an extra 14% without doing anything.  Keep up the good work. I am waiting for you to issue a bullish call on Gold.      

Robin B. Jakarta, Indonesia June 16, 2015
Your call to start purchasing shares in China from as early as Oct 2013 was fantastic.  What was, even more, impressive is that you reemphasized this in 2014 just before the markets started to run up. Even more impressive was your call to get out almost at the top. Shortly after that, the Markets collapsed.

Bob F. Orlando, FL June 10, 2015
I am very long term subscriber, and your calls keep getting better and better. Your calls for Gold Top, Yen Top, and Euro Top and Dollar bottom in 2011 were fantastic. The money I have made on these calls alone will pay for 100 years plus of this service.  Your continued calls to use dollar pullbacks to open long positions, to avoid getting into Gold and to go long the Ruble when it crashed in 2014 were simply astounding. As per your suggestions, I started opening positions in Chinese stocks in Aug 2013 and then more aggressively in 2014 when you turned more bullish. I have made more than 100% on some of these positions. I loved your call to go long VIP and YNDX (Russian stocks) in 2015. In a few months, I locked in over a 100% gain on VIP. Keep up the good work.

Murat Yavuz Istanbul, Turkey May 30, 2015
I love the trend indicator; it makes investing so easy. 

Philip Davis Washington, US May 22, 2015
I joined in 2013 and followed your advice based on your trend indicator. When the trend indicator was bullish as per your advice, I opened long positions every time the markets tanked. I have made enough money in the last 1 1/2 years that the subscription price seems negligible.

Ali M. New York City, NY May 20, 2015
I joined in December 2014, and since then I have taken your advice to short the Euro, go long the dollar and while you did not advocate shorting Gold; you did state that you expected it to head lower.  I used this information to short Gold stocks and Gold via the futures market.   Cannot thank you enough.

Lisa Tompson Dallas, TX May 16, 2015
The trend indicator is the most explosive tool I have ever seen. Forget Fibonacci, Gann, and other Technical tools.  This indicator is the real deal.   

Marco Wilson New York City, NY April 12, 2015
I only joined in 2014, but I have made more money than I can remember for a long time.   While your service is not orientated towards futures, the information provided was more than enough for me to use it in my future's trading.

 

Richard C. Austin, TX April 3, 2015
To Sol and crew; thanks for the great work and for helping keep the small guy on the right side of the markets.  I converted a large portion of our family holdings from Euro to dollars in 2011 and continued to do whenever the dollar pulled back.  I cannot believe how much the Euro has dropped and how much money we made.  I also opened positions in HNP, FXI, VIP, MBT, when you recommended going long the Chinese and Russian markets, and I continued to average down as the markets dropped lower.  The gains I have made will cover a subscription for me and for several friends for decades to come.

John M. Manchester, UK March 25, 2015
Your call on the markets trending to new highs was excellent. Since Jan 2015, I have been opening up long positions every time the markets pulled back and your trend indicator remained in the bullish zone.  That indicator is incredible.

Ali W. New York City, NY March 15, 2015
Since 2011, I have followed your advice to remain out of Gold.  I was fully invested in Gold and had I not run into you; I would have lost a considerable sum of money. Instead, I closed out most of my positions in Gold and moved the money into US dollar-denominated investments. I am very happy with the results. Thank you very much for the great work.

Nihat A. Ankara, Turkey March 5, 2015
In one word, you guys are fantastic.  

Luis Silva Rio, Brazil February 23, 2015
I have either lost or barely broke even for the past ten years; 2014 was the first year I walked away with a sizeable profit.  2015 is already off to a good start.

Mitch Hill Chicago, IL February 16, 2015
You saved us a significant amount of money when you advised subscribers to get out of Gold and Silver in 2011. I am now accumulating positions in Silver and Gold, but I am waiting for you to issue a buy before opening new positions aggressively. In the meantime, I have made steady gains following your insider plays and trend plays.  Your proprietary indices are incredible and your call stating that the weather would turn more extreme in 2013, and your continued insistence that it would worsen in 2014, and 2015 are spot on.  The weather in New York, Florida, and Vermont has been anything but normal.

George G. New York City, NY February 10, 2015
Your V indicator, Religious provocation Index and Trend indicator are simply stunning. How you predicted the weather would turn wild is beyond me.  

Ronald Jonson Orlando, FL February 3, 2015
Investing has become fun again and not to mention profitable too.

Vanessa Indianapolis, IN January 25, 2015
When you stated things would get worse in Ukraine, I immediately changed as much Hryvnia into dollars as possible. Now almost 12 months later, I can say I am glad I listened to you. The Hryvnia literally collapsed.   I also postponed the purchase of an apartment. I am very happy that I did; real estate prices have collapsed more than 50% in my area. 

Larissa  K. Odessa, Ukraine January 22, 2015
Keep up the spectacular work.  

Dina M. Kuala Lumpur, Malaysia January 20, 2015
Every time your Trend indicator turned bullish on the Dow and SPX. I purchased options and in just one year I am quite happy with the results and the balances in my account.   The trend indicator is spectacular. 

Miguel V. Singapore ,Singapore January 11, 2015
The trend indicator seems almost magical; since I joined, I have not seen it miss a single call.  

Jack White New York City, NY December 20, 2014
While everyone was expecting bonds to collapse, you stated the opposite would occur.

Marlon G. Austin, TX December 8, 2014
It's great to finally run into someone who tells it like it is as opposed to whitewashing everything.

Simon S. London, UK November 15, 2014
Never before, have I had so much fun investing. I also admire your humor and insights into the markets and human nature.

Laura Brown London, UK October 10, 2014
How did you guys come up with the trend indicator? I have never seen anything like it. It has been spot on since I joined. Keep up the good world old boy. 

Philip N. Indianapolis, IN September 5, 2014
Your insights into the masses and mass mindset is truly extraordinary.

Collin W. Orlando, FL August 15, 2014
We receive hundreds of testimonials from subscribers so what you see below is just a small reflection of all the testimonials received. As time permits we will add more.
Disclaimer
The Tactical Investor reserves the right to edit, shorten, correct spelling mistakes, or grammar.  We will make every attempt to keep the content of the message as close to the original as possible. If you feel that the testimonial no longer reflects the original message, please inform us, and we will make the appropriate changes.