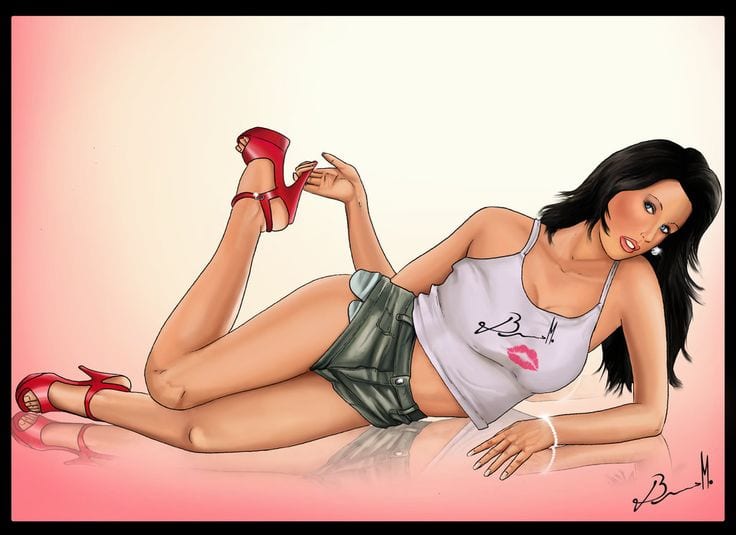 World's only Adult index predicts rise in sexual immorality and Criminal Behaviour
From 2005 to 2006, the index moved from 201-330, today it stands at 4150.  This index also has an uncanny record of predicting the moral decline of society.  It has only experienced two minor pullbacks, as noted above, but it continues to soar to new highs on a yearly basis.  This index tells us that we have reached the point where human life is nothing more than data entered into a computer database.  The individual no longer matters; the end game is profit and whatever has to be done will be done to achieve this.  This applies not only to corporations but also to most individuals.  If you have a good friend or are lucky to have several, treat them like Gold, for they are more precious and rarer than Gold.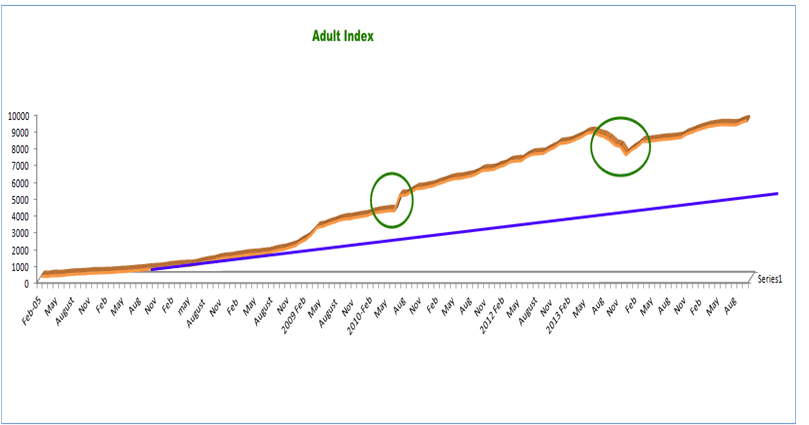 Most Bread in the US contains a cancer-causing compound
A new story appeared stating that most bread in the U.S. contained cancer-causing compound; such news will sound like good news compared to the other stories that will hit the media in the months and years to come both in the U.S and in many parts of Europe.  However, the worst scandals will most probably be reserved for the U.S. Be very careful where you eat, when you eat outside. Buy only products that contain ingredients you can pronounce and most importantly, something simple as bread should not have more than three ingredients. If it does, the rubbish bin is a better place for it than your stomach.
Also, expect the oldest profession to gather steam. Soon it is going to be considered a commodity. They banned craigslist, but back page took its place and back page makes the old adult section on Craigslist seem like child's play.  Get ready for the new marriage contract, lease with option to buy or reject. Sounds funny, but we are not too far away from this age.
Some food for thought
Many might ask why we cover political, health issues, etc when our primary focus is on the stock market and the financial arena.  The short and straightforward answer is that all these fields are connected; we do not have free market forces anymore. All the information today is manipulated; from the food, you eat to data you are provided.  If you are aware of this, you can plan accordingly.
Identifying the problem is over 80% of the solution, and this is why most people do not know what to do because they do not understand the problem.  We are one of the few Financial outlets (if not the only one) that cover such a wide array of topics that on the surface appear to be unrelated but are in fact, deeply interwoven.  Mass psychology is a very powerful tool, and if employed correctly can help you spot the abnormal levels of manipulation, the masses are subjected to. We firmly suggest that you view or read or view Plato's allegory of the cave.
Other articles of interest:
Turkey shot down a Russian Drone  (Oct 27)
Russia, Syria and the Religious war  (Oct 27)
stocks and bonds will not crash in 2015  (Oct 25)
It's not time to sell the DAX (oct 22)
The Dow is getting ready to Soar  (Oct 21)
why its time to investing in banking stocks (oct 18)
Ignore the Yield Curve- bank stocks are a bargain (Oc 16)
Dr. Copper back from the dead; time to buy or blink (Oct 7)
China's Stock Market Crash; time for panic or restraint  (Oct 2)
Gold prices set to jump in 2015? (Sept 22)
Market Sell off; is it time to panic  (Sept 12)
Forever Quantitative easing continues unabated  (Sept 10)
Currency wars detonate (Aug 27)
The Gold Bull is Dead (Aug 21)
Currency wars intensify (Aug 20)
Contrarian investing Guidelines for beginners  (August 14)
Market Shenanigans (July 30)
Random Musings; Central Bankers recreating reality (June 10)
Free Markets no longer exist (June 2, 2015)