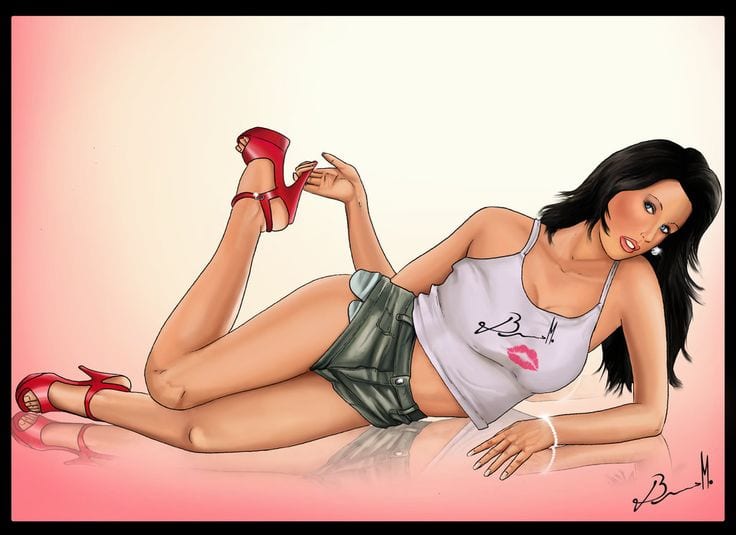 Sexual Immorality On The Rise
From 2005 to 2006, the index moved from 201-330, a tiny bump compared to the current reading which is in excess of 9000.  This massive surge suggests that what was considered immoral in the late '90s to early 2000s, is today seen by the majority as almost normal behaviour.  This trend is showing no signs of weakening so, immoral behavioural on all fronts is going to soar.
This index also has an uncanny record of predicting the moral decline of society.  It has only experienced two minor pullbacks, as noted above, but it continues to soar to new highs on a yearly basis.  This index tells us that we have reached the point where human life is nothing more than data entered into a computer database.  The individual no longer matters; the end game is profit and whatever has to be done will be done to achieve this.  This applies not only to corporations but also to most individuals.  If you have a good friend or are lucky to have several, treat them like Gold, for they are more precious and rarer than Gold.
Sexual Immorality Is Not The Only Problem
A new story appeared stating that most breads in the U.S. contained cancer-causing compound; such news will sound like good news compared to the other stories that will hit the media in the months and years to come both in the U.S and in many parts of Europe.  However, the worst scandals will most probably be reserved for the U.S. Be very careful where you eat, when you eat outside. Buy only products that contain ingredients you can pronounce and most importantly, something simple as bread should not have more than three ingredients. If it does, the rubbish bin is a better place for it than your stomach.
Also, expect the oldest profession to gather steam. Soon it is going to be considered a commodity. They banned craigslist, but backpage.com took its place and back page makes the old adult section on Craigslist seem like child's play.  Now Backpage.com is down, there are a host of other sites that have come into to fill the void. Prohibition proved that making something illegal only increased the demand for it and vice versa
Sexual Immorality and Marriage Contracts
Get ready for the new marriage contract, lease with an option to buy or reject. Sounds funny, but we are not too far away from this age.
Millennials are saying no to traditional marriage in record numbers…and that's not all. In Western culture in the late 18th century, marriage transformed from an economic arrangement into a union based on love. Now it may again be heading toward radical change.
The median age at first marriage is now 27 for women and 29 for men — up from 20 for women and 23 for men in 1960.

That fewer millennials are choosing to marry is also a reflection of modern social attitudes that reject the institution as outdated. It's time to embrace new ideas about romance and family — and acknowledge the end of traditional marriage as society's highest ideal, according to Kate Bolick, author of the 2011 Atlantic cover story, "All the Single Ladies," which sparked a national conversation.
Just recently, a popular comedian, Sarah Silverman tweeted,
"Why would I want the govt involved in my love life? Ew. It's barbaric."
Public disenchantment with marriage is reflected in national surveys. Half of the American adults believe society is just as well off if people have priorities other than marriage and children, according to the recent Pew report.
And opinions on this issue differ sharply by age — with young adults much more likely than older adults to say society is just as well off if people have priorities other than marriage and children. Fully two-thirds of those ages 18 to 29 (67 per cent) express this viewpoint, as do 53 per cent of those ages 30 to 49. Among those ages 50 and older, most (55 per cent) say society is better off if people make marriage and children a priority, Pew found. Full Story
Wedlease or short term Marriage contracts
According to some legal and economic experts, short-term marriage contracts — or "wedleases," as one lawyer puts it — should be another option for couples, alongside traditional lifelong marriage. Divorce rates are rising, they argue, so why not make splitting up a little easier?
"When you have this short-term marriage, you get a fresh start again," says France-based economist Stefania Marcassa, who has written about the economics of short-term marriage contracts. It's an area that has surprisingly received little interest so far, she says.
But throughout history, people have tossed around similar concepts. British philosopher Jeremy Bentham wrote about short-term marriages in the late 1700s, and politicians in a few regions — including Germany and Mexico City — have proposed short-term marriages, for two years and seven years, respectively.
"My view is that, economically, it would make sense to have other forms of marriage contracts," says Marcassa, an assistant professor of economics at Université de Cergy-Pontoise.

"In many countries, the cost of divorce is pretty high," Marcassa continues, adding, "Why do you have to waste money, if you can just decide to write it up before you get married?"

In Canada, around 70,000 people get divorced every year, according to the latest Statistics Canada data. Full Story
The 'Wedding Lease'; Game Changer or Rubbish
Mr Rampell an attorney from Palm beach, states "wedleases" could work.  The idea would be for both spouses to choose a time frame ranging from 1 to 10 years or anything in between or out of that range.
Once the lease expires the couple can opt to renew or move on.
"Anyone who's signed a legally binding prenuptial or, as they're called in some states, postnuptial agreements, knows the legality of the document is usually tested in a court," she says. "In other words, not all agreements that are intended to be legally binding and are drafted and overseen by attorneys, are. Prenups are overturned regularly by courts and found to be not binding or unenforceable."

"As for the intention of wedleases, they're ridiculous because they basically let you off the hook for commitment," she says. "Anyone care to comment on the damage done to people — including children born during the wedlease agreement term?"
John Olivieri, from the law  firm White & Case, thinks that marriage leases if structured properly could work
"The agreement could be worded such that, if the parties divorce within a given period of time, they each keep their own assets and/or do not owe each other alimony," he says. "Legally, such an agreement could work out."

"But there are always complications, especially when there are children," he adds. "It would be hard if not impossible to contract out of all the problems that arise with custody and child support, for example. All these agreements may offer is the false promise of an early divorce."  Full Story
Some food for thought
Many might ask why we cover political, health issues, etc when our primary focus is on the stock market and the financial arena.  The short and straightforward answer is that all these fields are connected; we do not have free market forces anymore. All the information today is manipulated; from the food, you eat to data you are provided.  If you are aware of this, you can plan accordingly.
Identifying the problem is over 80% of the solution, and this is why most people do not know what to do because they do not understand the problem.  We are one of the few Financial outlets (if not the only one) that cover such a wide array of topics that on the surface appear to be unrelated but are in fact, deeply interwoven.  Mass psychology is a very powerful tool, and if employed correctly can help you spot the abnormal levels of manipulation, the masses are subjected to. We firmly suggest that you view or read or view Plato's allegory of the cave.
Other articles of interest:
Define Fiat Money: The USD Is A Great Example        (Aug 13)
Deflation Economics: The Art of Twisting Data     (Aug 12)
BTC vs Gold: The Clear Winner Is …     (Aug 11)
Cash is king during Coronavirus Pandemic Based Sell off   (Aug 10)
Russell 2000: Great Buy Signal In the making    (Aug 9)
Strong buy stocks: Use the sell-off to load up on Top Companies       (Aug 8)
Best Chinese Stocks: Focus on America Instead of China       (Aug 7)
Strange Weather Pattern's Set to Plague the Planet  (Aug 7)
American power: The War Against China    (Aug 5)
Strong Buy Stocks: Focus on The Trend & Not the Fear Factor  (July 20)
Smart Money Acting Like Dumb Money   (July 27)
Market Crash 2020 Or Is This A Manufactured Crisis?    (July 3)
The Future Of AI  (July 1)
Dollar Strength Or Dollar Crash  (June 28)
The Angry Mob & The New Polarised World     (June 16)
References
What is sexual immortality, Gotquestions.org, https://www.gotquestions.org/sexual-immorality.html
Sexual immorality on the rise, The Telegraph, https://www.thetelegram.com/opinion/local-perspectives/letter-sexual-immorality-on-the-rise-137579/
Sexual morality increasingly acceptable, answeringeneis.org, https://answersingenesis.org/morality/sexual-immorality-increasingly-acceptable-unless-adultery/
Why sexual morality is on the rise, Standard media, https://www.standardmedia.co.ke/article/2000173169/why-sexual-immorality-is-on-the-rise-in-our-institutions
Americans acceptance of sexual morality growing, Christian monitor, https://www.christianpost.com/news/americans-acceptance-of-wide-range-of-sexual-immorality-growing-gallup-finds.html
America's moral meltdown, tomorrowsworld.org, https://www.tomorrowsworld.org/magazines/2006/july-august/americas-moral-meltdown