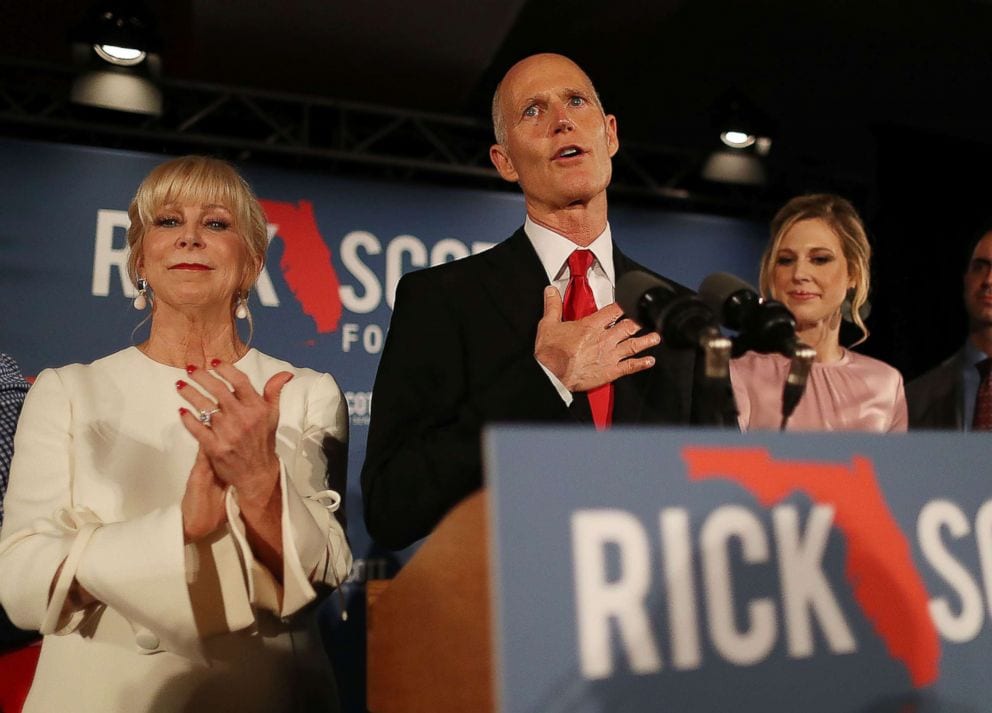 Florida Republican Won Messy Senate Recount
Florida Gov. Rick Scott has won the close and tense Florida race for US Senate over the incumbent, Sen. Bill Nelson, after a hand recount ended on Sunday.
The state is slated to certify the results on Tuesday, putting to bed a messy post-election dispute involving a dozen lawsuits, claims of fraud, allegations of disenfranchisement, and rowdy protests.
The official results Sunday put Scott, a Republican, up 50.05% to 49.93% over Nelson, a Democrat. That represents a difference of about 10,000 votes in a race where well over 8 million people voted.
"Public office is a public trust," Nelson said in a taped concession statement aired on television Sunday afternoon, "but I was not victorious in this race."
Well, things turned out a little differently than we had hoped, but I by no means feel defeated. That's because I've had the privilege of serving the people of Florida for most of my life. It's been a rewarding journey and a very humbling experience. No one could be more blessed. pic.twitter.com/aGIf5nFcyZ

— Nelson for U.S. Senate (@NelsonForSenate) November 18, 2018
Scott's campaign announced just a little before that Nelson had called to concede the race.
"I just spoke with Senator Bill Nelson, who graciously conceded, and I thanked him for his years of public service," Scott said in a statement.
Broward County Supervisor of Elections Brenda Snipes, who has been targeted for criticism over how she's handled the election, gathered with her staff shortly before Sunday's deadline in the elections supervisor's voting equipment warehouse, where the machine and manual recounts took place over the past week. Full Story
Other stories of interest
A clear illustration of why we often refer to experts as jackasses  (Nov 15)
BIIB stock Price: Is it time to buy
Dow theory no longer relevant-Better Alternative exists
In 1929 the stock market crashed because of
Stock market crashes timelines