IBM Stock Price Today; Irrelevant Question
The focus should be on whether its a good time to get into IBM or not. In a nutshell, the answer would have to be yes?  The stock has been consolidating for a long time, the stock market has crashed or at least that's what the Naysayers would have you believe and investor sentiment is decidedly negative.
The Two images below illustrate how Market sentiment suddenly changed.  From Dec of 2017, the bullish sentiment was rising and in Jan 2018 it really took off. In fact, at one point, we thought that there was a good chance that the markets could experience a massive selloff, but then after a small sell-off and a lot of yo-yo type action, market sentiment took a turn for the worse and that was good news
Ideally, the anxiety gauge moves to the Hysteria zone and Bullish sentiment drops below the 20% mark. However, we have to state that things are moving in the right direction and massive crash or is now a low probability event.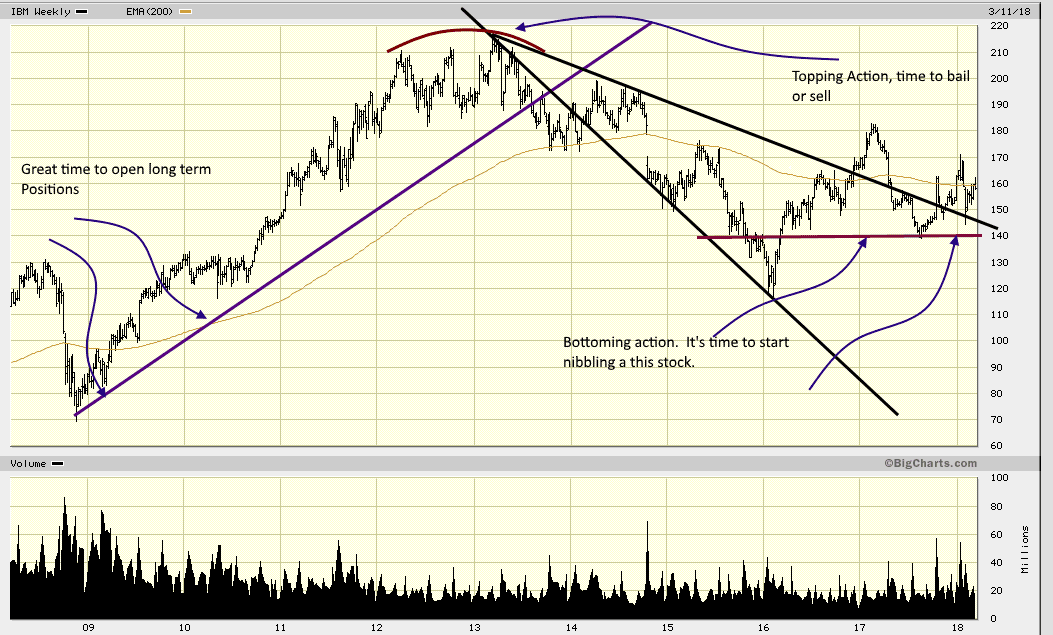 Once again forget about the IBM Stock Price Today disease and instead understand that IBM has been consolidating since 2013 and it has currently found support in the 140 ranges; as long as it does not close below $140 on a monthly basis the outlook will remain neutral with a bullish bias.   A monthly close above 180 will turn the outlook to bullish and signal that the story is ready to challenge its old highs.
The stock is now trading in the extremely oversold ranges and the sentiment is decidedly negative. Even Buffett sold a 1/3rd of his position in IBM so from a contrarian perspective all the factors are lining up to make it a great long-term buy.  Astute investors can consider deploying money into IBM; start with nibbles instead of taking massive bites.  And never put all your eggs in one basket.
Tactical Investor Aug 2019 IBM Stock Update
IBM has rallied 40% from its lows of the year; that's a positive development as it indicates the worst is behind this stock.  IBM needs to close above 155 on a monthly basis to indicate its ready to rally significantly higher. If it manages to do this, it will be in a position to at least test the 180 ranges with a strong chart of overshooting as high as 210.00.  From a long term perspective IBM Is one of the key players in the AI sector and thus it makes sense to have a certain amount of capital deployed into this stock. The future belong to AI, the question comes down to just how much of a our future will AI control.
Other Articles of Interest
Is the Bitcoin Bull Market dead or just taking a breather? (Mar 8)
Is this the end for Bitcoin or is this a buying opportunity? (Jan 24)
Stock Market Insanity Trend is Gathering Momentum   (Jan 10)
Is value investing Dead   (Jan 9)
Irrational markets and Foolish Investor: perfect recipe for disaster   (Jan 5)
Stock market Crash Myths and Realities  (Jan 3)
Bull-Bear Markets & Arrogance   (Jan 1)
Will The Stock Market Crash In 2018  (Dec 11)
Has US Dollar Finally Hit Bottom    (Dec 6)
BitCoin Has Done What Precious Metals Never Could  (Dec 4)
Experts Making Stock Market Crash Forecasts usually know nothing  (Nov 17)
1987 stock market crash anniversary discussions- nothing but rubbish ( Oct 24)
Dow 22K Predicted In July 2017; Next Target Dow 30k? (Oct 15)
Anxiety and Greed Index Don't Support Stock Market Crash  (Oct 14)
Fed States Inflation is not an issue?  (Oct 13)
Is Bitcoin a Bubble or Good Investment?  (Oct 9)
Stock market crash; best time to buy stocks   (Oct 6)