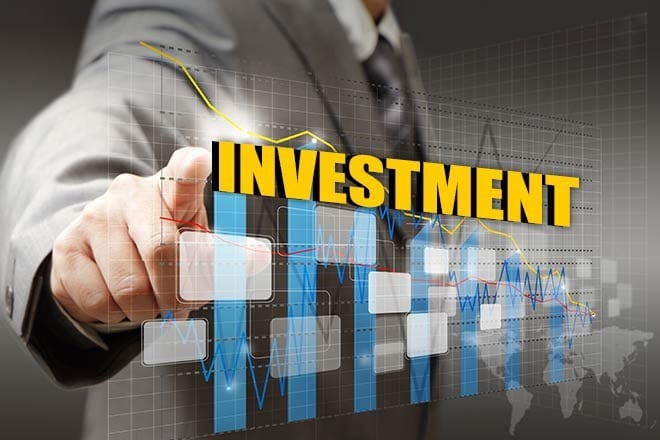 The ideal time to Buy Good Stocks
The perfect setup does not occur often and when it does one needs to embrace it with gusto regardless of the terrifying picture the experts and mass media outlets will go out of their way to paint.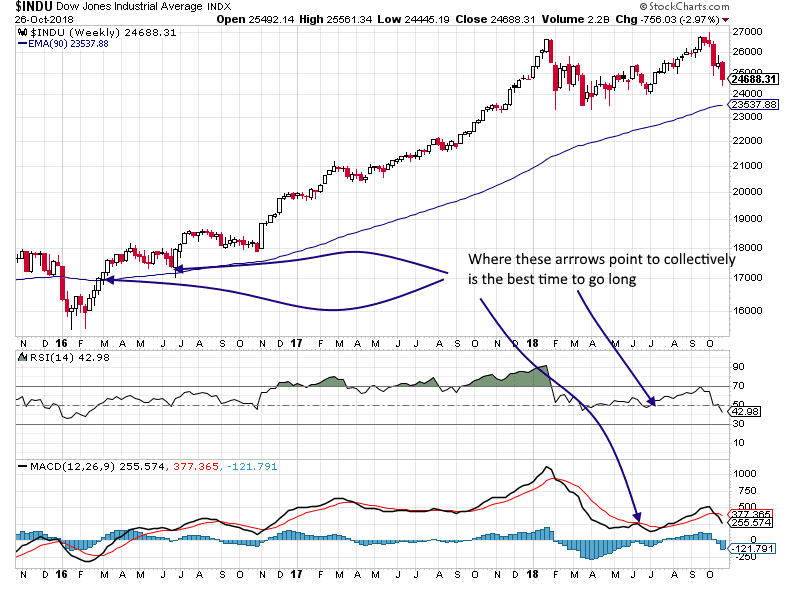 Follow the blue arrows as that is what this narrative is based on:
The chart above is of the Dow. The best time to get in is when it is testing its 90SMA or trading slightly below it (as you can see this does not occur often) and when the MACD's and RSIA are trading in the extreme to insanely oversold ranges as indicated in the above charts.  The Trend should be positive and as an added bonus the masses should be nervous, and that's what took place in Nov of 2015 and early in 2016.
While this is the best time to buy a good stock, there are opportune moments in between otherwise we would not have found plays such as VIPS, EDUC, CRON, etc. that yielded gains as high as 110%.
Other Factors to Keep In Mind Before Getting Into Good Stocks
The best plan when it comes to investing is to keep it simple but have the discipline to stick to something that works regardless of the time factor; patience is a virtue that pays very well.   One of the best time to buy stocks is when the masses are panicking; case and point, when the stock is crashing.  When the stock market is crashing you will see the above pattern more often and you will see this pattern in manifest itself in some of the top names.
Therefore when the markets start to crash and the experts start to preach their sermons of doom, instead of joining the crowd and heading for the next cliff, start looking for top candidates. Ideally,  one should have created a list of stocks one would love to own well in advance of any market correction. The early bird gets the worm the late bird gets the bullet.
The best time to buy Good Stocks according to Investopedia
First thing in the morning, market volumes and prices can go wild. The opening hours represent the window in which the market factors in all of the news releases since the previous closing bell, which contributes to price volatility. A skilled trader may be able to recognize the appropriate patterns and make a quick profit, but a less skilled trader could suffer serious losses as a result. So if you're a novice, you may want to avoid trading during these volatile hours – or at least, within the first hour.
However, for seasoned day traders, that first 15 minutes following the opening bell is prime time, usually offering some of the biggest trades of the day on the initial trends. The whole 9:30 to 10:30 AM period is often one of the best hours of the day for day trading, offering the biggest moves in the shortest amount of time (a great and efficient combination). Extend it out to 11:30 AM EST if you want another hour of trading. A lot of professional day traders stop trading around then, as that is when volatility and volume tend to taper off. Once that happens, trades take longer and moves are smaller with less volume. Full Story
Other stories of Interest
Trade is not that Important to America as it's a closed Economy  (Aug 3)
US dollar index chart Bullish: Dollar Expected to trend higher in 2018  (Aug 2)
Ron Paul- Biggest Stock Market Bubble in History  (July 20)
Stock Market Bull 2018 Still In Play; Buy The Dip (July 15)
Stock Market Crash 2018 Revisited  (July 12)
Uranium Bull Market 2018; The Crowd psychology Outlook   Updated (July 2018)
Stock Market 2018 Playbook; Follow The Trend (June 29)
Bear Market Fears-are they overblown? (May 28)
Stock Market Crash: Imminent or does this Stock Market Bull still have legs? (Apr 25)
Good Time To Buy IBM or Should You Wait? (Mar 15)
Is the Bitcoin Bull Market dead or just taking a breather? (Mar 8)
Is this the end for Bitcoin or is this a buying opportunity? (Jan 24)