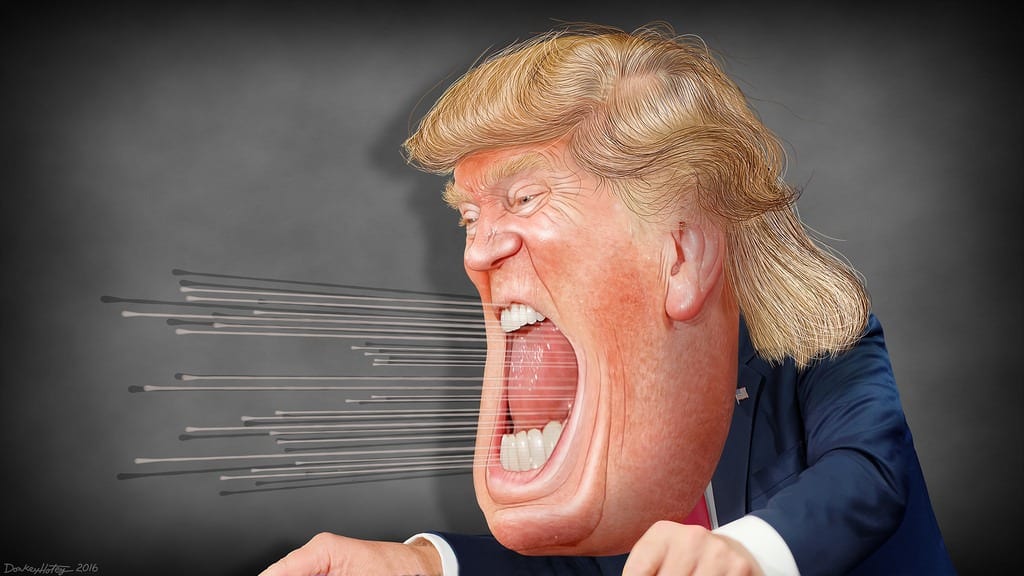 Trump Trumps Clinton in Third Debate
In The third debate, Trump apparently came standing on top; Clinton repeated the same robotic text that made anyone who listened to it want to throw up. To top it up she had the goofy, silly smile all over her face and unfortunately, she smiled exactly at times when she should have been serious, clearly illustrating to the American people that she thinks she is above them. A four-star general could face prison time for one lie, while she has told thousands and deleted emails she was not supposed to and yet she is running for president. She had no defence when she was confronted with this.
Washington post Jumps on the Trump Bandwagon 
Washington post which has not supported Trump at all, went out of its way to state that they thought Trump won the third debate.
Donald Trump won tonight's debate. He didn't implode; he didn't blither, he didn't continually interrupt Hillary Clinton, and he didn't even sniff much. And, frankly, he had the best retorts and one-liners. Clinton was on her heels much of the night, and several times, she had to reset by resorting to tired, hollow platitudes — which only drove home the point that she lacks authenticity and appears to be a typical politician who is, therefore, dishonest. That said, Clinton was an able, informed politician, but Trump — for the first time — appeared to be a worthy opponent.
The Washington Post was also not too king to Hillary. She sounded like a slick snake-oil salesman, one that gives most that queasy filling. You want to get out of the place ASAP, for if you don't move the person will talk you to death in the hopes of making a sale.
Clinton, on the other hand, was overprepared and over-rehearsed. As a result, she missed the bull's eye during much of the night. Clinton's forced smiles during some of Trump's most effective lines, while probably the best she could do, did not fit the moment
Trump Trumps Clinton in Third Debate according to Online Polls
The drudge report shows that 84% of individuals thought Trump won the debate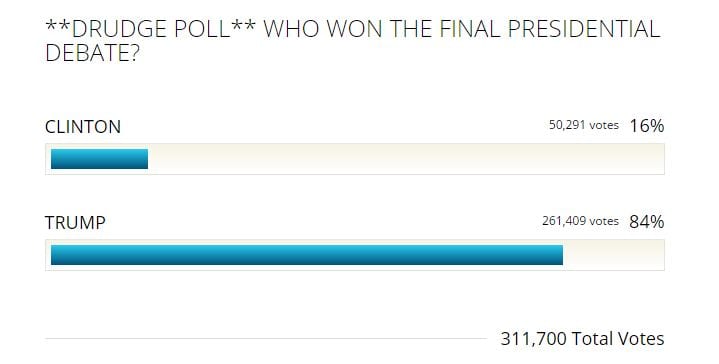 Source:Drudge Report
Pollster Frank Lutz stated that 14 members of his focus group thought Trump won the debate


Here are some random tweets from undecided voters who sided with Trump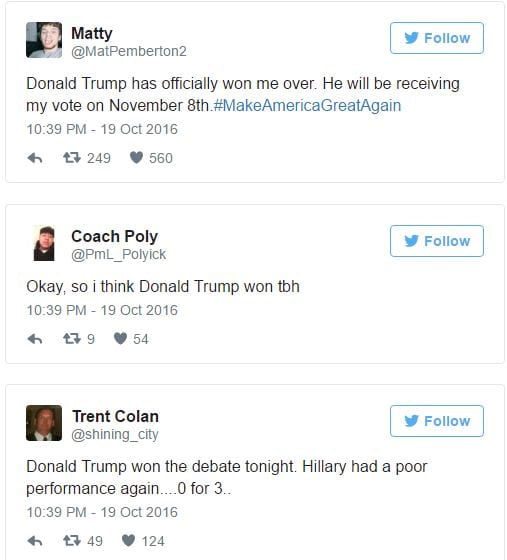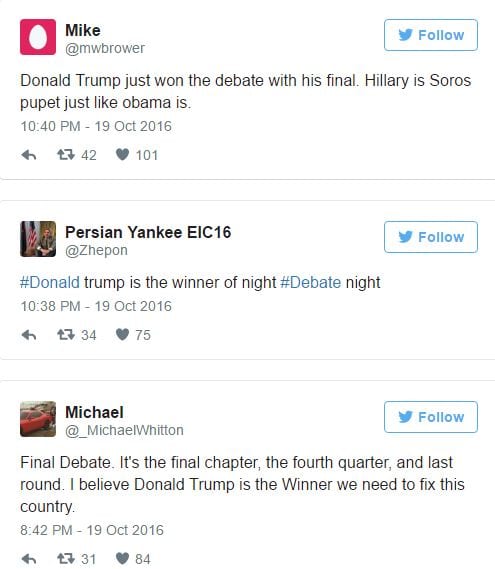 Now watch what a Trump wins means for the stock market
Other Articles of Interest
Italy's black economy-including Mafia-worth 13 percent of GDP (Oct 18)
China targets Muslim parents with religion rules in Xinjiang (Oct 12)
The American Way (Oct 12)
Consensus- Trump wins debate- media lose along with Hillary (Oct 12)
Sophie Gregoire-Trudeau to open TSX on Tuesday to mark International Day of the Girl (Oct 12)
Samsung says Galaxy Note 7 phones should be turned off (Oct 12)
As Hurricane Matthew moves out Zika could move in  (Oct 12)
Hurricane Hillary-Tornado Trump (Oct 12)
Trump-Hillary Should be in Jail (Oct 12)
Debate Check II-Seven Hillary Lies Debunked (Oct 12)
Scott Brown former senator-calls Donald Trump jail quip a Home Run (Oct 10)
Feds spend another 10 million to register immigrant voters (Oct 5)
Major network anchor targeted by left (Oct 3)