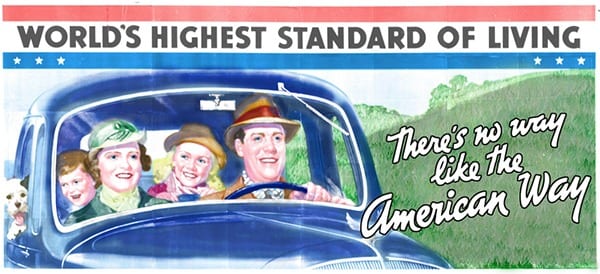 The American Way and Supermen
Superman is appalled by the FBI's abusive treatment of General Michael Flynn. Way back in 1952, when television was just beginning to influence the world, a show based on the comic book hero Superman debuted. George Reeves was the star and the program lasted six years – it is etched into the memories of many baby boomers.
At the beginning of each episode, a narrator would tell viewers that the Super guy was in business to promote "truth, justice, and the American way."
So, now, the truth and justice thing is under siege because the nation's most powerful law enforcement agency, the FBI, launched a corrupt investigation designed to damage President Donald Trump by linking him to Russia during the campaign of 2016.
There is no longer any doubt about the FBI's outrageous behavior. Last week the Justice Department dropped its prosecution of former Trump national security advisor General Michael Flynn. The DOJ did this after hand-written notes from an FBI investigator became public indicating the Bureau was discussing trying to entrap Flynn into a "lying to the FBI" crime.
Agents succeeded, and the General pleaded guilty. Some believe he did that because the FBI threatened to prosecute his son who worked with his father on overseas projects. That remains to be proven.
Subsequently, General Flynn withdrew with his guilty plea. Billoreilly
If the above video was not bad enough, then the following video and subsequent article should show you just how controlled your life is and how little say you have. Corporations are being allowed to whatever they want; they can poison people, the food supply or even the water supply with hardly any fear of being seriously prosecuted. what happens is that they usually get slapped with a fine after stating that they will not admit to any wrongdoing.   The fine is so minuscule in nature that the wrong deed is enough to cover another ten incidents. Do you think they are going to stop; the short answer is "Hell no"
The American Way and George Floyd
Since the beginning of this country, riots and violent rhetoric have been markers of patriotism. When our Founding Fathers fought for independence, violence was the clarion call. Phrases such as "Live free or die," "Give me liberty or give me death," and "Rebellion to tyrants is obedience to God" echoed throughout the nation, and continue today. Force and violence have always been used as weapons to defend liberty, because—as John Adams once said in reference to the colonists' treatment by the British—"We won't be their Negroes."
Black rebellion and protest, though, have historically never been coupled with allegiance to American democracy. Today, peaceful demonstrations and violent riots alike have erupted across the country in response to police brutality and the killings of George Floyd, Breonna Taylor, and Ahmaud Arbery. Yet the language used to refer to protesters has included looters, thugs, and even claims that they are un-American. The philosophy of force and violence to obtain freedom has long been employed by white people and explicitly denied to black Americans. Theatlantic
What Is the American Dream?
The American Dream is the belief that anyone, regardless of where they were born or what class they were born into, can attain their own version of success in a society where upward mobility is possible for everyone. The American Dream is achieved through sacrifice, risk-taking, and hard work, rather than by chance.
Understanding the American Dream
The term was coined by writer and historian James Truslow Adams in his best-selling 1931 book "Epic of America."1 He described it as "that dream of a land in which life should be better and richer and fuller for everyone, with opportunity for each according to ability or achievement."
Adams went on to explain, "It is a difficult dream for the European upper classes to interpret adequately, and too many of us ourselves have grown weary and mistrustful of it. It is not a dream of motor cars and high wages merely, but a dream of social order in which each man and each woman shall be able to attain to the fullest stature of which they are innately capable, and be recognized by others for what they are, regardless of the fortuitous circumstances of birth or position." Investopedia
Before looking at what the American Dream is today, we need to look at its roots. Our Founding Fathers introduced the revolutionary idea that each person's desire to pursue their idea of happiness was not self-indulgence, but a necessary driver of a prosperous society. They created a government to defend that right for everyone.
The Declaration of Independence protects your opportunity to improve your life, no matter who you are. It boldly proclaims:
"We hold these truths to be self-evident, that all men are created equal, that they are endowed by their Creator with certain unalienable Rights, that among these are Life, Liberty and the pursuit of Happiness. That to secure these rights, Governments are instituted among Men, deriving their just powers from the consent of the governed."
Of course, at that time, "all men" only meant white, male, property owners. Over the decades, Congress extended these rights to free and enslaved African Americans, women, and people without property. President Abraham Lincoln extended the American dream to slaves with the Emancipation Proclamation. President Woodrow Wilson extended unalienable Rights to women by supporting the 19th Amendment, giving women the right to vote.
President Lyndon B. Johnson promoted Title VII of the Civil Rights Act of 1964. That extended the dream by protecting workers from discrimination by race, color, religion, sex (including in pregnancy), or national origin. Thebalance
Other articles of interest:
Stock Market Earnings Recession Nothing to Fear-Market Still Trending higher (Oct 7)
Fed Directly limiting Market Downside Action-Expect Stock Market rally not Crash (Oct 6)
Dow theory no longer relevant-Better Alternative exists  (Sept 30)
Mass Psychology states Trump win Equals stock market buying opportunity (Sept 29)
Information warfare-brainwashing tricks Government Employs (Sept 28)
Nature created the masses to serve as cannon fodder (Sept 20)
Experts Sell Gilead Sciences-Sentiment Analysis states time to buy (Sept 20)
Gold Bugs: Use worthless Paper to buy Gold for next to free (Sept 13)
Forget Main Stream Media Unless You Love Losing (Sept 6)
Stock Markets & Economy rarely trend in Unison; master this pattern & profit (Sept 3)
Masses hoarding cash & ignoring the Stock Market (Aug 30)
Maestro Greenspan Thinks Rates will Rise Rapidly; dream on (Aug 30)
Crowd Psychology states Uranium Bear Market over (Aug 29)
Economic & psychological warfare Big Money's favourite Weapon (Aug 24)
What's making this stock Market bull So resilient? (Aug 22)
Violence Stupidity & religious intolerance will continue to soar (Aug 22)
Mass Media Turns Bullish: Stock Market Correction likely (Aug 19)
Crowd Control market Manipulation & Pensioners forced to Speculate (Aug 18)