The Organic Food Scam
Too many people blindly assume the label organic means the food is perfect. They forget that most organic produce contains pesticides so that 10-dollar cucumber you thought you could just eat by rinsing it with water could be loaded with a whole lot of poison.  95% of consumers bought organic because they thought no pesticides were used. Talk about ignorance, pesticides and fungicides are used to prevent wildlife from destroying the crops.
The Organic Food Scam: Is organic really better
This video discusses the issue quite well and in great detail. In general, consumers assume organic means perfect and that is not the case. You still have to wash your veggies with a special rinse if you want to remove all the residual chemicals that were used during the growth cycle.
Random Article
The market has resisted all attempts to correct. We know why it's not crashing; this has to do with mass psychology, but what's preventing it from letting out a meaningful dose of steam.  The table below might hold the answer.   We looked at all 30 components of the Dow on the weekly and monthly timelines utilising our indicators, and the results were quite surprising, to say the least. This Bull Market still has a lot of steam and the data below confirms this hypothesis.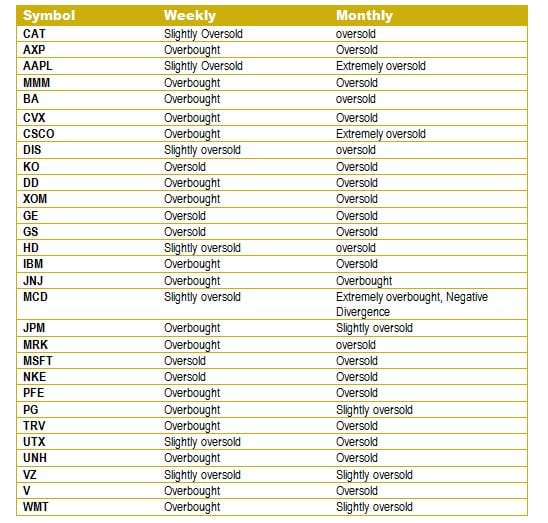 Focus on the monthly section and you will notice that 28 components of the Dow are in various oversold conditions ranging from mild to extremely oversold. Conventional logic would have you believe that all the components would be trading in the overbought ranges.
The strength the Dow 30 stocks are showing on the monthly charts, clearly indicates that the most hated stock market bull still has plenty of room to run before it drops dead from exhaustion.  However, at the moment the stock market is rather overbought and so it would not surprise us if it let us some steam.  What's making this Current Stock Market Bull So Resilient
Other Articles of Interest
Major network anchor targeted by left (Oct 3)
Legal Pot in Massachusetts-Voters on the Edge (Oct 3)
Trump Slams Hillary-You've Been Fighting ISIS Your Entire Adult Life (Sept 28)
Trump Needs to Bring Grenades to Next Debate (Sept 28)
Donald Trump won the first debate CNBC & Time magazine online polls say (Sept 28)
Soros instigating pre-election surge at border (Sept 28)
Why Is the NYT Ignoring One of the Biggest Political Realities in America (Sept 28)
F-35 Bursts Into Flames On The Runway-Pure unadulterated Crap (Sept 27)
Hillary Clinton is better on policy-That's foreign to me-maybe you can name one (Sept 26)
Twitter Considers A Possible Takeover- Google Prime Candidate (Sept 26)
The Organic Food Scam will continue until people wakeup