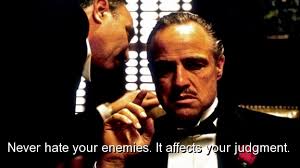 Editor: Vladimir Bajic | Tactical Investor[color-box color="blue"]
Before we get to the article at hand many might ask why we cover political and health issues when our main focus in the stock markets and the financial arena.  The short and simple answer is that all these fields are connected; we don't have free market forces anymore. Everything is manipulated; from the food you eat to data you are provided.  If you are aware of this you can plan accordingly. Identifying the problem is over 80% of the solution and this is why most people don't know what to do because they don't really understand the problem. Now you know why we are the only financial website that covers such a wide array of topics that on the surface appear to be unrelated but are in fact, deeply interwoven.  Mass psychology is a very powerful tool and if employed correctly can help you spot the grotesque levels of manipulation the masses are subjected to. We strongly suggest that you view or read or view Plato's allegory of the cave.  You might also find the following article to be of interest:
The real problem is that there are college students that don' want to work and want to go to the best colleges money can buy and the parents are encouraging this. What happened to the day you went to the college you could afford, and you worked to pay for all of it or, at least, helped your parents. The problem lies with the parents and the kids; the parents are encouraging this insolent and "it's all about me behaviour" and that is why we live in a dog eat dog world today.
What made the baby boomers great and all those that came to the U.S decades ago? Everyone worked hard; there were no handouts, today's generations wants the best of the best, but they do not want to pay for it.When the going gets tough, many college students decide to take the easy way out and have no qualms about selling themselves to sugar daddies to pay for their college. Sounds like such a sad story, until you realise these spoilt brats want the best of the best for doing nothing. Simple Common Sense Fix Ends Student Debt Problem
[/color-box]
Other articles of interest:
Corporate Americas Share buyback Binge only force Keeping Stock Market Bull Alive (Oct 13)
Stock Market Earnings Recession Nothing to Fear-Market Still Trending higher (Oct 7)
Fed Directly limiting Market Downside Action-Expect Stock Market rally not Crash (Oct 6)
Dow theory no longer relevant-Better Alternative exists  (Sept 30)
Mass Psychology states Trump win Equals stock market buying opportunity (Sept 29)
Information warfare-brainwashing tricks Government Employs (Sept 28)
Nature created the masses to serve as cannon fodder (Sept 20)
Experts Sell Gilead Sciences-Sentiment Analysis states time to buy (Sept 20)
Gold Bugs: Use worthless Paper to buy Gold for next to free (Sept 13)
Forget Main Stream Media Unless You Love Losing (Sept 6)
Stock Markets & Economy rarely trend in Unison; master this pattern & profit (Sept 3)
Masses hoarding cash & ignoring the Stock Market (Aug 30)
Maestro Greenspan Thinks Rates will Rise Rapidly; dream on (Aug 30)
Crowd Psychology states Uranium Bear Market over (Aug 29)
Economic & psychological warfare Big Money's favourite Weapon (Aug 24)
What's making this stock Market bull So resilient? (Aug 22)
Violence Stupidity & religious intolerance will continue to soar (Aug 22)
Mass Media Turns Bullish: Stock Market Correction likely (Aug 19)
Crowd Control market Manipulation & Pensioners forced to Speculate (Aug 18)
China Following America's lead: Exports Bad Debt Globally (Aug 13)
Crude oil bottom likely to Propel Dow Industrials higher (Aug 12)
Wall Street Journal States that Russia Bombed US-Syrian Base  (Aug 9)
Why won't this cursed Stock market bull market crash (Aug 8)
Investor Anxiety; Rocket Fuel for Unloved Stock Market Bull (Aug 6)
Most Unloved Stock Market Bull Destined To Roar Higher (Aug 5)