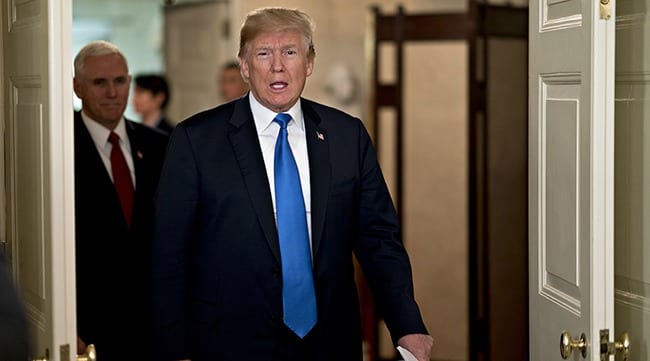 Tariffs Targeting China
U.S. officials, according to news accounts, are considering imposing as much as $60 billion in annual tariffs against Chinese information technology, telecommunications and consumer exports to the U.S. in an effort to trim its chronic annual trade deficit with Beijing by $100 billion. Last year, the U.S. says it imported Chinese goods worth $375 billion more than it exported to China.
"In the coming weeks, President Trump is going to have on his desk some recommendations," Navarro told CNBC. "This will be one of the many steps the president is going to courageously take in order to address unfair trade practices.

"I don't think there's a single person … on Wall Street that will oppose cracking down on China's theft of our intellectual property or their forced transfer," Navarro said. Read more
The Trump administration is preparing Tariffs Targeting China
Another round of tariffs on Chinese goods worth $200 billion, ramping up the US-China trade war. The move comes after the United States imposed 25% tariffs on Chinese goods worth $34 billion last Friday. Beijing immediately responded with its own tariffs on US goods worth $34 billion.
"China apparently has no intention of changing its unfair practices related to the acquisition of American intellectual property and technology," Trump said in June. "Rather than altering those practices, it is now threatening United States companies, workers, and farmers who have done nothing wrong."
The retaliatory tariffs that China enacted Friday targeted US cars and major agricultural goods, such as soybeans and meat. Read more
 Tump Signs New Tariffs Targeting China
President Donald Trump signed an executive memorandum on Thursday that would impose retaliatory tariffs on up to $60 billion in Chinese imports.
"This is the first of many" trade actions, Trump said as he signed the memo.
Lighthizer told lawmakers on Thursday, however, that China is likely to retaliate against the tariffs by targeting U.S. agricultural products that are reliant on the Chinese export market.
The Trump administration had previously signalled that the tariffs would apply to at least $30 billion in Chinese imports, multiple news outlets reported. Trump himself has pushed for $60 billion in tariffs on Chinese goods.
Trump will consider further actions against China in two weeks, based on the effect of the first phase of the tariffs, CNBC reported Wednesday, citing sources. The president is reportedly concerned about the severity of the new measures' impact on American universities. Read more
Other Articles of Interest
BIIB stock Price: Is it time to buy
Stock market crashes timelines
Dow theory no longer relevant-Better Alternative exists
Apple Stock Predictions For 2020 and Beyond 
In 1929 the stock market crashed because of
Apple Stock Price Target: Is It Time To Buy AAPL
Anti Gmo: The Anti Gmo Trend Is In Full Swing?
From GMO Foods To GMO Humans: What's Next 
Apple Stock Buy Or Sell: It's Time To Load Up In 2020