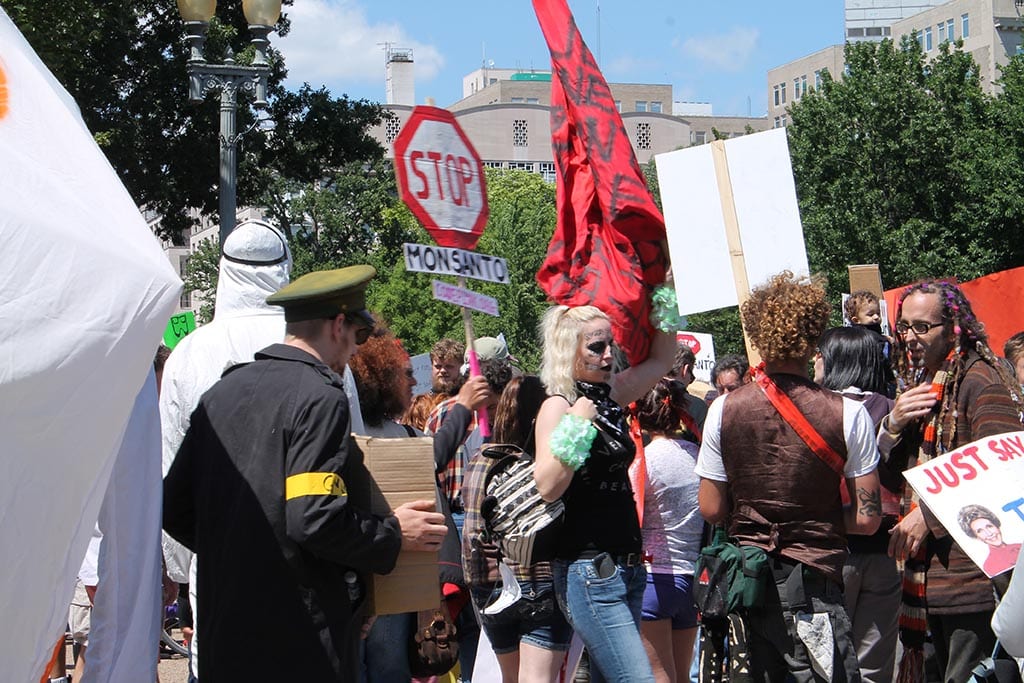 Editor: Vladimir Bajic | Tactical Investor
Anti Gmo Sentiment
After more than 20 years of genetic engineering in farming, consumers still remain skeptical and even say they are "grossed out" by genetically modified food, according to a new study from Washington University in St. Louis. Sydney Scott, assistant professor and lead author of the paper "An Overview of Attitudes Toward Genetically Engineered Foods," said people tend to view naturalness as sacred, and genetically engineered food is a violation of that naturalness.
That doesn't explain why consumers tend to be fine with heavily processed foods but won't go for GMOs, the study authors note. "Consumers seem to be saying it's not OK to poke into the DNA. That's yucky," Scott said in a news release. "People are grossed out by that."
Study authors found that the U.S. tends to have a permissive approach to regulating genetically modified crops and "generally recognizes them as safe." The European Union is more restrictive, allowing only two genetically engineered crops to be grown commercially: potatoes and maize. A key aim of the research team's work was to expose the gap between advocates of genetically engineered foods and opponents. "What we're trying to figure out now is what will allow people to reach a better consensus," Scott said in the press release. "I don't think it's insurmountable."  Full Story
Anti Gmo: What's Does The Public Really Think
Despite the growing use of genetically modified crops over the past 20 years, most Americans say they know only a little about GM foods. And many people appear to hold "soft" views about the health effects of GM foods, saying they are not sure about whether such foods are better or worse for one's health. When asked which of three positions best fits their viewpoints, about half of Americans (48%) say the health effects of GM foods are no different than other foods, 39% say GM foods are worse for one's health and one-in-ten (10%) say such foods are better for one's health.
About one-in-six (16%) Americans care a great deal about the issue of GM foods. These more deeply concerned Americans predominantly believe GM foods pose health risks. A majority of this group also believe GM foods are very likely to bring problems for the environment along with health problems for the population as a whole. Full Story
Nearly half of Americans are Anti Gmo
For example, consumers were shown bottles of canola oil 1) without any BE logo or text, 2) with one of the three symbols (a plant, a sun or a smile), 3) with a symbol, plus "bioengineered" in text and 4) with a symbol, plus "may be bioengineered" in text.  An additional group of consumers were shown just text disclosure, without any BE logo.
When shown the bottle without any disclosure, approximately one-third (31 per cent) of a group of respondents had human health concerns. But that rose to 50 per cent when shown the BE "plant" symbol, further increasing to 51 per cent when text was added to indicate that the product was "bioengineered," and to 57 per cent when "may be bioengineered" was added to the "plant" logo. Human health concerns almost always showed the greatest increase, compared to other factors such as animal health or environmental concerns.
The survey also asked about broader perceptions of GMOs. More than one-third (36 per cent) of respondents said they know very little or nothing at all about bioengineered or genetically modified foods, identical to the number who say they know at least a fair amount. Despite the low level of knowledge, a greater number (47 per cent) said they avoid GMO foods at least somewhat.
The vast majority (85 per cent) of those who avoid GMOs do so out of human health concerns, with the environment (43 per cent), animal health (36 per cent) and agriculture/farming (34 per cent) concerns trailing far behind.
"Despite broad scientific consensus that GMOs are safe to consume, a majority of Americans seem to be convinced otherwise. It's a significant disconnect and it underscores the need for more creative public education on the science behind our food," said Joseph Clayton, CEO of the IFIC Foundation. Full Story
Other articles of Interest:
BIIB stock Price: Is it time to buy
Stock market crashes timelines
Dow theory no longer relevant-Better Alternative exists
In 1929 the stock market crashed because of
Where is gold headed in 2016; Up, down or sideways (April 13)
Do Investors need to own Gold; The answer might surprise you (April 13)
Fiat Currency: silent but deadly weapons of Mass Destruction (April 12)
Data manipulation; The Fraudulent Economic Recovery (April 11)