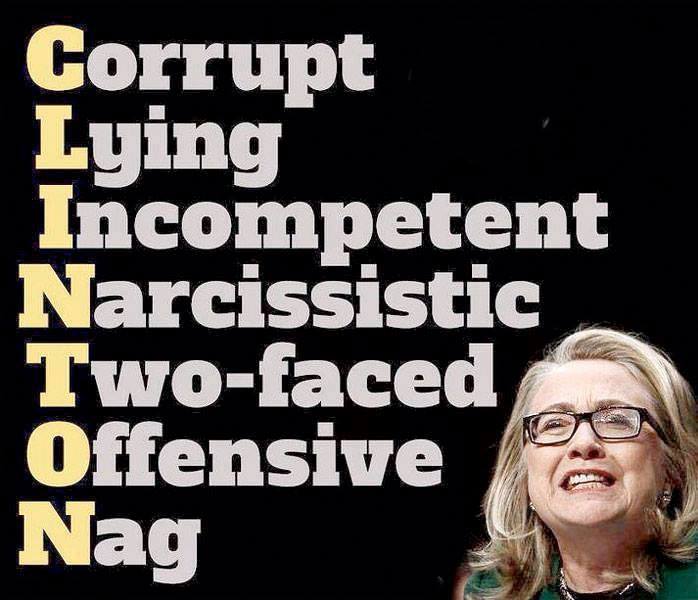 Trump Slams Hillary
There is no love lost between Hillary and Trump. It is hard to imagine that at one time in the past they were friends. Trump gave donations to Hillary senate run and in many pictures, they appeared to be having a good time. I guess that all changed after he decided to run for president, then the gloves came off and the two have been duking out ever since.  Trump was very critical of the way Hillary has tackled ISIS and seems to think that she would do an even worse job as president.
"You go to her website, and you take a look at her website, she's going to raise taxes $1.3 trillion, and look at her website," Trump said. "You know what, it's no different than this. She's telling us how to fight ISIS. Just go to her website. She tells you how to fight ISIS on her website. I don't think General Douglas MacArthur would like that too much."
"At least I have a plan to fight ISIS," she said.
Trump shot back: "No, no. You're telling the enemy everything you want to do."
Clinton said she was not.
"You're telling the enemy everything you want to do," Trump said. "No wonder you've been fighting ISIS your entire adult life." Full Story
Trump Slams Hillary But let's focus on another topic
By any estimate, the uranium market is trading in the extremely oversold ranges, but when the trend is down, a market can trend into the extreme of extremely oversold ranges, and we have seen this occur many times in the past.  The 15-year chart illustrates that the next layer of support comes into play in the $21.50-$22.00 ranges, so despite being extremely oversold the market still has room to trend lower. One positive is that the trend is about to turn neutral and if it does it would be the first move into the neutral zone in a very long time.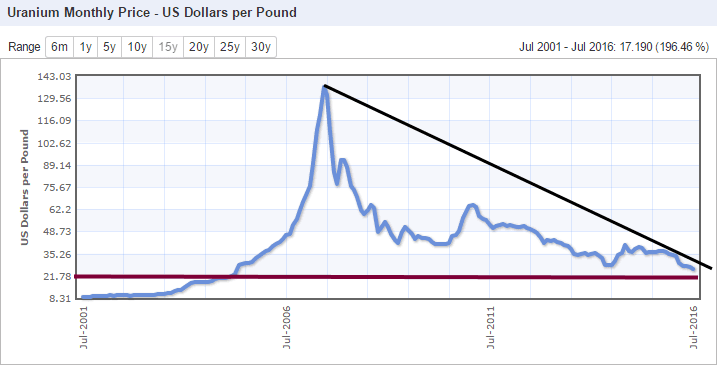 Source:www.indexmundi.com/
 Taking a long-term view; a monthly close above $35 would be needed to indicate that a multi-month bottom is in place.  From a contrarian perspective, uranium would start to look quite tempting at any level below $23.00.
Uranium costs about $60 a pound to produce and yet mining companies can barely get $30.00 a pound for it. At some point, something has got to give, and that will most likely be the mines. More and more mines will close up shop and call it quits, and it is not easy to bring an offline mine online again; it takes time to get an inactive mine back online.Uranium Price: Is Uranium Ready To Mount A Rally
Other articles of interest:
Information warfare-brainwashing tricks Government Employs (Sept 28)
Nature created the masses to serve as cannon fodder (Sept 20)
Experts Sell Gilead Sciences-Sentiment Analysis states time to buy (Sept 20)
Gold Bugs: Use worthless Paper to buy Gold for next to free (Sept 13)
Forget Main Stream Media Unless You Love Losing (Sept 6)
Stock Markets & Economy rarely trend in Unison; master this pattern & profit (Sept 3)
Masses hoarding cash & ignoring the Stock Market (Aug 30)
Maestro Greenspan Thinks Rates will Rise Rapidly; dream on (Aug 30)
Crowd Psychology states Uranium Bear Market over (Aug 29)
Economic & psychological warfare Big Money's favourite Weapon (Aug 24)
What's making this stock Market bull So resilient? (Aug 22)
Violence Stupidity & religious intolerance will continue to soar (Aug 22)
Mass Media Turns Bullish: Stock Market Correction likely (Aug 19)
Crowd Control market Manipulation & Pensioners forced to Speculate (Aug 18)