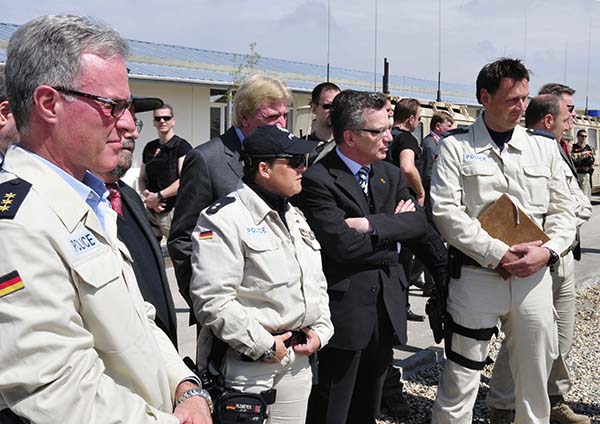 Berlin Attack Perpetrator Is at Large
"We have the wrong man," a senior police chief told the newspaper. "And therefore a new situation. The true perpetrator is still armed, at large and could do more damage."
Berlin's police chief Klaus Kandt said Tuesday that he was not certain that the arrested suspect was the perpetrator of the truck attack. "As far as I know it is not certain whether he was really the driver," he said.
" He said that the police had not yet confirmed a motive but said that the style of attack points to the modus operandi of radical Islamist groups, with the same method used in the July truck attack in Nice that killed 86, claimed by the Islamic State militant group (ISIS).
German Interior Minister Thomas de Maiziere told reporters Tuesday that the suspect in custody is a man of Pakistani origin who was seeking asylum in Germany as early as December 2015. He said that the suspect denies any involvement in the attack, which left 48 injured, 18 severely.
"The temporary arrested suspect denies the offence," Berlin police tweeted. "Therefore we are particularly alert. Please be also alert." Full Story
Other Stories of Interest
Trump Moment gathering momentum-Far right Party leading in Dutch Polls (Dec 20)
German Defense minister Insults Saudia Arabia-Refuses to wear Hijab  (Dec 20)
Muslim group outraged over meme posted on Allen West's FB page-Nobody cares   (Dec 20)
Wilders found Guilty of speaking out against Islam WTF Happened to freedom of speech  (Dec 20)
1400 shocking years of Islam in five minutes-Radical Muslims hate this video  (Dec 18)
Where is Islam Illegal-Growing list of nations banning Islam?  (Dec 18)
Slovakia Toughens Church Registration Rules to Bar Islam (Dec 18)
Double Crossing Merkel states she will deport 100K migrants-get rid of her (Dec 18)
Saudi Author Turki Al Hamad Our Youth Are Brainwashed- Must stop ISIS Ideology at the roots (Dec 18)
High-income individuals will embrace Robot Sex states Expert (Dec 17)
Sextortion- hackers new game plan to fleece silly men using hot women as bait (Dec 17)