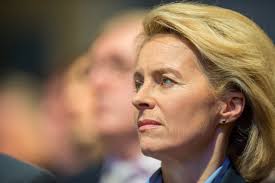 Edited by Vladimir Rothstein 
Our hats off to the German defence minister, Leyen for standing up to the House of Saud Bandits. After all these guys drink, fornicate with porn stars, take drugs and do everything that goes against Islam and then they have the nerve to instil such harsh laws.  If the punishment for breaking these laws was enforced, every single prince would be dead or jailed by now.  Thus it is clear, that their only objective is to create division and promote radical Islam in the hopes of fostering unrest all over the world. After oil, terrorism is the biggest export from Saudi Arabia. Keep.
Germany's defense minister refused to wear a traditional head covering during her visit with a Saudi Arabian prince, arguing that women have as much right as men do to wear whatever they choose. Ursula von der Leyen declined to wear a hijab — a veil traditionally worn by Muslim women — or an abaya, a full-length robe, when she met with Deputy Crown Prince Mohammed bin Salman al Saud in the Saudi capital of Riyadh last Wednesday, according to Sputnik International news.
"The right to choose your own clothing is a right shared by men and women alike. It annoys me, when women are to be pushed into the Abaya," Das Bild reported Leyen as saying. When pictures of Leyen, minus a hijab, hit social media, some Saudis went on Twitter to blast her.
"The German Defense Minister: not wearing the hijab in Saudi was deliberate. This is an insult to Saudi Arabia," read one tweet. Leyen, decked out in a crisp dark pantsuit, said she "respects the customs and traditions of the country. [In Germany] one is free to choose his or her attire accordingly," Sputnik reported. Full Story
https://www.youtube.com/watch?v=jY48l42v0ig
The author of this story is a first rate Jackass. No normal Muslim nation other than the terror-sponsoring House of Saud insists that all women regardless of religion wear a hijab. They better get used to a new world order, a world where more nations disrespect their insane rules. Their form of Islam has nothing to do with real Islam. It is called Wahabi Islam and is the most radical form of Islam out there. In fact, in the last update, we illustrated how a study conducted concluded that if the House of Saud were held accountable, radical Islam would virtually cease to exist.
On a broader note, this is yet another confirmation that Europe is going to take a firm and dramatic stance against radical Islam. Trump will probably make some announcement over the next few months that will shock radicals and win him admirers in Europe.
Other Stories Of Interest
US Muslim leaders call on Trump to reject anti-Islam administration candidates (Dec 13)
Holland-Wilders stands against Islamism-guilty of speaking out (Dec 13)
Merkel Calls for Burqa Ban in Germany (Dec 12)
Racist Violence and Déjà Vu in Greece (Dec 12)
Fake News and its wide and gullible audience (Dec 11)
Mobile Money Has Lifted 200K Kenyan Families Out of Poverty (Dec 10)
ICE spends 100 million ferrying illegal immigrant children around U.S- watchdog reports (Dec 9)
Has the Trumpian Revolution begun (Dec 9)
Why Goldman Sachs Stock Is Surging (Dec 8)
New Turkish Bill Seeks To Expand President Erdoğans Powers (Dec 8)
China's economy still has many engines for development (Dec 5)
Putin blames Russia's faltering economy on domestic issues (Dec 5)
Donald Trump's Cabinet nominees aided by Harry Reid's filibuster nuclear option (Dec 5)
Health Bill Packed With Goodies for Big Pharma (Dec 5)
6 Fruits That Help Weight Loss (Dec 5)