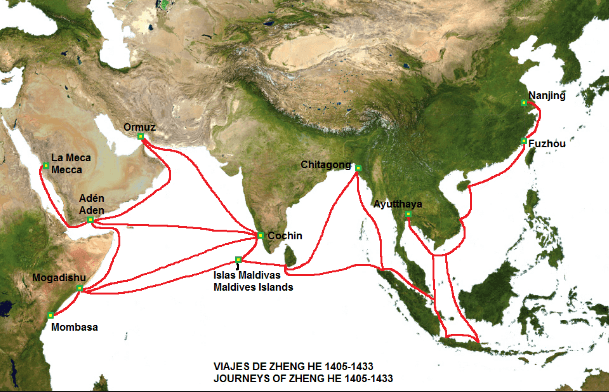 By Tom McGregor, CNTV Panview Commentator
Nearly all Chinese herald the 15th Century admiral Zheng He, a eunuch, as one of the greatest naval explorers of all time. He led a massive fleet to travel thousands upon thousands of miles, trekking from the Chinese home port of Nanjing to reach far-flung locations in Southeast and South Asia, East Africa and Arabia.
His feats highlighted the prosperity and openness of the Ming Dynasty era when Chinese emperors Yong'le and Xuan-de sponsored his seven naval expeditions in 1405-1433.
His armada included 50-250 ships with 27,000-30,000 crew. Historians claim the ships were 400ft. in length, which dwarfed the size of Christopher Columbus fleet, with its flagship, Santa Maria, only 98ft. in length.
His achievements were admirable, but outside the Asia-Pacific region, little is known about him. Nevertheless, the Chinese government officials, academics and tourism officials are hoping the world will soon learn more about China's greatest naval explorer.
Kunming celebrates 'Maritime Day of China'
Zheng He was born in a rural community in Jinning County near Kunming, the capital of Southwest China's Yunnan Province. Each year local officials mark 'Maritime Day of China' (July 11) with a week-long festival.
In contemporary times, Zheng He's popularity began to flourish amid celebrations for the 600th Anniversary of his first expedition in 2005. UCLA's Ocean Science professor Jin Wu played a pivotal role to create more global awareness by leading academic conferences and study clubs in the United States that paid tribute to Zheng He.
Jinning County officials have told CNTV Panview that they are making plans to organise events, such as seminars, scenic tours and invite the international community to commemorate the life of Zheng He.
Journeying from near and afar
The Chinese have good reasons to feel proud of Zheng He. Archaeologists have uncovered evidence the Chinese admiral had reached as far as the Cape of Good Hope, southernmost tip of Africa. Merchants from Venice had written accounts about meeting Zheng He on the shores of Hormuz and Aden.
He discovered new shipping routes in the South China Sea, Malacca Straits, Indian Ocean and Persian Gulf. His fleet, which was bigger than the Spanish Armada, and had sailed to the Philippines, Malaysia, Mozambique Channel and South African coast, as well as many other places, including the ports at Sri Lanka, Somalia and Iran.
"Zheng He reshaped Asia," Richard von Glahn, UCLA professor of History, specialist – Chinese History, is quoted as saying. "Maritime History in the 15th Century is essentially the Zheng He story and the effects of Zheng He's voyages."
Enjoying the global fruits of Zheng He's travels 
Serving with distinction in the Ming Dynasty, Zheng He was a Chinese-born Muslim, who sought to honour his Islam heritage by becoming the symbolic face of ancient China's Silk Road that opened up China to the world.
His fleet was accompanied by Chinese merchants seeking to trade silk and porcelain for foreign luxuries, such as spices, jewels and tropical woods. He sought to boost global trade and commerce channels that support peace and prosperity for the overall region, especially in the Arabic World.
He introduced new upgrades in ship-building and navigation technologies, as well as  innovations in management science, since he was responsible for the safety of his entire fleet. He had to recruit and train sailors, take command of logistics and supply for transport in the High Seas.
His maritime adventures were legendary and many Chinese consider him a heroic figure.
Introducing Zheng He to the world
Unfortunately, much of the Western World does not know about Zheng He, but he deserves greater recognition. The Chinese government and its people should make more  efforts to launch new marketing and research campaigns to inform the global community of the Zheng He spirit.
Other articles of interest:
China Following America's lead: Exports Bad Debt Globally (Aug 13)
Crude oil bottom likely to Propel Dow Industrials higher (Aug 12)
Why won't this cursed Stock market bull market crash (Aug 10)
Wall Street Journal States that Russia Bombed US-Syrian Base  (Aug 9)
Why won't this cursed Stock market bull market crash (Aug 8)
Investor Anxiety; Rocket Fuel for Unloved Stock Market Bull (Aug 6)
Most Unloved Stock Market Bull Destined To Roar Higher (Aug 5)
Student Debt Crisis Overblown & Due to Stupidity  (Aug 4)
Despite Investor Angst Most hated stock market keeps trending higher (July 30)
False Information, Mass Psychology & this Hated Stock Market Bull (July 29