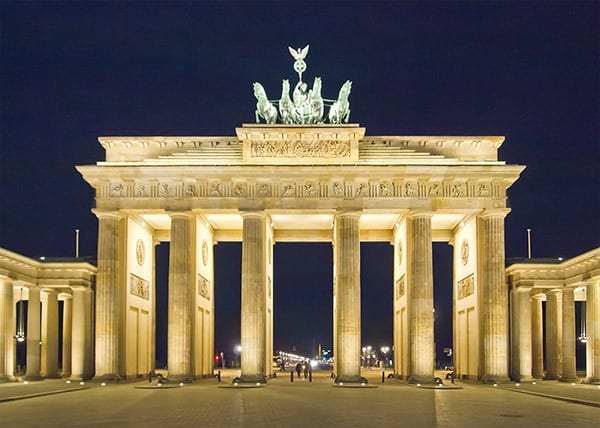 BERLIN — German Chancellor Angela Merkel on Tuesday called the deadly truck rampage through a Berlin Christmas market a likely "act of terrorism," but questions were raised over the suspect held and possible links to the wave of migrants who have entered Germany.
The suspect in custody, said German Interior Minster Thomas de Maizière, was a Pakistani asylum-seeker detained late Monday and who was denying any involvement in the assault that left the festive market wood-splintered and bloodstained.
Hours later, however, Berlin Police Chief Klaus Kandt warned that it was "uncertain" if the man in custody was the perpetrator, and authorities asked the public to "stay alert."
It raised the alarming prospect that the driver who killed 12 and left 52 injured — in critical condition — might still be at large after possibly hijacking the truck and killing its Polish driver.
Suspected Berlin attacker denies involvement
"The arrested suspect currently denies the deed at #Breitscheidplatz," German police tweeted. "Therefore, we are particularly alert."
The 12 victims, included a Polish national shot dead and found in the passenger seat of the massive black truck that careened into the crowded market. The truck had Polish plates, and the driver was en route to Berlin with a cargo of 25 tons of steel. The wound suggested that the vehicle may have been hijacked by the perpetrator and the driver killed.
Ariel Zurawski, the owner of the Polish trucking company, said German authorities asked him to identify the slain driver, Lukasz Urban, 37, from photos. Full Story
Suspected Berlin attacker denies involvement
"We need to work on the assumption that an armed perpetrator is still on the loose. As a result of this we are on high alert," said Holger Münch, head of the Federal Criminal Police Office.
Berlin police said on Twitter they were being vigilant as the suspect had denied involvement in the incident.
"The temporary arrested suspect denies the offence," the force tweeted in English. "Therefore we are particularly alert. Please be also alert," they urged the public.
Their comments were echoed by Peter Frank, the general state prosecutor, who told reporters: "We have to get used to the idea that the arrested man – a Pakistani – is very possibly not the perpetrator, and might not even belong to any circle of perpetrators."
Frank added: "We don't know if there was one perpetrator or several, or if there was any support." But he underlined continuing belief about the nature of the attack, saying: "We are working on the basis this was an attack with a terrorist background." Full Story
Other Articles of Interest
Trump Movement gathering momentum-Far right Party leading in Dutch Polls (Dec 20)
German Defense minister Insults Saudia Arabia-Refuses to wear Hijab  (Dec 20)
Muslim group outraged over meme posted on Allen West's FB page-Nobody cares   (Dec 20)
Wilders found Guilty of speaking out against Islam WTF Happened to freedom of speech  (Dec 20)
1400 shocking years of Islam in five minutes-Radical Muslims hate this video  (Dec 18)
Where is Islam Illegal-Growing list of nations banning Islam?  (Dec 18)
Slovakia Toughens Church Registration Rules to Bar Islam (Dec 18)
Double Crossing Merkel states she will deport 100K migrants-get rid of her (Dec 18)
Saudi Author Turki Al Hamad Our Youth Are Brainwashed- Must stop ISIS Ideology at the roots (Dec 18)
High-income individuals will embrace Robot Sex states Expert (Dec 17)
Sextortion- hackers new game plan to fleece silly men using hot women as bait (Dec 17)
Two Stocks Set to Soar in 2017-Trump Administration (Dec 10)
Mainstream Media Totally Corrupt-evidence is overwhelming  (Nov 19)
The Myth Of The Jewish Genome as Biblical as Dracula (Nov 19)
Dollar Destruction-Liberal Agenda & Marxifcation of America (Nov 19)
Alternative Opinions-Information Mainstream media dares not discuss (Nov 18)