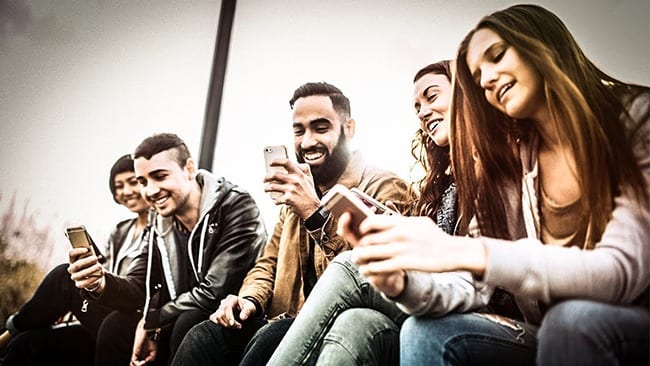 Editor: Johnathan Meyers | Tactical Investor
Stupid Millennials
One of the main reasons we cover such a broad range of topics is because the masses are being systematically brainwashed to see what they are being directed to see. You can only solve the problem if you understand the problem; if you do not, you will either never solve it or continue trending on the path of stupidity forever. To become a good investor, you need to see the full picture and not the snippets that the mass media conveniently and almost gleefully is willing to provide.  Mass psychology states that it is imperative to acknowledge the forest while looking at the tree. In other words, emotions drive the markets, and you need to focus on what emotions Mass Media is trying to stir up to spot the next significant trend. With that in mind, we think you might find the following article of interest:
Despite the heavy beating Bitcoin has taken, the sentiment has not turned bearish, and there are still have too many articles being published on a weekly basis claiming that Bitcoin is going to surge to 100K and beyond. Do these experts ever bother to look at the charts before issuing such targets or do they do so after ingesting some toxic substance? We will never know the answer to that question, but what we do know is that in most cases they have no idea of how high or low the market is going to go.  Is the Bitcoin Bull Market dead or just taking a breather?
Stupid Millennials  Are Easy Prey
Move over, grandma and grandpa. Your Millennial grandkids reported losing money to financial scams last year than you did, new government data shows.
In all, 40% of Americans in their twenties who reported fraud in 2017 indicated they lost money to the schemes, the Federal Trade Commission said last week in its annual databook of consumer complaints.
Consumer complaints about debt collections declined year over year in 2017 but still remained the top complaint category with 23% of all reports. The number of debt collection reports was due in part to complaints submitted by a data contributor who collects them via a mobile app, the FTC said.
Identity theft represented the second biggest complaint category, with nearly 14% of all reports. Credit card fraud was the most common type of identity theft that consumers reported, followed by tax fraud. Read more
Stupid Millennials are more prone to lose money In financial scams
They are even more prone to scams than their elders, according to newly released government data.
The Federal Trade Commission reported last week in its annual data summary of consumer complaints that 40 per cent of Americans in their 20s who reported fraud in 2017 also said they lost money. By contrast, only 18 per cent of victims aged 70 or older reported losing money.
In all, the data collected by the federal watchdog group includes 2.7 million complaints, down slightly from total complaints in 2016. Dollar losses reported from fraud, however, increased $63 million from last year to almost $905 million.
"While we received fewer overall complaints in 2017, consumers reported losing more money to fraud than they did the year before," acting director of the FTC's Bureau of Consumer Protection Tom Pahl said in a statement published with the data. "This underscores the importance of the FTC's work in educating consumers and cracking down on the scammers who try to take their money."
Phoney debt collections, identity theft and impostor scams, in which someone pretends to be a trusted person such as a government worker, a tech support agent or a family member in an emergency, were the schemes most frequently reported. Read more
Stupid Millennials Dumbest age group around
Everyone knows that older Americans — especially the elderly — are the most likely to be scam victims, right? Turns out, this is a myth.
In fact, according to a new report link by BBB Institute for Marketplace Trust, Millennials are more likely to be scammed than boomers.
BBB Institute, the educational foundation of the Council of Better Business Bureaus, just surveyed 2,021 adults, asking whether they'd lost money to a scam in the previous year. Roughly 30% of those age 25 to 34 were scam victims, while less than 10% of those 55 and older were.
"We've bought into the stereotypes about scam victims — they're usually seen as vulnerable and elderly, or gullible and poorly educated," said Emma Fletcher, product manager with BBB Institute. "These stereotypes are strongly held…and they are wrong."
Survey respondents were asked to name the type of person most likely to be associated with being the victim of a scam. Their answer: she is "less educated, less intelligent, elderly, lower-income, and less financially secure." Read more
Other Stories of Interest
Good Time To Buy IBM or Should You Wait? (Mar 15)
Is the Bitcoin Bull Market dead or just taking a breather? (Mar 8)
Is this the end for Bitcoin or is this a buying opportunity? (Jan 24)
Stock Market Insanity Trend is Gathering Momentum (Jan 10)
Is value investing Dead   (Jan 9)
Irrational markets and Foolish Investor: perfect recipe for disaster (Jan 5)
Stock market Crash Myths and Realities (Jan 3)
Bull-Bear Markets & Arrogance (Jan 1)
Will The Stock Market Crash In 2018 (Dec 11)
Has US Dollar Finally Hit Bottom  (Dec 6)
BitCoin Has Done What Precious Metals Never Could (Dec 4)
Experts Making Stock Market Crash Forecasts usually know nothing (Nov 17)
1987 stock market crash anniversary discussions- nothing but rubbish (Oct 24)