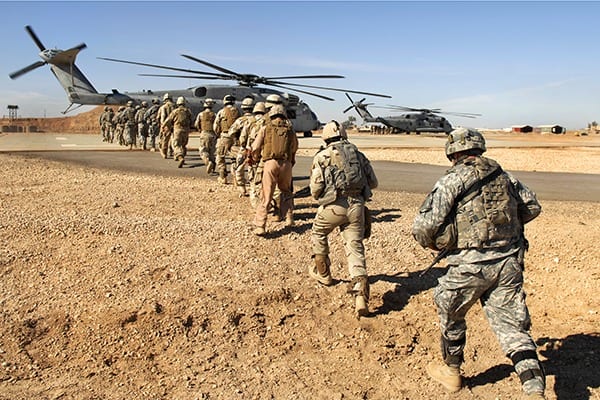 Editor: Vlad Rothstein | Tactical Investor
Jihadi threat
"In the U.S., more people are killed by far-right extremists than by those who are adherents to Islamist extremism," said Mary McCord, a Georgetown University law professor and a former senior Justice Department official for national security. Her comments came at a discussion last week at the 9/11 Memorial and Museum, which commemorates victims of the most notorious attack by international terrorists on American soil.

Even as the menace from homegrown extremists grows more explicit, however, law enforcement is wrestling with how to combat it. That challenge has spawned a fervent debate over whether the United States needs a new law to specifically criminalize domestic terrorism, or whether such a statute would threaten basic First Amendment rights. Full Story
Jihadi threat near the seat of U.S. government?
The jihadist terrorist threat to the United States is relatively limited.
Since the 9/11 attacks, no foreign terrorist organization has successfully directed and carried out a deadly attack inside the United States. With ISIS' territorial collapse, the threat posed by the group has receded. It has been more than a year since the last deadly jihadist terrorist attack, and the number of terrorism-related cases in the United States has declined substantially since its peak in 2015, though there will almost certainly be an uptick in cases this year.
However, "homegrown" jihadist terrorism, including that inspired by ISIS, is likely to remain a threat. As this threat is not inherently tied to ISIS' possession of territory, policymakers should not expect a substantial shift in the nature or extent of the threat to the United States.
The most likely threat to the United States comes from terrorists inspired by a mixture of ideologies including jihadist, far-right, and idiosyncratic strains, radicalized on or via the internet and taking advantage of the availability of weapons, particularly semi-automatic firearms, in the United States. While ISIS' inspirational power has lessened in recent years, white supremacist extremism is increasingly inspiring deadly violence. Full Story
Other Articles of Interest
Trump Movement gathering momentum-Far right Party leading in Dutch Polls (Dec 20)
German Defense minister Insults Saudia Arabia-Refuses to wear Hijab  (Dec 20)
Muslim group outraged over meme posted on Allen West's FB page-Nobody cares   (Dec 20)
Wilders found Guilty of speaking out against Islam WTF Happened to freedom of speech  (Dec 20)
1400 shocking years of Islam in five minutes-Radical Muslims hate this video  (Dec 18)
Where is Islam Illegal-Growing list of nations banning Islam?  (Dec 18)
Slovakia Toughens Church Registration Rules to Bar Islam (Dec 18)
Double Crossing Merkel states she will deport 100K migrants-get rid of her (Dec 18)
Saudi Author Turki Al Hamad Our Youth Are Brainwashed- Must stop ISIS Ideology at the roots (Dec 18)
High-income individuals will embrace Robot Sex states Expert (Dec 17)
Sextortion- hackers new game plan to fleece silly men using hot women as bait (Dec 17)
Two Stocks Set to Soar in 2017-Trump Administration (Dec 10)
Mainstream Media Totally Corrupt-evidence is overwhelming  (Nov 19)
The Myth Of The Jewish Genome as Biblical as Dracula (Nov 19)
Dollar Destruction-Liberal Agenda & Marxifcation of America (Nov 19)
Alternative Opinions-Information Mainstream media dares not discuss (Nov 18)