GOLD OUTLOOK
by Sol Palha

August 20, 2006
Gold like the sun, which melts wax, but hardens clay, expands great souls.
Antoine Rivarol 1753-1801, French Journalist, Epigrammatist
Antoine Rivarol 1753-1801, French Journalist, Epigrammatist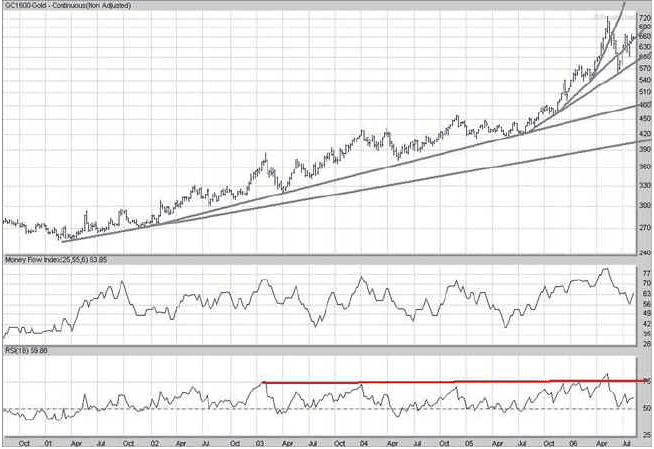 Gold produced 5 uptrend lines on this 6 year chart and if you zoom in you could still squeeze in one more. Suffice to say such a serious move up usually is followed with an equally serious move down. What's muting this correction to a large degree is the geopolitical tension plaguing the globe. However Gold did mount a rather rapid correction in a relatively short period of time and that is a somewhat positive factor. We believe this new leg up that just started is a fake leg up that will most likely produce another short correction and most likely an even better buying opportunity. Given the current tensions in the world we believe that its rather unlikely gold will pull back all the way down to the main up trend line, hence it makes sense to start seriously adding to positions if Gold trades close to the second main up trend line. This would correspond to a price in the 470-510 ranges. If it happens to dip all the way down to the main up trend line then Gold will fall into the screaming buy category. It's not often that we get such deals; Palladium provided us with such a buy early last year.
Note that the RSI flashed a negative divergence on this long term cycle chart; it did not validate the new high in gold and the RSI index actually put in a new high after Gold started to correct.
Conclusion
Gold has now at least entered into the minimum oversold range of several of our indicators; hence those who have no positions at all can start to nibble. If it does pull back all the way to the main up trend line look at it as a free gift from heaven and load up fast this anomaly will not last long. The last time Gold was a major buy was between 2002 to early 2003 and during this time we were strongly pounding the table on Gold. We have still not sold our Gold bullion positions that were taken back in 2002. However after being Neutral on Gold for quite sometime we are now ready to state at leas that it makes sense to start initiating positions if you have none. In the follow up article we will post our long term targets on Gold. Silver is another metal that looks very good and we will review this in a separate article; on a percentage basis the gains here will dwarf those of Gold. There is yet another metal that looks very interesting and if we have time we will review this metal too.
Our previous long term targets on the Dow and Oil were both hit; oil actually surpassed our initial targets. However when we first put those targets out a lot of individuals thought we had lost our mind but now we see many easily accepting targets as high as 120 dollars.
The Looming Energy Crisis & Its Effect On Gold in Dec 2003 we predicted Oil would trade past 48 dollars
If we can hold in the 8,800 to 9,000 range, then the outcome looks rather interesting. Esoteric cycle analysis (our proprietary indicator at the Tactical Investor) is basically suggesting the following targets if we can hold the above ranges:
1st target will be a break of the Dow over the 10,000 range
2nd target 10,500
3rd target 11,400
Extreme target 11, 7000
These targets were issued back in Nov 2003. Full Article
Final Note
Given the huge uncertainty on the Geopolitical frontier and the fact that Gold has entered into the oversold ranges of our indicators it make sense to start nibbling now.
We have no organ at all for knowledge, for "truth": we "know" (or believe or imagine) precisely as much as may be useful in the interest of the human herd, the species: and even what is here called "usefulness" is in the end only a belief, something imagined and perhaps precisely that most fatal piece of stupidity by which we shall one day perish.
Friedrich Nietzsche 1844-1900, German Philosopher