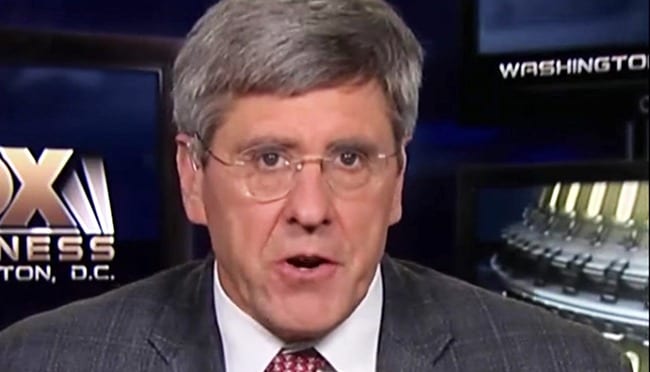 Editor: Philip Ragner | Tactical Investor
Trump Winning China Trade War
Conservative economist Stephen Moore, who pulled his name from consideration to serve on the Federal Reserve Board, predicted that President Donald Trump will prevail in his administration's trade war with China.
"I think by the end of this year I think China is going to relent. I think they underestimated Trump. I think that we're going to get a trade deal with China that ends some of these abusive trade practices that the Chinese impose on us​," Moore said Sunday during an interview with John Catsimatidis on his AM 970 radio show.
Calling it the "epic battle of our times" and a new Cold War, Moore said China is stealing technology from American companies and engaging in unfair trade practices in an attempt to unseat the U.S. as the world's greatest economy.
Moore said Trump is right to take the fight right at Beijing.
"As Donald Trump has said … you're no longer a poor country. You are no longer a Third-World country. You are the second-largest economy in the world. You have to play by the rules," Moore said​ Full Story
Trump Winning China Trade War
Moore, who founded Club for Growth and advised Trump's 2016 presidential campaign, noted that some 5.1 million workers have received bonuses, raises, or increased retirement benefits as a result of the Tax Cuts and Jobs Act, which became law in December 2017.
"It's one thing to say repeal a plan that isn't working," he said. "But, gosh, I saw Donald Trump a few weeks ago a Mar-a-Lago, and you know, I just said to him, 'You know, sir, this has worked out better than even I thought it would.'" Full Story
Other Articles of Interest
Good Time To Buy IBM or Should You Wait? (Mar 15)
Is the Bitcoin Bull Market dead or just taking a breather? (Mar 8)
Is this the end for Bitcoin or is this a buying opportunity? (Jan 24)
Stock Market Insanity Trend is Gathering Momentum   (Jan 10)
the Level Of Investments In A Markets Indicates
How to win the stock market game
Next stock market crash predictions