Three Quarters Of Millennials Would Take A Pay Cut To Work For A Socially Responsible Company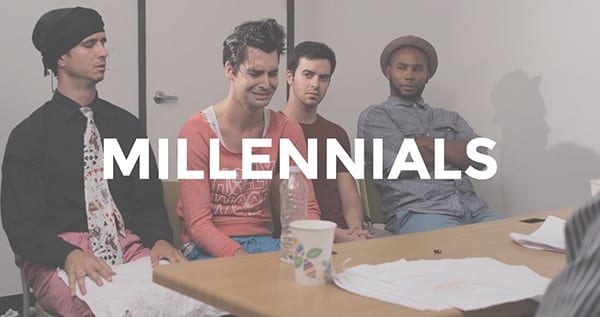 Editor: Vladimir Bajic | Tactical Investor[color-box color="green"]
Before we get to the article at hand many might ask why we cover political and health issues when our main focus in the stock markets and the financial arena.  The short and simple answer is that all these fields are connected; we don't have free market forces anymore. Everything is manipulated; from the food, you eat to data you are provided.
 If you are aware of this you can plan accordingly. Identifying the problem is over 80% of the solution and this is why most people don't know what to do because they don't really understand the problem. Now you know why we are the only financial website that covers such a wide array of topics that on the surface appear to be unrelated but are in fact, deeply interwoven.  Mass psychology is a very powerful tool and if employed correctly can help you spot the grotesque levels of manipulation the masses are subjected to. We strongly suggest that you view or read or view Plato's allegory of the cave.  You might also find the following article to be of interest:
On October 25, 2003, Khodorkovsky (below called MK) was arrested for tax evasion and corruption, dating from when the Soviet Union dissolved and state privatizations followed. "Behind every great fortune lies a great crime," explained Honore de Balzac. Billionaire Russian oligarchs, like MK, illegitimately amassed great wealth, avoiding prosecution during Yeltsin's tenure (1991 – 1999). Beginning in 1991, various socio-economic measures were implemented without public discussion or parliamentary approval. Most important were Yeltsin's personal directives, creating a billionaire aristocracy handed the economy's most important, profitable sectors, free of charge – literally a license to loot. Mikhail Khodorkovsky-Corrupt Jewish Neocon Oligarch
[/color-box]
This video clearly illustrates that while some millennials are lazy that many are not and i most cased they are misunderstood and miscategorized. One cannot make general accusations against a whole group of individuals just because a subset of the population is behaving badly.  The economy is terrible; in fact, there is no economic recovery. All we have is an illusion of one and this illusion is maintained via taking on more debt; this only makes things worse as it rewards those who already have money.  The primary benefactors of this hot money are the financial markets and you can bet your bottom dollar that a large percentage of millennials are not actively involved with the financial markets.
Other articles of interest:
American Education equivalent to Rubbish (Nov 1)
Internal FBI Uproar over Hillary Clinton's email probe (Nov 1)
Trey Gowdy States Harry Reid on Drugs regarding Hillary Email Scandal (Oct 31)
Tactical Investor Election Polls-Updated Constantly Until Election day (Oct 21)
Mikhail Khodorkovsky-Corrupt Jewish Neocon Oligarch (Oct 21)
Everything you knew about cholesterol could change because it's one massive lie   (Oct 21)
Foreign banks Dump whopping 356 billion in US Debt  (Oct 20)
Why isn't Wall Street Fraud prosecuted? Because Politicians are in on it (Oct 19)
Edward Griffin author of Creature from Jekyll Island illustrates that Fed is an Illegal Entity  (Oct 19)