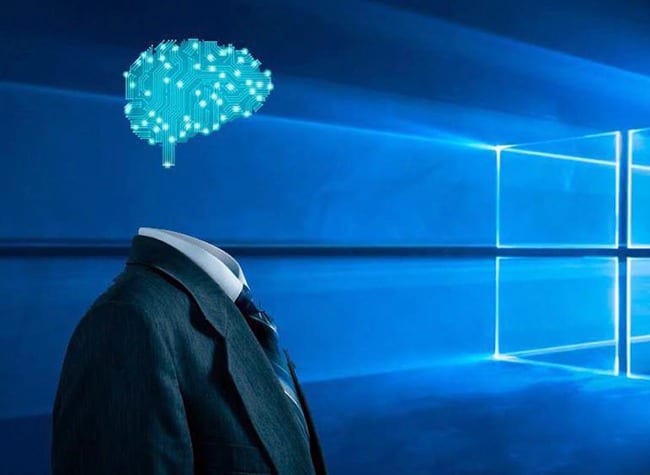 Editor: Philip Ragner | Tactical Investor
Next Windows 10 Update To Include New AI Platform
Microsoft is planning to include more artificial intelligence capabilities inside Windows 10 soon. The software giant is unveiling a new AI platform, Windows ML, for developers today, that will be available in the next major Windows 10 update available this spring. Microsoft's new platform will enable all developers that create apps on Windows 10 to leverage existing pre-trained machine learning models in apps.
Windows ML will enable developers to create more powerful apps for consumers running Windows 10. Developers will be able to import existing learning models from different AI platforms and run them locally on PCs and devices running Windows 10, speeding up real-time analysis of local data like images or video, or even improving background tasks like indexing files for quick search inside apps. Microsoft has already been using AI throughout Office 365, inside the Windows 10 Photos app, and even with its Windows Hello facial recognition to allow Windows 10 users to sign into PCs and laptops with their faces. Read more
How important is AI to Microsoft?
So important that it's making the technology a staple of its software. The company has revealed that the next big Windows 10 update will include an AI platform, Windows ML, that lets developers use pre-trained machine learning systems in their apps.
The technology will support the "industry standard" ONNX format for machine learning models, so AI veterans won't necessarily have to reinvent the wheel to incorporate their work.
Microsoft hasn't said when that Windows 10 update will arrive beyond this year, although programmers will get an early peek at it in the Visual Studio Preview 15.7 release.
This isn't an unheralded event when Google is already including an AI platform (TensorFlow Lite) as part of Android Oreo, but it's relatively new in the PC world and could have a transformative effect. Read more
Microsoft said it is sharing the AI expertise it developed in products like Cortana and Bing Search with Windows app coders.
"With the next major update to Windows 10, we begin to deliver the advances that have been built into our apps and services as part of the Windows 10 platform," Microsoft's blog announcement said. "Every developer that builds apps on Windows 10 will be able to use AI to deliver more powerful and engaging experiences."
Using Azure Machine Learning Workbench, Windows 10 developers and data science types will be able train and use ONNX models. Also, the company said its Azure Custom Vision Service will support the creation of ONNX models for Windows 10.
"We've also invested in delivering a great development experience for AI developers on Windows," Microsoft said.
The documentation provides guidance for creating a first Windows machine learning app, training a model and converting a model, along with sample apps that show how to use the new platform. Read more
Other Articles of Interest
Stock Market Insanity Trend is Gathering Momentum (Jan 10)
Is value investing Dead (Jan 9)
Irrational markets and Foolish Investor: perfect recipe for disaster   (Jan 5)
Stock market Crash Myths and Realities (Jan 3)
Bull-Bear Markets & Arrogance (Jan 1)
Will The Stock Market Crash In 2018 (Dec 11)
Has US Dollar Finally Hit Bottom  (Dec 6)
BitCoin Has Done What Precious Metals Never Could (Dec 4)
Experts Making Stock Market Crash Forecasts usually know nothing  (Nov 17)
1987 stock market crash anniversary discussions- nothing but rubbish ( Oct 24)
Dow 22K Predicted In July 2017; Next Target Dow 30k? (Oct 15)
Anxiety and Greed Index Don't Support Stock Market Crash  (Oct 14)