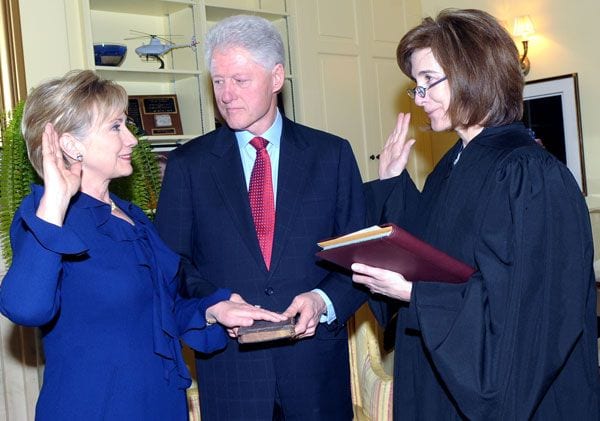 Editor: Vladimir Bajic | Tactical Investor
Clinton Secrets?
The media's weaponisation of news has become increasingly prevalent, with Brexit and the China trade war being prime examples. Outlandish claims that lack substance evoke fear, but the best solution is to ignore these fear-mongering tactics and focus on the overall trend. Fear is not based on reality, but rather a perception of what could happen, and obsessing over such thoughts can divert attention from the bigger picture. Ultimately, embracing the bull market is key to overcoming this fear factor and navigating the media's manipulative reporting. This article provides an excerpt highlighting these issues and continues with the main story. Ignore the noise and focus on the trend.  Trending Now News Equates To Garbage; It's All Talk & No Action
Hillary Maintaining Strategic Distance from Press
Since resigning as Secretary of State fifteen months ago, Hillary Clinton has maintained a strategic distance from the press and public. She has been dedicated to her memoir, "Hard Choices," which chronicles her time at the State Department and is scheduled to be published in early June. Additionally, she has been delivering occasional speeches, reportedly commanding fees upwards of two hundred thousand dollars, and consulting with trusted advisors about the possibility of a second presidential run. Despite a lack of substantial news, the media obsesses over her every move.
The mainstream media continues regurgitating speculations about Hillary Clinton's potential presidential campaign while desperately searching for fresh angles. Questions such as whether her new role as a grandmother, due to Chelsea's pregnancy, would deter her from running or if she would support Marjorie Margolies, who is also Chelsea's mother-in-law and ran for Pennsylvania's Thirteenth Congressional District. (Margolies lost the election).
Additionally, when eleven Democratic activists in Iowa were asked which of four prominent Democrats they would invite to a dinner party, only one chose Clinton, leaving the media to question her popularity.
In the meantime, Clinton's long-standing adversary, the "vast right-wing conspiracy," has started spreading rumours about her health, claiming that she is politically and clinically dead. Even several months ago, on his radio show, Rush Limbaugh stated, not in a hushed tone, that "whispers are persisting, whispers." "There's a whisper campaign that Mrs Clinton's health is not good. I'm just telling you. I'm not going to tell you what it is. I'm just telling you that there are people whispering." Full Story
Other Stories of Interest
Despite Investor Angst Most hated stock market keeps trending higher (July 30)
False Information, Mass Psychology & this Hated Stock Market Bull (July 29)
Zero Percent Mortgage Debuts setting next stage for Stock Market Bull  (July 27)
Long Term Stock Market Bears Always Lose  (July 27)
Information overkill & trading markets utilising Mass Psychology  (July 27)
Simple Common Sense Fix Ends Student Debt Problem (July 27)
Tactical Investor Anxiety Index; Best Market Sentiment Gauge  (July 26)
Brexit Hidden Theme Continuation of Currency War Game (July 26)
Stock Market Bears Smashed Jan & Feb 2016 as Predicted (July 25)
Another reason this bull market will not buckle soon (July 22)
Americans favour Coffee over Financial Freedom (July 13)
What Economic Recovery; 62% of Americans don't even have 1000 in savings (July 12)
Why everyone should own some Gold & Silver Bullion  (June 12)
1st World Corporate America & Third World Regular America (27 May)