Stock Market Indicator 1: Sentiment Gauge
It takes no effort to lose control and flee for the hills: the reward is a hard kick to the stomach and massive losses. For such individuals always sell at the bottom and buy at the top. Until they understand that the crowd's only purpose is to provide a signal on what one should not do, these investors will forever end up on the wrong side of the markets.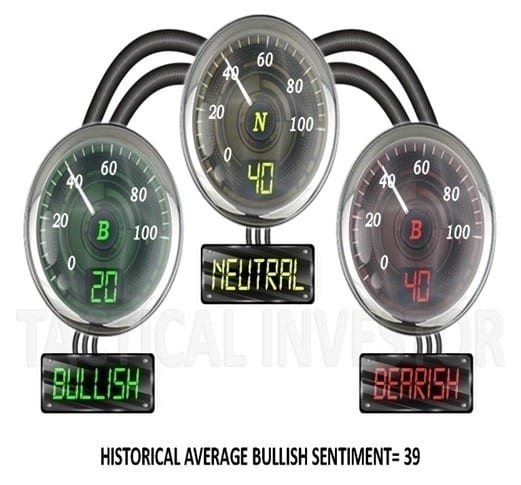 The astute individual that does not panic walks away with a huge reward and that is how it's been for millennia and nothing is going to change for another 1000 years.  This gauge provides a clear in-depth view of what the masses are thinking and it allows us to determine when we should get in or out of the markets. We are not trying to identify topping or bottoming action
Stock Market Indicator 2: Religious Provocation Index
We have been maintaining proprietary indices since 2004.  These tactical Investor Indices are unique and only displayed on the Tactical Investor site.  There is no other service or site to our knowledge that maintains such indices.
For example, the Religious provocation index accurately predicted that the Iraq war would be a failure and that far from being over when then-President Bush openly stated to the world that the Iraq war was over, we instead stated that it had only just begun. It predicted that the Afghan war would be a failure and failure it was. It went on to predict that tensions would rise to the boiling point and in 2006 Israel attacked Hezbollah.  Then we had the Arab spring.  And the list goes on.   We will be adding the other indices to this page shortly. Please note there is always a delay between what we publish and what we send out to our paying subscribers.
Stock Market Indicator 3: Anxiety Index
This gauge provides key insights into the mass mindset; it illustrates when the masses are in uncertain or gripped by fear. When this index is combined with the sentiment gauge mentioned above, the results are explosive.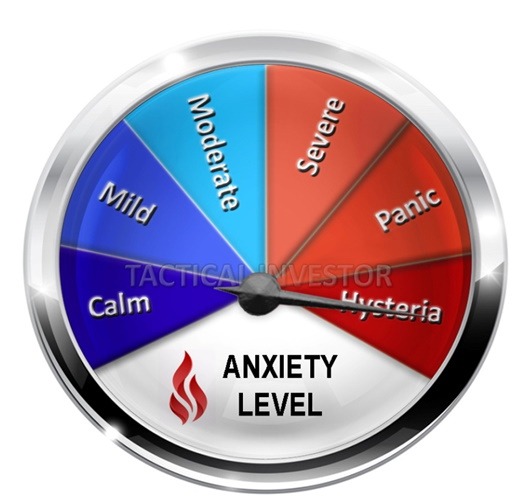 The masses are notorious for panicking at precisely the wrong time and turning euphoric when they should be fleeing for the hills. When the trend is up and the masses are uncertain or in panic mode, sharp pullbacks should be viewed as manna from heaven.
The V indicator
This indicator provides data in terms of market action; higher readings indicate that the markets are going to experience more volatility and vice versa. When the trend is up, larger moves are experienced in the direction of the trend. If the trend turns netural one can expect a sharp pullback which should be viewed as a buying opportunity unless the trend turns negative.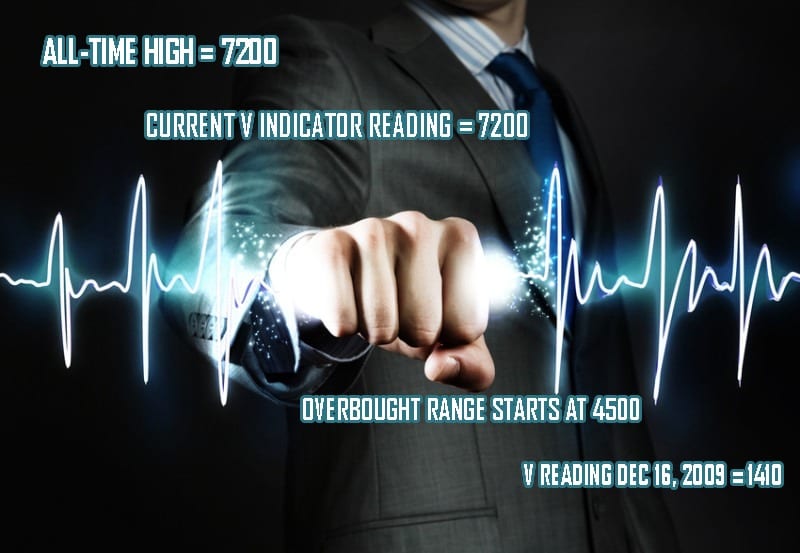 Volatility is a Trend player's best friend; in this case, it's up so astute players can use strong pullbacks to add to current positions or open new positions.
A Tactical Investor refuses to panic even when it looks like there is no reprieve in sight, for history indicates that panicking never pays off when it comes to the markets. The masses were, are and will always be prime cannon fodder candidates; they are hard-wired to panic and when they do the outcome is never good. Examine any panic based event, and one thing stands out like a sore thumb, the masses always took a beating.
Articles Topics of Interest:
Contrarian Investment Guidelines
Inductive Versus Deductive reasoning
the Level Of Investments In A Markets Indicates
How to win the stock market game
Next stock market crash predictions
what happens if the stock market crashes
Stock Market Forecast For Next 3 months
.