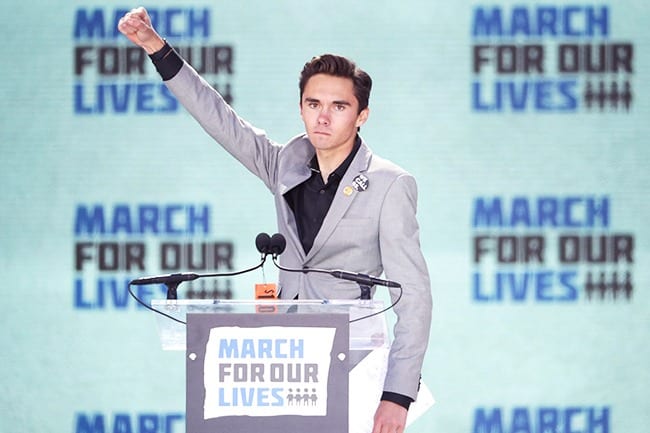 Editor: Johnathan Meyers | Tactical Investor
Sucker Punch David Hogg
Actor Frank Stallone switched his Twitter account to private on Saturday after he tweeted that Parkland shooting survivor and activist David Hogg should be "sucker punched" by someone from his age group.
In a tweet that has since been deleted, Stallone used vulgar language to describe Hogg and said he was a terrible representative for today's youth.
"This David Hogg pussy is getting a little big for his britches. I'm sure someone from his age group is dying to sucker punch this rich little bitch. Watch him run home like the coward he is. He's the worst rep for today's youth headline grabbing punk," Stallone tweeted in the deleted post.
Conservative radio host and author Laura Ingraham mocked Hogg on Thursday for his college rejections and was slammed on Twitter for his remarks. Dozens of advertisers dropped from her show after her remarks, causing Ingraham to take a week off from her show, "Ingraham Angle."
Hogg has yet to respond to Stallone's comment.
The Grammy and Golden Globe-nominated artist once sued a gun owner and his shop in Los Angeles back in 1987 for nicking his finger after a gun was fired during a demonstration. Stallone's brother, Sylvester Stallone, said he was anti-gun back in 2014 during an interview with the Daily Beast. Full Story
Other Articles of Interest
Good Time To Buy IBM or Should You Wait? (Mar 15)
Is the Bitcoin Bull Market dead or just taking a breather? (Mar 8)
Is this the end for Bitcoin or is this a buying opportunity? (Jan 24)
Stock Market Insanity Trend is Gathering Momentum   (Jan 10)
Is value investing Dead   (Jan 9)
Irrational markets and Foolish Investor: perfect recipe for disaster   (Jan 5)
Stock market Crash Myths and Realities  (Jan 3)
Bull-Bear Markets & Arrogance   (Jan 1)
Will The Stock Market Crash In 2018  (Dec 11)
Has US Dollar Finally Hit Bottom    (Dec 6)
BitCoin Has Done What Precious Metals Never Could  (Dec 4)
Experts Making Stock Market Crash Forecasts usually know nothing  (Nov 17)
1987 stock market crash anniversary discussions- nothing but rubbish ( Oct 24)
Dow 22K Predicted In July 2017; Next Target Dow 30k? (Oct 15)
Anxiety and Greed Index Don't Support Stock Market Crash  (Oct 14)