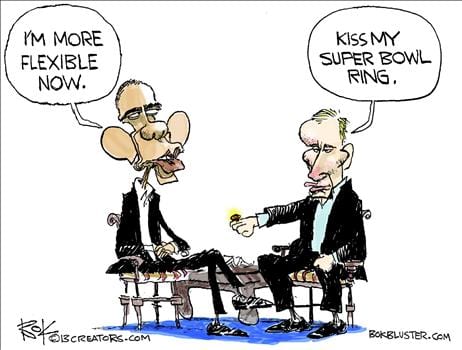 Russia rejects U.S. concerns over Vietnam base role in bomber flights
MOSCOW/WASHINGTON (Reuters) – Russia on Friday rejected U.S. concerns about its use of a former American base in Vietnam for the refueling of Russian bomber flights around U.S. territory in the Pacific, dismissing recent U.S. statements as "puzzling" and "strange".
The Vietnamese government has not responded to requests by Reuters for comment.
"WE DO NOT INTEND TO LISTEN"
On Friday, Russia's Tass news agency quoted Russia's ambassador to Vietnam, Konstantin Vnukov, as saying that Vietnam and Russia were independent sovereign states that "do not need any instructions or recommendations by anyone, and we do not intend to listen to requirements."
Russia and Vietnam are longtime allies, and Moscow was the main backer of Hanoi against the United States in the Vietnam War that ended in 1975.  Full Story
The broke naked emperor is telling the world what to do again; resistance is not futile if the trend is on your side.  In the past, the US could afford to dictate the rules as the trend was on its side. The pattern is no longer supportive of this action, so doing the same thing and expecting a different outcome when the trend has changed is the definition of insanity.  
Argentina warns Citibank it could lose banking license
The dispute stems from Argentina's default in 2001 on $100 billion of debt. Most bondholders agreed to debt-swap deals in 2005 and 2010 that lowered Argentina's payments. A group of U.S. hedge funds, however, demanded full payment on Argentina's debt and Griesa ruled they must be paid roughly $1.5 billion if Argentina pays interest to other bondholders. In arguments made last week, Argentina said payments processed through Citibank's local branches should not be subject to Griesa's rulings. The judge, however, disagreed, saying there was overwhelming evidence the bonds had been marketed outside Argentina despite being processed locally.
"Judge Griesa's order violates, again, basic legal principles and makes clear that his decisions are not grounded in the law, but in his obvious bias against Argentina," the ministry statement said.,  Full Story
These hedge fund managers bought this old debt for pennies on the dollar and now want to be paid in full. This judge A.K.A prostitute decides that he is going to rewrite the rules just because his services are for hire.   Why would any nation pay back debt in full when the original settlement called for less? If there was any chance for a full settlement, do you think that the original bond holders would have sold their stake for so little; another sign of US arrogance and stupidity.    This judge, in essence, is trying to force Argentina into defaulting again by telling them that they cannot pay any bond holders until the thieves who bought the bonds for pennies on the dollar are paid in full.   This is how money is made in Wall Street; most of the so called top shots are scoundrels; their main talent is that they have an incredible amount of talent when it comes to cheating the common man from his hard-earned wages.  One day, we will examine Buffet's so-called success strategy, and it's not what most people think it is; he is not the most successful investor because he is gifted.   Now that the trend has changed we can touch subjects, albeit briefly that we once passed up as the trend was not on our side so it made no sense to talk about something for the sake of talking about it.  All these topics we touch in the market update will be explored in more detail if the new site we are mulling over, goes online.   These topics are beyond what this publication was designed for and so can only be covered briefly here.
How to Build a $400 Billion F-35 That Doesn't Fly
The Pentagon's embattled F-35 Joint Strike Fighter continues to be plagued with so many problems that it can't even pass the most basic requirements needed to fly in combat, despite soaring roughly $170 billion over budget. As the most expensive weapons program in the Pentagon's history, the $400 billion and counting F-35 is supposed to be unlike any other fighter jet—with high-tech computer capabilities that can identify a combatant plane at warp speed.
During an interview on 60 Minutes, Air Force Lt. Gen. Chris Bogdan, who is in charge of the program, said, "Long gone is the time when we will continue to pay for mistake after mistake after mistake. Lockheed Martin doesn't get paid their profit unless each and every aeroplane meets each station on time with the right quality."
https://www.youtube.com/watch?v=NbvggmVnOLo
However, a new progress report from the Defense Department casts serious doubts on the advancement of the program. The DOD's Director of Operational Test and Evaluation cites everything from computer system malfunctions to flaws with its basic design—it even found that the jet is vulnerable to engine fires because of the way it's built.
A separate report from Military.com unearthed another embarrassing issue with the jet that suggests it won't take off on time.  Full story
On the other hand, the Russians seem to be making good progress, their 5th generation fighter known as the PAK 50. It is going through the testing phase and is expected to be operational by 2017.   The cost for this programme is significantly lower, and it appears that this is fighter will be ready for production at a much earlier date than the F 35.  The F 35 might end up being scrapped.  The Russian Sukhoi fighters are incredible planes and all of them as efficient as their American counterparts, but the price tag is considerably less.  The PAK 50 still has some issues to overcome, but it appears that it's more flight worthy than its counterpart which many US experts think is a sorry excuse for a 5th generation fighter.   From a trend perspective, this is a confirmation that the USA has peaked while the new emerging powers like Russia, China, and other members of the BRICS are bottoming out and embarking on multi-decade up trends. We still think that Russia makes for an excellent long-term investment and Europeans and Americans looking for a country that has similar cultural views (religion, etc.) might find Russia could make for a good second home. While there will be some missteps along the way up, the bottom we believe is close at hand.   Always remember, that we do not base our analysis on personal feelings, we focus on the trend and psychological factors. What we think matters not and when we do reveal our feelings, we do it for entertainment purposes only.  When you get personal, you get nothing but trouble.  The trend is your friend if properly understood; otherwise, it could be your deadliest foe.
The link below provides some details on the PAK 50.   The price differential between the two is mind boggling. It is estimated that it will cost 1.5 trillion in total to get the F 35 to the skies.  The PAK 50 will cost less than 50 billion.  Already the F-35 programme has lost $400 billion, and its produced a piece of junk that is unstable.   Full Story
Iceland says dropping bid for EU membership
"Iceland's interests are better served outside the European Union," the minister wrote on his website.Iceland first applied for EU membership under a leftist government in 2009, when the country was badly shaken by an economic crisis that saw the Icelandic krona lose almost half its value, making eurozone membership an attractive prospect. But the thorny issue of fishing quotas was seen as a key obstacle to joining the bloc, although it was never brought up in the accession talks.
Fishing represents an important part of the Icelandic economy, and it was never made clear how differences between Brussels and Reykjavik could be patched over on the subject. Thousands of protesters had thronged the streets of Reykjavik last year to demand a referendum after the government said it was dropping its EU membership bid without a popular vote.
But opinion polls more recently began to show growing resistance among Icelanders to EU membership.
The head of the Social Democratic opposition, Arni Pall Arnasson, however, lamented that the government had taken the decision without approval from a majority in parliament.  Full story
A very very smart move on Iceland's part and we suspect that soon many members will start to question the value of being a member of the EU.  Britain is already doing so, and there is a good chance that they might bail out; if they bail out, then a host of other nations will leave.  The current setup only benefits Germany; the rest of the countries are paying for services their citizens neither want nor need.  The EU was a massive mistake it created almost all the problems most of the countries in Europe are facing today.  An organisation that looks out for Europe's interest would not be a bad idea but giving up one's identity and sovereignty to a bunch of imbeciles/bloodsuckers headquartered in Belgium makes little to no sense at all.
Britain seeks to join China-backed infrastructure bank
Britain announced hopes to become the first major Western country to join a Chinese-led development bank on Thursday, drawing a concerned response from Washington. The $50 billion Asian Infrastructure Investment Bank (AIIB) has been feted by Beijing as a way of financing regional development, and is seen as a potential rival to US-based institutions such as the World Bank.Finance minister George Osborne said Britain would join discussions with other founding members to set out the institution's governance and accountability structures later this month, in a move to bolster relations with China.
China and 20 other countries signed a memorandum of understanding to establish the Beijing-headquartered bank in October.
The bank has support from countries including India, Singapore, Malaysia, Cambodia, Pakistan, the Philippines, Uzbekistan and Vietnam. However, several major economies allied to the United States including Japan, South Korea and Australia have declined to become founding members.  Full Story
Britain, our closest ally has seen the writing on the wall and has decided not to buck the trend.  The Aussies, on the other hand, are still dreaming, and the Japanese and South Koreans are backing the wrong ship and will pay dearly for their lack of foresight when they are dwarfed by the economic might of China, India and Russia in the years to come.  It appears though that the Aussies could be changing their mind (read the story below) given the sudden and surprise decision by Britain to join forces.   This is another clear signal that things are changing. The speed at which these changes are appearing is increasing drastically; we forewarned our subscribers of this.   Expect this trend to continue.   The USA had every chance in the world to maintain the upper hand, but it refused to take advantage of this, and we went on record to officially state (roughly early last year) that the US had lost that opportunity forever. Now there is nothing the USA can do that will reverse the trend.  The ultimate powers have realigned, and their position is not in sync with that of the USA.  The trend has changed, and once an ultra long-term trend change occurs, no amount of artificial force will prevent it from exerting itself.  
Support for China-led development bank grows despite US opposition
Australia indicates it could join UK, New Zealand as founding member of Asia Infrastructure Investment Bank, which Washington views with suspicion.Support for a Chinese-led development bank is growing despite US opposition, with Australia indicating that it could join the UK and New Zealand as a founding member. Analysts predicted that others would follow Britain's surprise decision to put its weight behind the new $50bn institution, despite the US making its irritation clear in an unusual public rebuke.
"Now the US's closest ally has been emboldened to do this, there's very little reason for others not to, because the rubicon has been crossed. If you're looking at South Korea and Australia, it's a bit of a no-brainer," said Stephen Spratt, a research fellow at the UK-based Institute of Development Studies.
The Asia Infrastructure Investment Bank (AIIB), which is designed to provide funds to the Asia-Pacific region, is viewed with suspicion in Washington, where it is seen as a rival to the World Bank and a possible instrument of Chinese soft power in the region.  Full story
We put this story up, just to illustrate that the Aussies are probably having some serious talks about the ramifications of not joining forces with the new leaders.  China is already Australia's largest trading partner, so they already know who they should be joining forces with.  The question is will they do what makes sense or attempt to placate a dying superpower.   
China seeking yuan role in IMF reserve currency
Beijing (China) (AFP) – China is in talks with the International Monetary Fund for the Washington-based institution to add the yuan to its basket of reserve currencies, a top banking official said Thursday as Beijing seeks a greater global role for the unit.
It hopes the yuan will become part of the IMF's "special drawing rights" (SDR) assets "in the foreseeable future", said vice central bank governor Yi Gang. At present, SDRs are made up of only the US dollar, the euro, the Japanese yen and the British pound.
But Yi said China's rise to become the world's second-largest economy had made the yuan, also known as the renminbi, the world's second largest trade financing currency and sixth most widely used transaction currency. Including the yuan in SDRs will "undoubtedly" make the IMF's unit more "representative" of the global economic landscape, said Yi, who is also head of the State Administration of Foreign Exchange.
"We are evaluating the matter and actively communicating with our colleagues at the IMF," he told reporters on the sidelines of the Communist-controlled National People Congress legislature. The global lender's executive board reviews the basket composition every five years, with the next examination set to take place this year. Full Story
Another move illustrating China's rising role in the world.  Expect them to push for more, and if they do things, correctly they will look to create a new basket of currencies to undermine the US dollar as opposed to another single world reserve currency system.
Yahoo Introduces 'On-Demand' Password System, Uses Your Smartphone to Log You in
Yahoo Introduces 'On-Demand' Password System, Uses Your Smartphone to Log You in Yahoo said it eventually wants to eliminate passwords. (Richard Nieva/CNET)
It turns out nobody can remember their Yahoo passwords. Now the company wants to make it, so no one has to. Yahoo on Sunday launched a new service called "on-demand" passwords, which lets someone log into a Yahoo account using a short password the company texts to their phone instead of having to remember their password.
The process feels like a common process for logging into websites called two-factor authentication, where you first enter your password, then enter the second password the company sends to your phones. (Many popular services including Google's Gmail do this). Think of Yahoo's process like two-factor authentication, minus the first factor.
Full Story
Another term for this lovely service is an invasion of privacy.  The author of this story is an utter imbecile.  He or she should refrain from making blanket statements such as "it turns out that nobody can remember their passwords."  This statement is disingenuous and is an example of a person living on another planet or in an altered state, most likely due to smoking or inhaling some toxic substance.
Do not choose this option; it is a very bad idea; smartphones are even less secure and more susceptible to being hacked into. Secondly, if you lose your phone or someone steals it, they could potentially walk away with all your data. Companies that want to track you offer you a tiny carrot, but they charge in Gold.  What Yahoo wants is to get hold of your number and track your forever.  This way, they can spam your account and your phone with crappy ads.  Avoid this option like the plague. 
Germany, France, Italy to Join China-Backed Development Bank
The Asian Infrastructure Investment Bank is seen as challenger to Washington-based World Bank
German Finance Minister Wolfgang Schäuble, right, and China's Vice Premier Ma Kai shake hands at a joint news conference in Berlin on Tuesday. Mr Schäuble said Germany would be a founding member of a new international development bank backed by China, along with other European countries. German Finance Minister Wolfgang Schäuble, right, and China's Vice Premier Ma Kai shake hands at a joint news conference in Berlin on Tuesday. Mr Schäuble said Germany would be a founding member of a new international development bank backed by China, along with other European countries
Germany, France and Italy followed the U.K.'s lead in applying to join a China-led international development bank, lending the weight of Europe's largest economies to the project despite U.S. opposition.Europe's four top powers have now broken ranks with Washington in moving to become founding members of the Asian Infrastructure Investment Bank. The decision is expected to spur other U.S. allies to back the potential challenger to the World Bank and the Asian Development Bank, where Washington has significant influence.
It also comes as Obama administration officials warn that the U.S. is also losing clout through the world's emergency lender, the International Monetary Fund. Full Story
It seems that the rats are abandoning the old ship and jumping into the new ship.  How fast things are changing? One minute they say no, and then they say yes.  Ladies and gentleman these were the unusual and wild moves we were referring to when we stated that V readings had surged to extreme levels, and as a result, this new long-term trend change is gathering momentum, so the speed will increase.   The pendulum is swinging in a new direction.
Other Stories of Interest
Is The U.S.A Still A Super Power? (Oct 25)
China; A Great Time To Buy (Oct 25)
Not Time To Short The Markets Yet As Long Term Trend Still Intact (Oct 24)
Dollar Bull Still In Play  (Oct 24)
Market Trend is up and all pullbacks are buying opportunities (Oct 2)
Gold Approaching Critical Juncture (Sept 30)
Copper at make or break point  (Sept 27)
A New Era In Trading (Jan 25, 2014)