I find that a great part of the information I have
was acquired by looking up something and finding something else on the way.
Franklin P. Adams 1881-1960, American Journalist, Humorist
Gold Outlook
The dollar is plunging, and it would appear that the logical path for Gold would be upwards. However considering that the dollar plunged several points in the last few days, the reaction from Gold was muted at best.  The dollar dropped from 85.50 to 82 in under 2 weeks and in that same time frame Gold moved less than 30 dollars. The Gold outlook is thus far from favourable.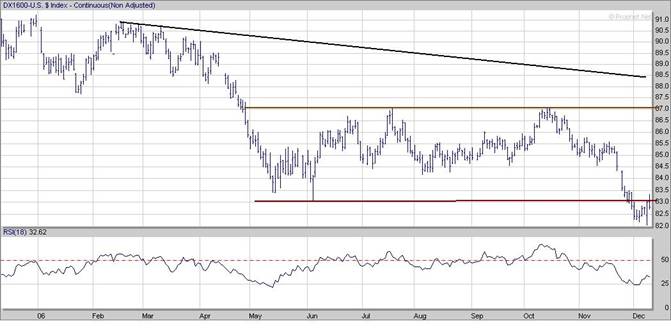 The dollar and Gold do not always trade in opposite directions; for most of 2005 and up to early 2006 they both traded in the same direction.  Thus it's even possible that Gold could initially at least correct in the presence of a declining dollar; Gold would later diverge and trade in a different direction as it did from around Feb of this year.
Let's see what the technical picture is illustrating;
It looks like Gold will most likely test the old main up trend line (now a zone of resistance) which corresponds to the 630-645 ranges.
Gold Outlook: From Market Update Oct 17, 2006
The above is an excerpt from the communication sent that was sent out to our subscribers. Note we would like to state that we are not bearish on Gold. In fact in October when Gold traded into the minimum oversold ranges of our indicators, we stated that individuals with absolutely no positions should consider buying bullion (Gold was trading under 600 at that time).
If you look at the first chart, you will notice that Gold was unable to stay above the long-term trend line; it broke down almost immediately.  We feel that if Gold does not trade above this line soon and stay above it for at least two weeks, there is a very good chance that it will test its lows. One other factor comes from mass psychology; there is simply too much bullishness in the Gold camp right now, and a test of the lows will cut off the weak hands in this camp.
Ideally, Gold would test the 560 level again and hold if it trades below this level for more than a week Gold will most likely trade below the 500 mark.  If the 560 level is tested and it holds, we would be aggressive buyers of bullion and if it were to trade below this level, then it would provide for an even better buying opportunity.
Conclusion
Gold did not react strongly to the massive pullback in the dollar; this could indicate that initially it is going to trade in the same direction as the Dollar and or it has one more corrective wave to undergo.  There is also just a bit too much optimism in the Gold camp, and finally, almost all trend changes are followed by one fake move in the opposite direction.
There is no doubt that when one takes a very long-term view that Gold still is a great investment. Unfortunately, not everyone can afford to sit through massive corrections and hence for such individuals (the majority) it's always best to sit and wait for the opportunity to present itself. If Gold does not trade above the main up trend line soon, then there is an excellent chance that it will test the 560 levels again. A break below 560 for more than a week and Gold will almost definitely trade below 500.  If Gold trades below the 500 mark we would view at as a screaming buy and we would be aggressive buyers.
People often remain in the dark, not due to lack of light but of failure to open their eyes
Allen Cornelius Johnson Bahamian Activist
Other Articles Of Interest