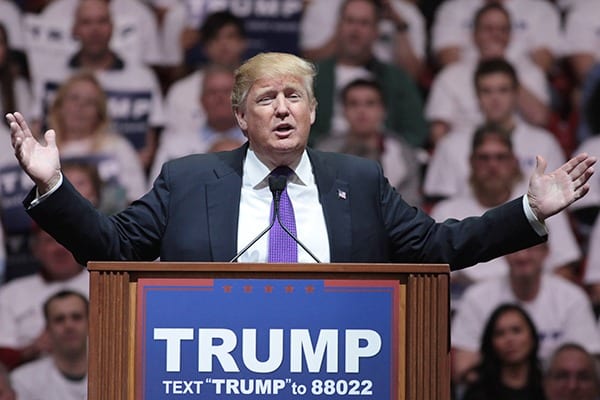 What To Expect From Trump Today And Going Forward
President-elect Donald Trump will have if his campaign promises are to be believed, a very busy first day in office. He has pledged a slew of ambitious actions right out of the gate, including overturning a bevvy of President Barack Obama's executive orders, tearing up trade deals, overturning domestic regulations on energy and the environment, deporting undocumented immigrants, and, of course, repealing the Affordable Care Act.
That doesn't mean all those actions will be taken on Friday, Jan. 20, after his swearing-in; Trump has talked of Monday as his first big day, and Vice President-elect Mike Pence speaks of implementing the campaign pledges over a period of weeks. And just one day before he takes office, Trump and his team have kept their planned actions very close to the chest or are still deciding just what to do: Few Republican leaders in Washington have an inkling of what is in store.
But what seems clear is that President Trump, once he sits behind the Resolute desk, will have the ability to quickly reshape huge chunks of Obama's foreign-policy legacy. Here are some key areas to keep an eye on, exploring what policies Trump is expected to enact — and those pledges he is unlikely to be able to fulfil right away.
The war on terror
Trump and his national security team say fighting Islamic extremists is its top foreign-policy priority, and the new administration is eager to take action to give the military more authority… Full Story
What To Expect From Trump: The Unexpected
President Donald Trump is unlikely to change China's stance on North Korea when he visits Beijing this week, but he could well make some headway on trade deals between the two countries.
When Trump arrives in the capital Wednesday, he'll be meeting his Chinese counterpart possibly at the height of Xi Jinping's power. After the Communist Party Congress in October — when Xi consolidated his power base — the Chinese president has been projecting himself as a steady, stable leader with a set vision for the nation. Trump will be negotiating with China's most powerful leader in decades.
Addressing the trade imbalance
On the economy, Trump is expected to focus on the trade imbalance. After July's Comprehensive Economic Dialogue (an annual economic dialogue session in Washington), both countries expressed their interest in narrowing the U.S.'s trade deficit with China.
On the Chinese leg of his 12-day Asia visit, Trump will likely announce billions of dollars in deals to address the gap.
Based on the business delegation travelling with the U.S. president, the deals will likely centre on China buying American energy and farm products, as well as aircraft and other machinery. Chief executives on his trip include those from Boeing, Cheniere Energy, Texas LNG Brownville, DowDuPont, and the U.S. Soybean Export Council. Full Story
Other articles of Interest
Three Charts illustrating Hated Stock Market Bull Still has legs (Dec 28)
Japanese Labour Problems being Solved by Robots (Dec 20)
Stock Market bull will go ballistic under Trump Administration (Dec 8)
Religious wars being used as pretext to destroy currencies on Global basis (Dec 7)
Central Banks Prime Directive-Rob the Poor to Pay the Rich   (Dec 5)
Brexit on Steroids-Trump Wins Triggers Massive Stock Market Rally  (Nov 29)
Unaffordable Obamacre-50 percent cannot afford over 100 per month (Nov 19)
China factory activity at 22-month high & High Tensions in Libya (Nov 15)
Sofia the Humanoid Robot That Looks and Talks Like a Human (Nov 12)
CNBC Tears Down Elon Musk's Snarky Response To A Coal CEO (Oct 21)
Freedom & Independence-almost extinct & forgotten concepts  (Sept 23)
Observer or Participator determines your outcome (Sept 23)
Classic Article Clipping Coinage; prelude to Fiat & Central Bank Abuse (Sept 21)
Gold 25K plus-experts making those predictions will be dead before Gold hits those targets (Sept 20)
Mass Media Busted; Britain faring better After Brexit (Sept 5)
Listening to Main Stream Media guarantees Stock Market Losses  (Sept 3)
Psychological & Economic Deception Wall Street's Weapon of Choice (Sept 1)
Brexit Success: Manufacturing Activity Surges to 25 year high (Sept 1)