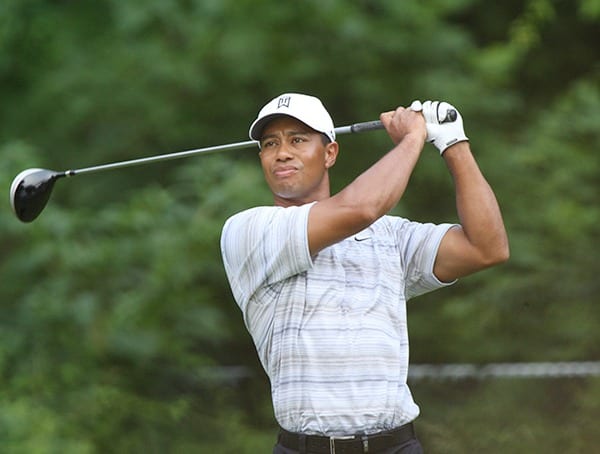 Tiger Woods on Donald Trump
Tiger Woods opened up Thursday about his recent golf outing with Donald Trump, saying he was "impressed" by the president-elect's drive.
"I recently played with President-elect Donald Trump," the 14-time major champion wrote in a blog post on his website. "What most impressed me was how far he hits the ball at 70 years old. He takes a pretty good lash."
Mr. Woods, 41, was spotted playing golf with the president-elect at the Trump International Golf Club in West Palm Beach, Florida, on Dec. 23. The golf legend said they both enjoyed razzing each other on the greens.
"Our discussion topics were wide-ranging; it was fun. We both enjoyed the bantering, bickering and needling. I also shared my vision for golf and what I'm trying to do," Mr. Woods wrote.
"We didn't have a match and played for fun," he added. "I was testing drivers and fairway woods, and changed some settings. I think he enjoyed seeing the difference in shots when you experiment." Full Story
Trump's motives questioned over Medal of Freedom for Tiger Woods
If there were a Mount Rushmore for golfers, Tiger Woods would probably be on it. But President Donald Trump's decision to award the nation's highest civilian honour to Woods has raised questions about whether the president should be boosting the profile of a business associate of The Trump Organization.
Trump planned to present the Presidential Medal of Freedom to Woods during a White House ceremony Monday evening. The president announced his intention to do so after Woods won the Masters Tournament last month, capping a remarkable recovery from injury and years of personal troubles that had left some wondering whether he would ever win again at the professional level. Woods earned his 15th major golf championship with his Master's win and his 81st overall on the PGA Tour, both ranking second.
Trump understood the importance of the moment to golf and its fans, tweeting that he was awarding Woods the medal because of his "incredible Success & Comeback in Sports (Golf) and, more importantly, LIFE."
Trump has been using Woods' cachet to attract fans to his properties for decades. Trump got Woods to show up at his Taj Mahal casino in Atlantic City, New Jersey, a day after the golfer's first Masters victory in 1997. The place was mobbed. Two thousand fans showed up as Woods walked down a 320-foot red carpet, some of them storming steel barricades to get a closer look. Full Story
Other Articles of Interest
Three Charts illustrating Hated Stock Market Bull Still has legs (Dec 28)
Japanese Labour Problems being Solved by Robots (Dec 20)
Stock Market bull will go ballistic under Trump Administration (Dec 8)
Religious wars being used as pretext to destroy currencies on Global basis (Dec 7)
Central Banks Prime Directive-Rob the Poor to Pay the Rich   (Dec 5)
Brexit on Steroids-Trump Wins Triggers Massive Stock Market Rally  (Nov 29)
Unaffordable Obamacre-50 percent cannot afford over 100 per month (Nov 19)
China factory activity at 22-month high & High Tensions in Libya (Nov 15)
Sofia the Humanoid Robot That Looks and Talks Like a Human (Nov 12)
CNBC Tears Down Elon Musk's Snarky Response To A Coal CEO (Oct 21)
Freedom & Independence-almost extinct & forgotten concepts  (Sept 23)
Observer or Participator determines your outcome (Sept 23)
Classic Article Clipping Coinage; prelude to Fiat & Central Bank Abuse (Sept 21)
Gold 25K plus-experts making those predictions will be dead before Gold hits those targets (Sept 20)
Mass Media Busted; Britain faring better After Brexit (Sept 5)
Listening to Main Stream Media guarantees Stock Market Losses  (Sept 3)
Psychological & Economic Deception Wall Street's Weapon of Choice (Sept 1)
Brexit Success: Manufacturing Activity Surges to 25 year high (Sept 1)