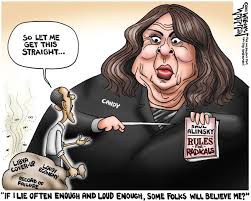 There you have it; the intelligence community hates Hillary so much for sacrificing the lives of so many field agents that they want such an incompetent person to be president.  Thus they took it upon themselves to hack the DNC to show the American People just how corrupt and destructive Hillary Clinton would be a president.  Judge Napolitano reveals this in the video below
The motivation of the hacker…concern over Hillary Clinton's disregard of national security secrets when she used a personal email and consistently lied about it. Binney was just getting started with revelations we are sure no mainstream media news site will dare to cover. The"Putin did it" fairytale is just too easy for the sheep to follow.Binney also proclaimed that the NSA has all of Clinton's deleted emails, and the FBI could gain access to them if they so wished.  No need for Trump to ask the Russians for those emails, he can just call on the FBI or NSA to hand them over. 
Binney surmised that the hack of the DNC could have been coordinated by someone inside the U.S. intelligence community angry over Clinton's compromise of national security data with her email use.
And the other point is that Hillary, according to an article published by the Observer in March of this year, has a problem with NSA because she compromised Gamma material.  Now that is the most sensitive material at NSA. And so there were a number of NSA officials complaining to the press or to the people who wrote the article that she did that. She lifted the material that was in her emails directly out of Gamma reporting. That is a direct compromise of the most sensitive material at the NSA. So she's got a real problem there. So there are many people who have problems with what she has done in the past. So I don't necessarily look at the Russians as the only one(s) who got into those emails.Full Story
Other Stories of Interest
Tactical Investor Election Polls-Updated Constantly Until Election day
Foreign banks Dump whopping 356 billion in US Debt  (Oct 20)
Climate Change Fad & Bad Science Funded by Leftists (Oct 18)
Housing déjà vu-Banks ready to drain the Masses again (Oct 15)
Wall Street & Banks looking to bring back Liar Loans  (Oct 15)
America has lost its grip on power- Russia & China now lead the way (Oct 15)
Real Polls illustrate Trump Polling at two-thirds-Hillarys support is fabricated (Oct 15)
Wikileaks Timeline of Hillarys lies-Illustrates Media lying through its teeth (Oct 15)
President Duterte tells Obama to go to hell and rightly so  (Oct 12)
Even Corrupt Saudi King declines to Meet Obama; very telling indeed  (Oct 6)
World Leaders losing respect for Obama-Even Filipino President curses Obama (Oct 6)