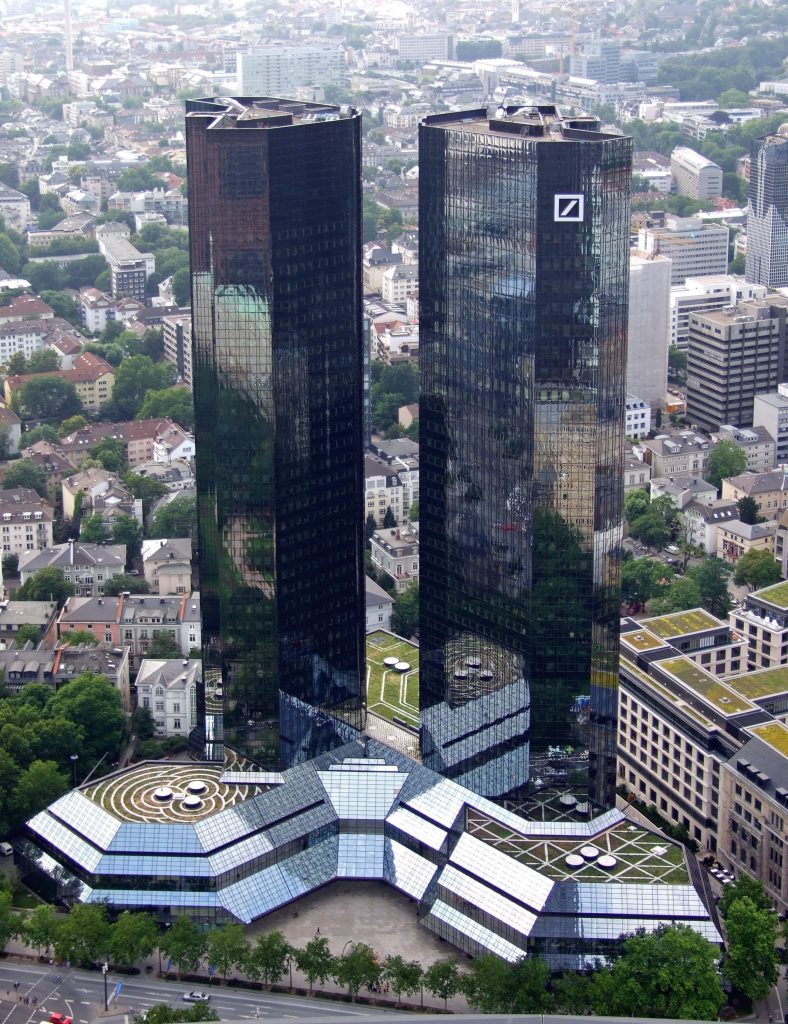 Editor: Vladimir Bajic | Tactical Investor
Deutsche Bank headquarters raid
 Before we to the story at hand, you might find this article to be of interest:
The real problem is that there are college students that don' want to work and want to go to the best colleges money can buy and the parents are encouraging this. What happened to the day you went to the college you could afford, and you worked to pay for all of it or, at least, helped your parents. The problem lies with the parents and the kids; the parents are encouraging this insolent and "it's all about me behaviour" and that is why we live in a dog eat dog world today.
What made the baby boomers great and all those that came to the U.S decades ago? Everyone worked hard; there were no handouts, today's generations want the best of the best, but they do not want to pay for it. When the going gets tough, many college students decide to take the easy way out and have no qualms about selling themselves to sugar daddies to pay for their college. Sounds like such a sad story, until you realise these spoilt brats want the best of the best for doing nothing. Simple Common Sense Fix Ends Student Debt Problem
Deutsche Bank headquarters raid based on money laundering
Deutsche banks woes continue to build, their shares are trading close to 5year lows, and they keep landing in hot soup. They have now been accused of money laundering; this could end up being the last nail on a coffin that should have been buried a long time ago
Police cars were seen outside the tower blocks that house the headquarters of Germany's biggest bank. Five other Deutsche offices in the city were searched in an operation involving about 170 police and officials.
Prosecutors are looking into whether Deutsche Bank staff helped clients set up offshore accounts to "transfer money from criminal activities".
The investigation, which began in August, focuses on activities between 2013 and the start of 2018.
In 2016 alone, more than 900 customers were served by a Deutsche Bank subsidiary registered in the British Virgin Islands, generating a volume of €311m, the prosecutors allege. The investigation was sparked by revelations in the 2016 "Panama Papers" – an enormous amount of information leaked from a Panamanian law firm called Mossack Fonseca. BBC
Deutsche Bank Sordid History
The financial institution has recently been facing a number of legal problems, including probes into alleged manipulation of benchmark interest rates and derivatives, tax evasion and money laundering. 
Last month, it was fined a record $2.5 billion (2.2 billion euros) for its involvement in manipulating the interbank lending rate Libor. On Sunday, the banks two co-CEOs, Anshu Jain and Jürgen Fitschen, said they would be stepping down amid falling shareholders' confidence.
John Cryan, a former chief financial officer at Swiss banking giant UBS, will replace Jain when he leaves on June 30, and then become the bank's sole chief executive when Fitschen retires in one year's time. Fitschen is currently on trial in Munich on allegations of perjury stemming from testimony regarding the dissolution of the Kirch media empire. Full Story
Now it's More than Just Deutsche Bank headquarters raid
The authorities in Germany raided homes and banks around the country on Wednesday in a tax evasion investigation that originated with Deutsche Bank but has widened to involve other lenders.
The raids targeted 11 financial offices in Bonn, Cologne, Düsseldorf, Frankfurt and other cities, prosecutors said. They did not name the banks, but said that some were local public-sector savings banks known as sparkassen, indicating that Deutsche Bank is not the only institution involved.
Deutsche Bank, which the German police raided in November for possible links to tax evasion, said its offices had not been searched on Wednesday.
"The investigations are not directed against Deutsche Bank," it said in a statement. "Deutsche Bank cooperates with the public prosecutor's office and voluntarily submits all requested documents."

"Deutsche Bank helped customers found offshore organizations in tax havens by transferring illegally acquired money without alerting authorities to suspected money laundering," prosecutors said in a statement in November. Full Story
What Do We Know About The Deutsche Bank headquarters raid?
The prosecutors' case is based on an assessment of a large trove of documents, commonly known as the Panama Papers, that were leaked to the press in 2015 and first reported on in 2016.
Back in 2016, Deutsche Bank severed ties with a Cypriot lender named in the Panama Papers and which was identified in a media report as arranging as much as $2 billion in offshore transactions linked to associates of Russian President Vladimir Putin.
The Deutsche Bank unit at the centre of last week's raids was called Deutsche Bank Global Trust Solutions, part of the lender's private wealth business. It had a British Virgin Islands subsidiary called Regula Limited. Prosecutors say a Deutsche Bank business there had more than 900 clients and assets under management of 311 million euros ($353 million) in 2016.
The next thing to watch is the fallout for Deutsche Bank's management board. The lender, which has also drawn scrutiny in recent weeks for its role in a dirty money scandal at Danske Bank A/S, was considering replacing Chief Regulatory Officer Sylvie Matherat even before the latest developments. It has long been in the spotlight for deficiencies in money laundering controls — which fall into a unit ultimately headed by Matherat Full Story
Other Articles of Interest
AMD vs Intel: Who Will Dominate the Landscape going forward (June 28)
Fiat Currency: Instruments of Mass Destruction     (June 18)
The Retirement Lie The Masses Have Been Conned Into Accepting (June 15)
Stock Market Bull 2019 & Forever QE  (June 13)
Forever QE; the Program that never stops giving    (May 31)
Trending Now News Equates To Garbage; It's All Talk & No Action  (April 24)
Americans Are Scared Of Investing And The Answer Might Surprise You  (March 9)
Stock Market Crash Stories Experts Push Equate to Nonsense  (March 4)
Popular Media Lies To You: Don't Listen To Experts As They Know Nothing  (March 3)
Fiat Money; The main driver behind boom & Bust Cycles  (March 1)