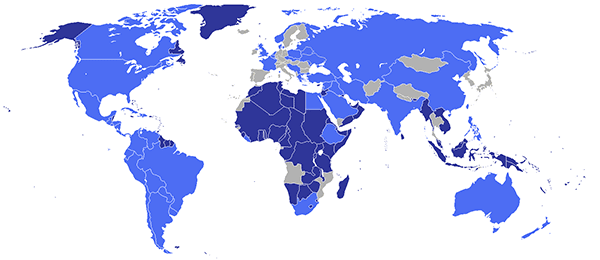 Editor: Vladimir Bajic | Tactical Investor
We discovered that our readers loved the concept of us posting excerpts to other interesting articles. In keeping with that theme, we think you will find the following article to be of interest. We cover a wide array of topics as in today's world of finance everything is interrelated.  Mass Psychology states that if you focus on only one topic it's like looking at the tree only and forgetting that it's part of the forest.
Throughout  2016, we stated we did not expect much from Gold, and we stuck to this forecast, even though many experts went out of their way to report that Gold was ready to soar to the Moon or even to the next Galaxy.  In fact, since 2011, we have continuously said that until the Trend turns positive, it would be best to play other lucrative markets, such as the general equities market, the US dollar, etc.  During this time several experts stated that Gold was ready to surge and some issued insane targets ranging from $20,000-$50,000.  Under no circumstance can we ever see Gold going to $20,000 or $50,000 and even if drank a whole bottle of scotch or any other toxic compound it would still be very hard to visualise such a target. Issuing such targets is perfect for fear mongering, and we find that tactic to be unpleasant and distasteful. Gold Market Finally ready to breakout?
The United Nations' role in geopolitics and mulilateral negotiation is singular, and cannot be ignored, Richardson says. The UN provides a space to coordinate crisis response, facilitates global agenda-setting, and is a forum for international conversation. It also funds and directs hundreds of agencies and organizations carrying out missions established by its member states.
"The kinds of things the UN does are critical," he says.
The US move to reduce UN funding is not a new one, however. Richardson experienced the consequences of withholding money from the UN during his tenure as UN ambassador in the 1990s. President Bill Clinton was a vocal supporter of the UN, but the GOP congressional leadership was not. Full Story
Last week, The New York Times obtained draft executive orders from the White House that would slash funding to certain international organizations — the United Nations among them — by up to 40 percent. The United States currently provides a quarter of the funding for the international body, so cuts of that magnitude would be a significant blow, says former Ambassador to the United Nations Bill Richardson.
"If there's one thing we know, it's that Donald Trump is not predictable," Richardson cautions — so he doesn't want to speculate too much. But the proposed cut is dramatic enough to merit some consideration of what the UN does, how it does it, and what the impact might be for global negotiations if it does lose US financial support.
he United Nations is not only imperfect, it is also misunderstood. Somewhat predictably, U.S. President-elect Donald Trump and his fellow Republicans unleashed a torrent of criticism against the U.N. Security Council's adoption of a resolution on December 23 condemning Israeli settlements in the West Bank and East Jerusalem. To express his disapproval, Trump described the institution as "just a club for people to get together, talk, and have a good time" and went on to suggest that "if it is causing problems rather than solving them…it will be a waste of time and money if it doesn't start living up to its potential." Full Story
The Trump administration has announced it will cut all US funding for the main UN programme for Palestinian refugees, a move with potentially devastating impacts for five million people who rely on its schools, healthcare, and social services.
"The United States will no longer commit further funding to this irredeemably flawed operation," the US State Department said in a statement, adding it was not willing to "shoulder the very disproportionate share of the burden" for the UN Relief and Works Agency (UNRWA).
The announcement had been anticipated both by senior officials at UNRWA and other Washington insiders, leading to warnings it may further destabilise the Middle East.
UNRWA not only serves Palestinians in the occupied territories but also in Jordan, Syria and Lebanon. European and Arab countries have pledged to protect the agency and Germany promised a significant increase in financial backing.
The announcement comes days after the US said it was withdrawing $200m from its main development agency, USAid, for programmes based largely in Gaza where they help tens of thousands of people.
The US has long been the largest individual donor to UNRWA, pledging about one third of the agency's $1.1bn annual budget, but earlier this year the administration cut a scheduled UNRWA payment of $130m to $65m, saying the agency needed to make unspecified reforms and calling on the Palestinians to renew peace talks. Full Story
Other Articles of Interest
Trump Movement gathering momentum-Far right Party leading in Dutch Polls (Dec 20)
German Defense minister Insults Saudia Arabia-Refuses to wear Hijab  (Dec 20)
Muslim group outraged over meme posted on Allen West's FB page-Nobody cares   (Dec 20)
Wilders found Guilty of speaking out against Islam WTF Happened to freedom of speech  (Dec 20)
1400 shocking years of Islam in five minutes-Radical Muslims hate this video  (Dec 18)
Where is Islam Illegal-Growing list of nations banning Islam?  (Dec 18)
Slovakia Toughens Church Registration Rules to Bar Islam (Dec 18)
Double Crossing Merkel states she will deport 100K migrants-get rid of her (Dec 18)
Saudi Author Turki Al Hamad Our Youth Are Brainwashed- Must stop ISIS Ideology at the roots (Dec 18)
High-income individuals will embrace Robot Sex states Expert (Dec 17)
Sextortion- hackers new game plan to fleece silly men using hot women as bait (Dec 17)
Two Stocks Set to Soar in 2017-Trump Administration (Dec 10)