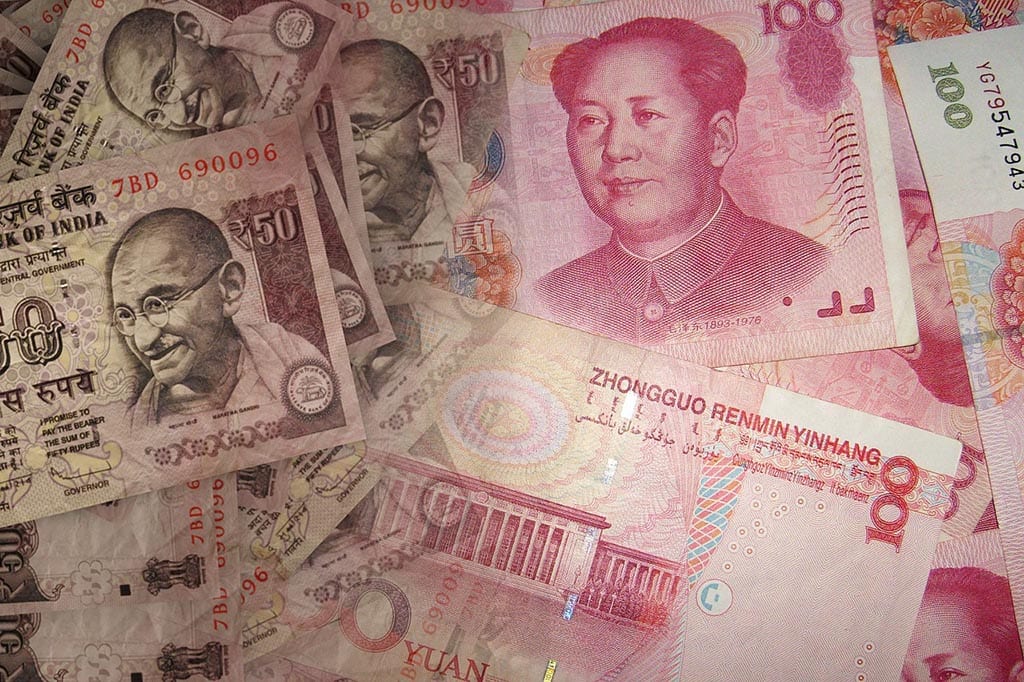 [color-box color="blue"]There are many experts pandering to the false view that India can overtake China, let's put a stop to that foolishness right now.  On PP basis China is a number, on a nominal basis, China is number 2, with a GDP of over $11 trillion. India, on the other hand, is at distance 7th place with a paltry GDP of just 2.35 trillion. India stands no chance of overtaking China at least not in this century.  India's massive brain drain clearly highlights this issue. If India were such a promising place, then Indians would not be flocking to greener pastures.[/color-box]
Migration of Indian scientists and engineers to the US has increased by 85% in 10 years, a report of the highest scientific body in the United States has said. The report of the National Science Foundation — Immigrants' Growing Presence in the US Science and Engineering Workforce: Education and Employment Characteristics in 2013 — released this month said that of all the immigrant scientists and engineers in the United States in 2013, 57% were born in Asia. Among the Asian countries, India continued its trend of being the top country of birth for immigrant scientists and engineers, with 9,50,000 out of Asia's total 2.96 million. India's 2013 figure represented an 85% increase from 2003. Full Story
Must read: Market Crash: Best time to buy stocks
The nightmare process businesses have to go through to start a business in this modern era is truly archaic and laced with a heavy dose of corruption.  This excerpt on You Tube shows Narayana Murthy of Infosys illustrates the frustration businesses experience http://www.youtube.com/watch?v=yRRqIZmz6iI
India's corruption makes China's corruption seem non-existent.  Add in the traffic jams, stench, and filth one has to deal with in parts of Mumbai and Delhi, and the charm of investing in India loses its appeal rather swiftly. Modi's government had the strongest mandate of any government, yet like all his predecessors he has squandered this opportunity so far and has failed to implement any noteworthy changes.
The first thing he should have done was to streamline the investment process, by making it easy for foreigners to invest. With foreign investment comes a plethora of jobs, but so far, Modi's government has been big on talk and small on action.
No one flinches when Indian markets are tanking but if Chinese markets tank or there is some bad news coming out of China the world's financial markets react and in most cases the reaction is usually very strong.
Jim Rogers seems to concur as it appears he is bailing out on India too.
You can't just invest on hope. Even If reforms started coming, it may not be enough to make the markets go higher, because markets have already factored it in. If the reforms are substantial, the markets may go higher. No indication of that.
If Modi made the currency convertible, if he made the markets open to outsiders, then I would have to be back in India again. So far Modi has been doing worthwhile things like addressing some social issues—I am all for that, and that is great for a lot of people—but India needs more.
You have saved your farmers by making it illegal for foreigners to own more than five hectares—how on earth can an Indian farmer compete with an Australian farmer with 50,000 hectares? In history, India has been one of the great agricultural nations of the world—you have the land, the people, weather—God gave you everything. And then, he also gave you Delhi to mess it all up.
Conclusion
While the Indian economy has grown nicely over the years, we think the tiger will have a hard time dethroning the Golden Dragon. India's has a GDP of roughly $2.1 trillion, and that sadly is a long way off from China's current GDP of $11.3 trillion.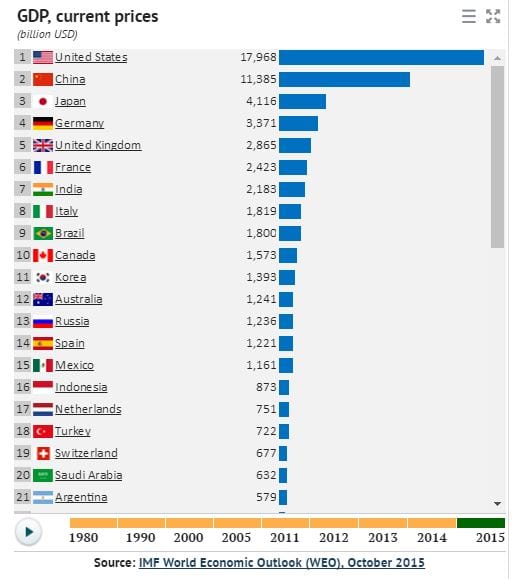 Source of image: knoema.com
[color-box color="orange"]Plan of action
While there are some great companies in India, from a long-term perspective, China makes for a better investment as the market is extremely oversold; great companies are selling for a fraction of their former prices.  For example, CHH, CHL TCEHY, BABA, are good [/color-box]
Video of interest: – Americans favour Coffee over Financial Freedom
Other articles of Interest:
Top 10 investment resources for Novice Investors  (Feb 20)
Masses struggle while Fed Pays Banks 7 billion to do nothing (Feb 17)
Where is Gold Heading: Sinclair States 50,000 per ounce  (Feb 16)
One chart illustrates economic recovery 100% fiction  (Feb 7)