Bitcoin ETF update
The zone of strong support has moved up, and it now falls in the 6000-6300 ranges. A monthly close above 11,000 will shift this strong zone to 6500.  There is a weak layer of support that comes into play in the 10,200-10,500 ranges. A weekly close below this level should lead to a test of the 7300 ranges. However, pay attention to 9K, if this level is breached on a monthly basis, then a test of 6000-6500 is highly likely.


The overall outlook for bitcoin is now bullish, and players can use very strong pullbacks to open new positions. Focus on the word very strong, for at the moment, the euphoria surrounding bitcoin is too high.  The huge spike up was due to the bears, who overbet and overstayed their welcome being squeezed and their desperate scramble to close their short positions was like pouring jet fuel on a fire. Now that most of them have been blown out of the water, the market is ripe for a pullback.
Overall, the trend is still positive, so the market is likely to end 2019 on a positive note.
Bitcoin ETF: Random Musing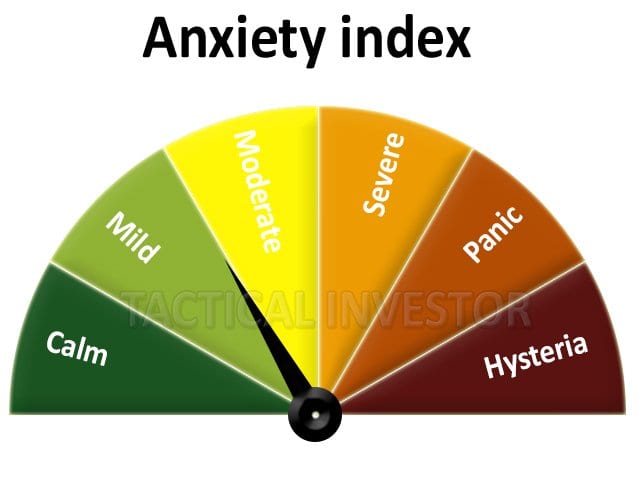 Another interesting development is that for the most part of 2019, bullish sentiment in relationship towards the stock market has traded well below the historical average of 39. Now let this sink in, we are in one of the longest bull markets in history, and instead of soaring to the moon, bullish sentiment is trading well below its historical average. Contrast this to the sentiment in bitcoin; currently, the sentiment is close to the euphoric stage; take a look at the anxiety gauge readings for the Bitcoin market.  Hence, traders should wait for the market to let out some steam before jumping in.
Bitcoin March 2020 Update

There is a decent chance that Bitcoin could test its lows; a weekly close below 6000, could result in a test of the lows. Once the lows are tested the odds are very high that BTC could test the 8000 ranges. We would wait for our indicators to move back to the oversold ranges before getting into Bitcoin or GBTC. For now, tech stocks like GOOGL, FB, INTC, etc make for a better play.
Other articles of Interest
Stock Market Forecast For Next 3 months: Up Or Down? (Sept 16)
Stock Market Crash Date: If Only The Experts Knew When (Aug 26)
Nickel Has Put In A long Term Bottom; What's Next?  (July 31)
AMD vs Intel: Who Will Dominate the Landscape going forward (June 28)
Fiat Currency: Instruments of Mass Destruction     (June 18)
The Retirement Lie The Masses Have Been Conned Into Accepting (June 15)
Stock Market Bull 2019 & Forever QE  (June 13)
Forever QE; the Program that never stops giving    (May 31)
Trending Now News Equates To Garbage; It's All Talk & No Action  (April 24)
Americans Are Scared Of Investing And The Answer Might Surprise You  (March 9)
Experts Finance Predictions for 2019
Stock Market Crash Stories Experts Push Equate to Nonsense  (March 4)