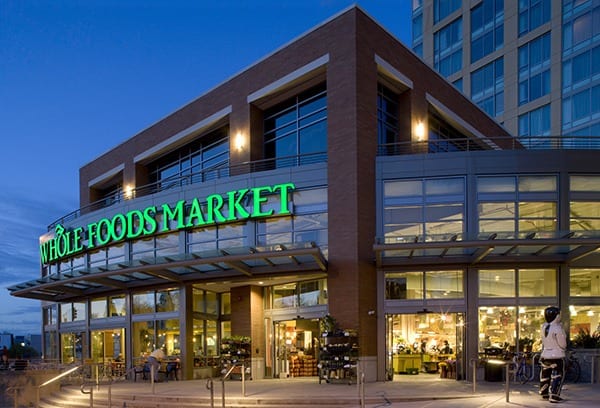 Amazon Whole foods Purchase will Transform Grocery?
Amazon agreed to pay $42 a share in cash for the organic-food chain, including debt, a roughly 27 percent premium to the stock price at Thursday's close. John Mackey, Whole Foods' outspoken co-founder, will continue to run the business — a victory after a fight with activist investor Jana Partners that threatened to drive him from power.
The deal sends shockwaves across both the online and brick-and-mortar industries. Grocery chains plunged on Friday — Wal-Mart Stores Inc. fell as much as 7.1 percent, while Kroger Co. tumbled 17 percent — as investors worried that woes will mount in the increasingly cutthroat industry. Amazon and Whole Foods weren't always seen as obvious partners, but Mackey has been under pressure to find an acquirer after Jana disclosed a more than 8 percent stake and began pushing for a buyout. That prodding irked Mackey, who has referred to Whole Foods as his "baby" and to Jana as "greedy bastards."
By enlisting Amazon, he gets to keep his job as chief executive officer of the grocery chain while giving the stock price a jolt. It jumped 27 percent to $41.98 as of 11 a.m. in New York, bringing it close to the transaction price. Amazon shares gained 2.9 percent to $992.11. Full Story
Amazon's Purchase of Whole Foods will Transform Grocery according to Wired's editor
This is a death blow for the mom and pop health food stores, and in the long run, it is bad for all food-based business.  Amazon is going to change the concept of food pricing completely. Whole Foods will no longer be known as a "hole paycheque".  Organic Food prices are going to tumble, though the toxic agents like carrageenan will probably continue to trend upwards. Read the label carefully before you buy anything.
This is the start of something bigger. Amazon plans to move into Insurance, Banking, prescription drugs, home mortgages and a host of other areas; if they don't an Asian company such as Alibaba will.
Amazon is also the king of automation, so expect them to fully automate these stores, which means that a cashier-free experience is very likely going forward. If Amazon takes this path, it will force other supermarkets to follow a similar model, meaning that the cashier position is nearing its end life.  Street vendors selling fruits and vegetables will face huge competition, and many will go out of business. Keep your eyes on Costco, if it starts to run into trouble, then we suspect that  60%-70% of the current players will not be around in the years to come.
For now,  the Food business industry is going to face a massive change; Amazon is going to create deflation in this sector.  The cost of organic food and regular groceries are all going to drop. Let's not forget the Germans are also coming to town, so we have the perfect set up for a massive price war.
Changes After Amazon Took Over Whole Foods
Whole Foods has also imposed merchandising fees and cut ties with many small suppliers, shifting the chain's focus primarily towards large and scalable brands. Reports note, too, that Amazon is trying to relax Whole Foods' natural sourcing standards to allow products with artificial sweeteners and flavours, such as Coca-Cola.
All of these efforts are aimed at lowering costs and bringing in more customers. But they also create a mainstreaming effect that could dilute Whole Foods' carefully crafted brand. Will consumers still want to shop at Whole Foods if it offers the same assortment as a traditional grocer
While Whole Foods' changes under Amazon have been modest, the rest of the industry has undergone a seismic shift. Across the country, grocers have rushed to put online shopping platforms in place. They've rolled out new loyalty programs, accelerated their store remodels, partnered with meal kit companies and rolled out mobile apps and other new technologies. Some of these initiatives were already in the pipeline for companies, and reflect a very competitive, over-stored industry. But Amazon's entry fast-tracked everything. Full Story
How does Amazons  2016 Whole Foods Purchase look like in 2019
The single biggest change has been Amazon Prime's impact on Whole Foods. In the past, Whole Foods was not known for discounts based on a membership model. Now, however, there are the telltale blue and yellow Prime discount stickers letting shoppers know that organic strawberries or grass-fed beef is on sale this week. For regular shoppers at Whole Foods, these stickers and the new Prime Whole Foods app are quite convenient for when we are looking to stock up.
Whole Foods has seen a change since the acquisition as well. Aside from the in-store Prime branding and discounts, the company has expanded its online capabilities. Using Prime Now, customers can receive grocery orders in as little as two hours, between 8 am and 10 pm, depending on the market. Amazon and Whole Foods still have a relatively small percentage of the grocery market. However, as online grocery continues to grow, having Amazon in your back pocket can only help.
The Biggest Changes
The biggest change has been the dissolved partnership with Instacart and the push for Prime Now deliveries within two hours from your local Whole Foods store. The new venture is still a work in progress and it will be interesting to see what other changes Amazon makes and the impact it has on Whole Foods, its customers, and the overall market.
Not surprisingly, the Prime effect has impacted the grocery industry. Walmart is offering unlimited grocery delivery for $98 a year. Kroger is testing a service that delivers meals and groceries to customers in as little as 30 minutes. Deliveries cost $5.95 each, with the first order free. Customers are required to download the Kroger Rush app to order products. And the industry continues to struggle to make Last Mile deliveries profitable. Full Story
Other stories of Interest
How to build wealth in 6 steps  (March 28)
Religion is a dangerous tool that is used against the masses with deadly precision Video (March 24)
The difference between great and mediocre comes down to freedom (March 24)
Fake News is only Real News for Stupid People  (March 20)
Random Musings-Stock Market Crash or Stock Market Crap (March 20)
Another Name for Fake News Is Misinformation  (March 20)
Be wary-VPNs are purposely leaking your IP address & personal data (March 18)
The end of religion-Could New Discoveries upend religion (March 2)
The American dream is nothing but the American Nightmare (March 2)
The misunderstood differences between light and darkness (March 1)
Why Contrarian Stock Market Investors nearly always lose  (March 1)
Far-right parties gaining momentum worldwide (Feb 25)