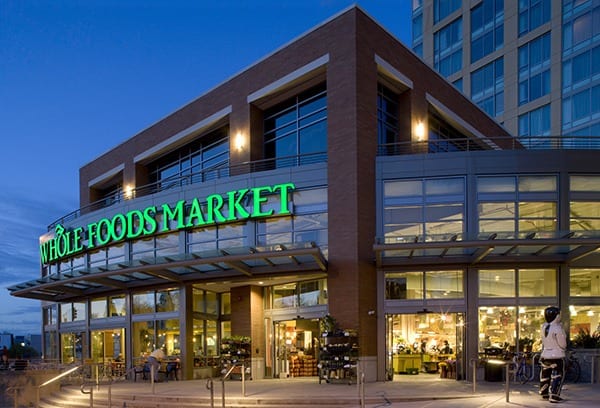 Amazon's Whole Foods Acquisition: A Game-Changer for the Grocery Industry?
Amazon has made a significant acquisition by agreeing to purchase the organic-food chain, Whole Foods, for $42 per share in cash, including debt. This offer represents a premium of approximately 27 percent over the stock price at the end of trading on Thursday. The co-founder of Whole Foods, John Mackey, will continue to lead the business, which is seen as a victory for him following a confrontation with activist investor Jana Partners that posed a threat to his position.
The deal's announcement has caused shockwaves in both the online and brick-and-mortar retail sectors. Competing grocery chains experienced significant declines in their stock prices, with Wal-Mart Stores Inc. dropping by as much as 7.1 per cent and Kroger Co. tumbling 17 percent. This has raised concerns among investors about the intensifying competition in the industry. Initially, Amazon and Whole Foods may not have appeared as prominent partners. Still, Mackey faced pressure to find a buyer after Jana revealed its stake of over 8 percent and began advocating for a takeover. Mackey was not pleased with this pressure and referred to Whole Foods as his "baby" and Jana as "greedy bastards."
By teaming up with Amazon, Mackey can retain his role as the CEO of Whole Foods while also giving the company's stock price a significant boost. Following the announcement, the stock price surged by 27 per cent to $41.98, nearing the transaction price. Amazon's shares also increased 2.9 percent to reach $992.1.1. bloomberg.com
The Impact of Amazon's Whole Foods Purchase on the Grocery Landscape
This is a death blow for mom-and-pop health food stores, and in the long run, it is terrible for all food-based businesses.  Amazon is going to change the concept of food pricing completely. Whole Foods will no longer be known as a "whole paycheque".  Organic Food prices will tumble, though toxic agents like carrageenan will probably continue to trend upwards. Read the label carefully before you buy anything.
This is the start of something bigger. Amazon plans to move into Insurance, Banking, prescription drugs, home mortgages and many other areas; if they don't, an Asian company such as Alibaba will.
Amazon is also the king of automation, so expect them to fully automate these stores, which means that a cashier-free experience is very likely going forward. If Amazon takes this path, it will force other supermarkets to follow a similar model, meaning that the cashier position is nearing its end life.  Street vendors selling fruits and vegetables will face huge competition, and many will leave the business. Keep your eyes on Costco, if it starts to run into trouble, then we suspect that  60%-70% of the current players will not be around in the years to come.
For now,  the Food business industry will face a massive change; Amazon will create deflation in this sector.  The cost of organic food and regular groceries are all going to drop. Let's not forget the Germans are also coming to town, so we have the perfect set up for a massive price war.
Changes After Amazon Took Over Whole Foods
Under Amazon's ownership, Whole Foods has implemented merchandising fees and terminated partnerships with numerous small suppliers, refocusing on larger, more scalable brands. There are reports suggesting that Amazon aims to relax Whole Foods' standards on natural sourcing, potentially allowing products with artificial sweeteners and flavours, including brands like Coca-Cola.
These measures are primarily intended to reduce costs and attract a larger customer base. However, they also risk diluting Whole Foods' carefully cultivated brand image, potentially leading to consumer hesitation in choosing Whole Foods over traditional grocery stores offering similar product assortments.
While the changes at Whole Foods since its acquisition by Amazon have been relatively modest, the broader grocery industry has undergone a significant transformation. Competing retailers have rapidly introduced online shopping platforms, introduced loyalty programs, accelerated store renovations, partnered with meal kit companies, and adopted new technologies such as mobile apps. Some of these initiatives were already in progress, reflecting the industry's highly competitive and saturated nature. However, Amazon's entry has expedited the implementation of these strategies across the board.  grocerydive.com
How does Amazon's 2016 Whole Foods Purchase look like in 2019
The single biggest change has been Amazon Prime's impact on Whole Foods. In the past, Whole Foods was not known for discounts based on a membership model. However, there are the telltale blue and yellow Prime discount stickers letting shoppers know that organic strawberries or grass-fed beef is on sale this week. For regular shoppers at Whole Foods, these stickers and the new Prime Whole Foods app are quite convenient for when we are looking to stock up.
Whole Foods has seen a change since the acquisition as well. Aside from the in-store Prime branding and discounts, the company has expanded its online capabilities. Using Prime Now, customers can receive grocery orders in as little as two hours, between 8 am and 10 pm, depending on the market. Amazon and Whole Foods still have a relatively small percentage of the grocery market. However, having Amazon in your back pocket can only help as online grocery grows.
The Biggest Changes
A significant change resulting from the Amazon-Whole Foods partnership is the termination of the collaboration with Instacart, replaced by the emphasis on Prime Now deliveries, aiming to deliver within two hours from local Whole Foods stores. This new initiative is still a work in progress, and it remains to be seen what further changes Amazon will introduce and how they will impact Whole Foods, its customers, and the overall market.
Unsurprisingly, Amazon Prime's influence has ripple effect on the grocery industry. Walmart, for instance, now offers unlimited grocery delivery for an annual fee of $98. Kroger is also experimenting with a service that enables customers to receive meals and groceries in as little as 30 minutes, with a delivery cost of $5.95 per order and the first order being free. To access this service, customers are required to download the Kroger Rush app. Nonetheless, the industry still grapples with the challenge of making last-mile deliveries profitable. Continue reading for the full report
Other stories of Interest
How to build wealth in 6 steps  (March 28)
Religion is a dangerous tool that is used against the masses with deadly precision Video (March 24)
The difference between great and mediocre comes down to freedom (March 24)
Fake News is only Real News for Stupid People  (March 20)
Random Musings-Stock Market Crash or Stock Market Crap (March 20)
Another Name for Fake News Is Misinformation  (March 20)
Be wary-VPNs are purposely leaking your IP address & personal data (March 18)
The end of religion-Could New Discoveries upend religion (March 2)
The American dream is nothing but the American Nightmare (March 2)
The misunderstood differences between light and darkness (March 1)
Why Contrarian Stock Market Investors nearly always lose  (March 1)
Far-right parties gaining momentum worldwide (Feb 25)