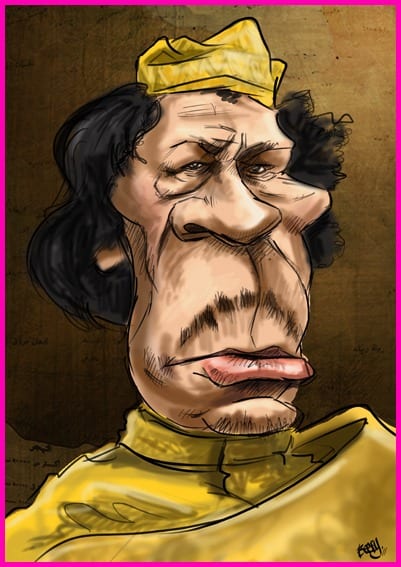 War-weary Libyans miss life under Kadhafi
Five years after an uprising killed Libya's Moamer Kadhafi, residents in the chaos-wracked country's capital joke they have grown to miss the longtime dictator as the frustrations of daily life mount. Those living in the capital say they are exhausted by power cuts, price hikes and a lack of cash flow as rival authorities and militias battle for control of the fragmented oil-rich country.
"I hate to say it but our life was better under the previous regime," says Fayza al-Naas, a 42-year-old pharmacist, referring to Kadhafi's more than four decades of rule. Today, "we wait for hours outside banks to beg cashiers to give us some of our own money. Everything is three times more expensive."  A UN-backed unity government has struggled to assert its authority nationwide since arriving in Tripoli in March, with a rival parliament in the country's far east refusing to cede power to it.
On Friday it suffered a new blow when a rival seized key offices in the capital and proclaimed the reinstatement of a third administration previously based in Tripoli.The turmoil after Kadhafi's 2011 fall has allowed the Islamic State jihadist group to gain a foothold on Europe's doorstep after seizing the strongman's hometown of Sirte in June last year. Forces loyal to the unity government have for five months been fighting to expel the last jihadists from the former IS stronghold, with support from US air strikes since early August.
With the loyalists weakened by the anti-IS battle, forces led by a controversial field marshal last month seized key oil terminals to its east, allowing the National Oil Company to resume crude exports. Full Story
This is the same way Iraqis feel. What the media never bothered to examine and which we did was that nations like these need ruthless rulers otherwise chaos unfolds. Now we are witnessing what happens when America tries to push its deformed version of Democracy in areas that do not understand the concept and more importantly cannot hope to function under such a system.  Libya and Iraq are going to provide Russia and China with another chance to extend their role in the Middle East.  Iraq is winning the war on Terror since Russia decided to support them; this vital piece of data is not covered in the news.
Why do we cover topics that don't appear to be related to the financial markets?
The short and straightforward answer is that all these fields are connected; we do not have free market forces anymore. Everything is manipulated; from the food, you eat to data you are provided.  If you are aware of this, you can plan accordingly. Identifying the problem is over 80% of the solution, and this is why most people do not know what to do because they do not understand the problem. Now you know why we are the only financial website that covers such a wide array of topics that on the surface appear to be unrelated but are in fact, deeply interwoven.  Mass psychology is a very powerful tool, and if employed correctly can help you spot the abnormal levels of manipulation, the masses are subjected to. It would be a good idea to familiarise yourself with the concept of " Plato's allegory of the cave."
If you seek freedom, the 1st task is to attain financial freedom so that you can break free the clutches of the top players who strive to enslave you. They want you to run in a circle like a hamster that runs on a spinning wheel; the hamster thinks the faster it runs the further it will go, but sadly it is going nowhere.
We teach how to use Mass psychology to your advantage, how to view disasters as opportunities and how not to let the media manipulate you and direct you towards actions that could be detrimental to your overall well-being.  Visit the investing for dummies section of our website; it contains a plethora of free resources and covers the most important aspects of mass psychology.
Secondly, subscribe to our free newsletter to keep abreast of the latest developments. Change begins now and not tomorrow, for tomorrow never comes. Understand that nothing will change if you do not alter your perspective and change your mindset. If you cling to the mass mentality, the top players will continue to fleece you; the choice is yours; resist and break free or sit down and do nothing.
Other articles of Interest
Desperate Soros lashes out at Trump Win-funding Riots against Trump (Nov 14)
Trump remains true to word-refuses Presidential Salary  (Nov 12)
CNN ratings drop nobody wants to watch crap not news anymore (Nov 12)
Putin Issues International Arrest Warrant for Rothschild & Soros (Nov 11)
Telegraph Journalist Monisha Rajesh Calls for Trumps Assassination & then Deletes her account  (Nov 11)
Trumps win shows Mainstream media is done-Social Media will dominate (Nov 9)
Financial singularity and what it means for Stock Markets (Nov 8)
Top US Scientist Resigns-States Global Warming A Big Scam (Nov 8)
Stock Market Pattern Gives Trump 86 Percent Chance of Winning   (Nov 7)
Two Professors with Incredible Track Record Predict A Trump Win  (Nov 7)
American Education equivalent to Rubbish (Nov 1)
Internal FBI Uproar over Hillary Clinton's email probe (Nov 1)