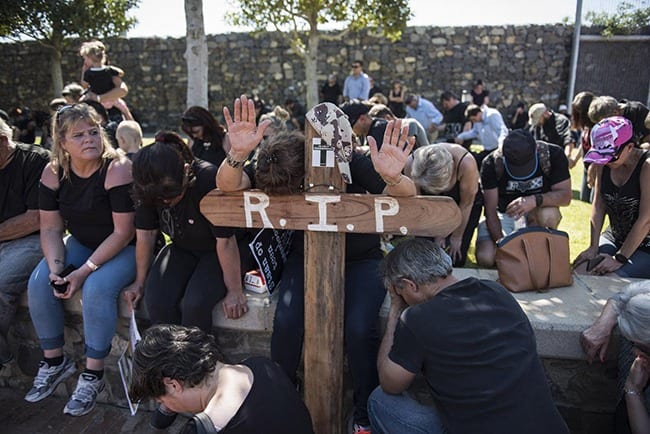 Editor: Johnathan Meyers | Tactical Investor
One of the main reasons we cover such a broad range of topics is because the masses are being systematically brainwashed to see what they are being directed to see. You can only solve the problem if you understand the problem; if you do not, you will either never solve it or continue trending on the path of stupidity forever. To become a good investor, you need to see the full picture and not the snippets that the mass media conveniently and almost gleefully is willing to provide.  Mass psychology states that it is imperative to acknowledge the forest while looking at the tree. In other words, emotions drive the markets, and you need to focus on what emotions Mass Media is trying to stir up to spot the next significant trend. With that in mind, we think you might find the following article to of interest:
Despite the heavy beating Bitcoin has taken, the sentiment has not turned bearish, and there are still have too many articles being published on a weekly basis claiming that Bitcoin is going to surge to 100K and beyond.Do these experts ever bother to look at the charts before issuing such targets or do they do so after ingesting some toxic substance? We will never know the answer to that question, but what we do know is that in most cases they have no idea of how high or low the market is going to go.  Is the Bitcoin Bull Market dead or just taking a breather?
Thousands of people have signed a Change.org petition asking President Donald J. Trump to permit whites living in South Africa emigrate to the U.S. after the country's lawmakers voted to allow the government to strip them of their farmland.
"Since the African National Congress (ANC) came to power in South Africa, it is estimated that over 70,000 whites have been murdered, many in the most sadistic ways imaginable," the petition says.
"Sometimes men are strung up and forced to watch their wives be raped before they are both hacked to pieces. Others are disemboweled by broken objects before being set on fire," it added.
"Communist terrorist chants such as 'Shoot the Farmer, Kill the Boer,' encourage the slaughter of white Boers and contribute to the astonishing black on white murder rate of 95%–5%," it continued.
"Even though whites only make up around 9% of SA population, it is estimated that out of the 50 people murdered on average per day, 20 of them are white."  Read more
South Africa was supposed to be a powerful example to the world of how a country could move past racial divisions and become a "rainbow nation."
But with Nelson Mandela long dead and a worsening economy, it looks more likely South Africa is on the way to becoming another Zimbabwe.
International journalist Alex Newman, a onetime resident of South Africa and the author of "Crimes of the Educators," says South Africa has reached a critical turning point in recent weeks.
Under pressure from anti-white radical Julius Malema's "Economic Freedom Fighters," scandal-plagued South African president Jacob Zuma recently called for the unity of black parties to allow the expropriation, literally theft, of white-owned land without compensation.
Such a policy has led to famine and economic ruin in neighboring Zimbabwe, the former Rhodesia.
South Africa is already facing an economic crisis, with slower-than-expected economic growth, drastic declines in critical economic sectors such as mining and a jobless rate of over 25 percent.
Racial tensions are increasing, with black students recently rioting over paintings and statues of white people at South African universities, and persistent rates of high crime, especially against white farmers.
Tensions within the black community are also high, as South Africa has been plagued by xenophobic attacks by South African blacks against other black Africans attempting to immigrate into the country from nations where conditions are even worse.
Malema, Zuma and other South African political leaders are comfortable openly engaging in hate speech against white South Africans, especially renditions of the African National Congress song "Shoot The Boer." Read more
More than 12,000 people have signed a petition asking President Donald Trump to let white people in South Africa emigrate to the U.S. amid a vote by the country's parliament favoring a motion that could see South Africa's constitution amended to allow for land to be stripped from owners without any compensation.
The motion, which will still need the approval of the South African Parliament's Constitutional Review Committee before an amendment can even be drafted, has once again stoked fears among the country's white farmers of a violent and disastrous land redistribution akin to that which crippled Zimbabwe in the 2000s.
The motion was put forward by the Economic Freedom Fighters and supported, but amended by the ruling African National Congress (ANC), with the party promising reforms that will address racial disparities in land ownership. Lawmakers voted overwhelmingly in favor of the move, with the motion passing 241-83. Read more
Other Articles of Interest
Stock Market Insanity Trend is Gathering Momentum (Jan 10)
Is value investing Dead (Jan 9)
Irrational markets and Foolish Investor: perfect recipe for disaster   (Jan 5)
Stock market Crash Myths and Realities (Jan 3)
Bull-Bear Markets & Arrogance (Jan 1)
2017
Will The Stock Market Crash In 2018 (Dec 11)
Has US Dollar Finally Hit Bottom   (Dec 6)
BitCoin Has Done What Precious Metals Never Could (Dec 4)
Experts Making Stock Market Crash Forecasts usually know nothing (Nov 17)
1987 stock market crash anniversary discussions- nothing but rubbish (Oct 24)
Dow 22K Predicted In July 2017; Next Target Dow 30k? (Oct 15)
Anxiety and Greed Index Don't Support Stock Market Crash  (Oct 14)
Fed States Inflation is not an issue? (Oct 13)
Is Bitcoin a Bubble or Good Investment? (Oct 9)