The fad in cryptocurrencies based on sentiment analysis is dangerously close to that of past bubbles such as the dot.com bubble, tulip bubble etc.  But as we have observed and repeatedly stated in real time things are different today. We are in the era of easy money so the "feeding frenzy" stage or the bubble phase will last at least twice as long if not longer before it pops.
The Crowd is still not Euphoric over Bitcoin
While the masses are quite excited, according to our  Anxiety gauge there is still room for this market to run.   The gauge would have to move to the Calm zone and remain in this zone for at least 3 weeks on end.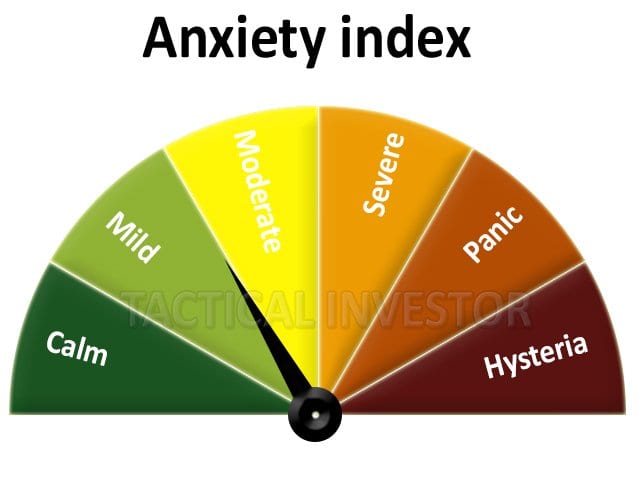 The Optimum  Bitcoin Strategy
This is a highly volatile market and Bitcoin has no intrinsic value. One could argue that the US dollar also falls in the same boat, but the US dollar has been around for much longer and is 10X more widely embraced than Bitcoin.  having said that, the best strategy would be to spread your investments over a range of cryptocurrencies.  Don't invest money you can't afford to lose.
Two ways to invest in the Bitcoin Market without buying Bitcoins
GBTC
A very volatile play that trends lock and sync with the Bitcoin market, but the key advantage is that is a very liquid which means you can jump in and out of with ease. We have recommended this to our clients, and our last foray yielded over 20% in less than three days.
ARKW
If you can't stomach volatility then this play is for; the moves are not as volatile, but it still provides one with an opportunity to get into the Bitcoin market minus the gut-wrenching volatility.
Bitcoin Outlook 
From a short-term to intermediate perspective bitcoin is in the Bubble phase and needs to let out a whole lot of steam before it charges higher. Going forward, we would use strong pullbacks to establish a position or add to your position if you are looking to get into this sector. We would also take some money off the table and wait for more opportune moments to redeploy these funds.
Other Stories of Interest
Stock market crash; best time to buy stocks   (Oct 6)
Nasdaq's Achievement Topples Stock Market Crash Argument  (Oct 5)
Stock Market Crash 2018; Another Buying Opportunity  (Oct 5)
Masses Trained to fear Market Crashes; why not embrace them?  (Sept 27)
Buy When the Blood in the Streets is flowing Freely  (Sept 13)
Dow 21K Predicted In August 2016 (Sept  9)
Minimum wage hike ignores impact of AI; companies will opt for Robots  (Sept 8)
Should You Be Worried About Inflation Rate In 2017? (Sept 6)
Wage Deflation here to stay: Robots Replacing Workers (Sept 5)
Price of Copper Signalling Inflation or higher Stock Market Prices (Sept 4)
Rate of Inflation, not an issue according to Bond Market (Sept 2)