While the experts and everyone else obsess about what might or might not happen in the precious metal's sector, palladium is being ignored, in favour of Gold and Silver, which have done nothing but disappoint those waiting for them to open their wings and soar into the sky.  Unnoticed, though, Palladium appears to have put in a bottom and is now attempting to establish a new trend. Our trend indicator is very close to triggering a bullish buy signal.
As long as Palladium does not close below 575 on a weekly basis, the outlook will remain bullish. Currently, it is facing overhead resistance in the 720-740 ranges. Failure to close above 740 on a weekly basis will result in a test of the 620-625 ranges, with a possible overshoot to 580.00.  Either level would make for a good place to open new positions.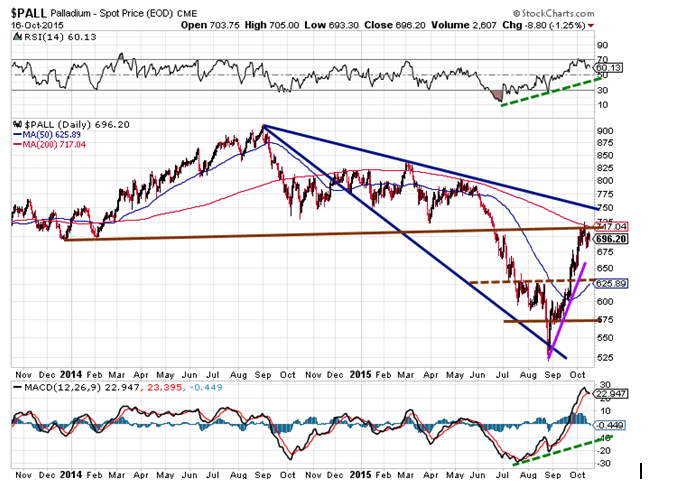 Game plan, short and simple
Use strong pullbacks to open positions in Palladium bullion. . Palladium could be paving the way for Gold and Silver.
Related Articles:
Dow industrials set to defy naysayers and trend higher  (Nov 6)
Dow continues to soar, doctors of doom wrong, what's next (Nov 5)
Dr Copper time to buy, markets & psychological warfare  (Nov 3)
World's only Adult Index predicts rise in immoral behaviour (Nov 2)
Death Cross is not a bearish Omen for the Stock Market  (Oct 30)
Market Timing Does it work  (Oct 28)
Turkey shot down a Russian Drone  (Oct 27)
Russia, Syria and the Religious war  (Oct 27)
stocks and bonds will not crash in 2015  (Oct 25)
It's not time to sell the DAX (oct 22)
The Dow is getting ready to Soar  (Oct 21)
why its time to investing in banking stocks (oct 18)
Ignore the Yield Curve- bank stocks are a bargain (Oc 16)