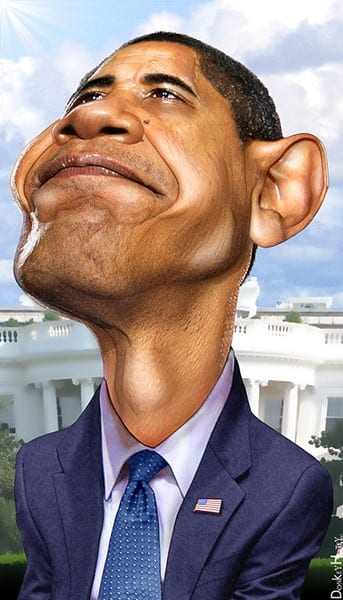 Editor: Philip Ragner | Tactical Investor
Mr Obama has no intention of honouring the tradition
In November, President Barack Obama reminded President-elect Donald Trump that "there's only one president at a time" and that he should be careful not to overstep his bounds before the formal transfer of power.
However, in Mr. Obama's final address to the country, he made it clear he won't retire after Jan. 20 — rebuking his own reprimand and years of studied silence of past presidents.
"As I prepare to take on the even more important role of citizen, know that I will be there with you every step of the way to ensure that this country forever strives to live up to the incredible promise of our founding — that all of us are created equal, and all of us deserve every chance to live out our dreams," Mr. Obama said in his final radio address on Dec. 31.
Mr. Obama plans to live in Washington, D.C., until his youngest daughter Sasha, finishes high school. And you can be sure he'll keep an eye on the GOP-controlled Congress and White House, which won on promises to largely undo his legacy.
Unlike former Presidents George W. Bush and Bill Clinton, who largely vanished from the public spotlight after their presidencies, Mr. Obama has assured his base he plans on being a thorn in the side of Mr. Trump. Full Story
Barack Obama is done holding back.
The former president unloaded on President Trump — by name — and Republicans in Congress during a blistering speech at the University of Illinois Urbana-Champaign on Friday, urging students in the audience to vote in an election he called a turning point.
"It did not start with Donald Trump," Obama said. "He is a symptom, not the cause." But he went on to criticize Trump and Republicans in Congress at length, calling out cosiness with Russia's Vladimir Putin, Trump's tweets about the Justice Department investigating Republicans, the president's reluctance to criticize Nazi sympathizers after the violence in Charlottesville, Virginia, and more.
"Republicans who know better in Congress — and they're there, they're quoted saying, Yeah, we know this is kind of crazy — are still bending over backwards to shield this behaviour from scrutiny or accountability," he said. Full Story
Other Articles of Interest
Three Charts illustrating Hated Stock Market Bull Still has legs (Dec 28)
Japanese Labour Problems being Solved by Robots (Dec 20)
Stock Market bull will go ballistic under Trump Administration (Dec 8)
Religious wars being used as pretext to destroy currencies on Global basis (Dec 7)
Central Banks Prime Directive-Rob the Poor to Pay the Rich   (Dec 5)
Brexit on Steroids-Trump Wins Triggers Massive Stock Market Rally  (Nov 29)
Unaffordable Obamacre-50 per cent cannot afford over 100 per month (Nov 19)
China factory activity at 22-month high & High Tensions in Libya (Nov 15)
Sofia the Humanoid Robot That Looks and Talks Like a Human (Nov 12)
CNBC Tears Down Elon Musk's Snarky Response To A Coal CEO (Oct 21)
Freedom & Independence-almost extinct & forgotten concepts  (Sept 23)
Observer or Participator determines your outcome (Sept 23)
Classic Article Clipping Coinage; prelude to Fiat & Central Bank Abuse (Sept 21)
Gold 25K plus-experts making those predictions will be dead before Gold hits those targets (Sept 20)
Mass Media Busted; Britain faring better After Brexit (Sept 5)
Listening to Main Stream Media guarantees Stock Market Losses  (Sept 3)
Psychological & Economic Deception Wall Street's Weapon of Choice (Sept 1)
Brexit Success: Manufacturing Activity Surges to 25 year high (Sept 1)