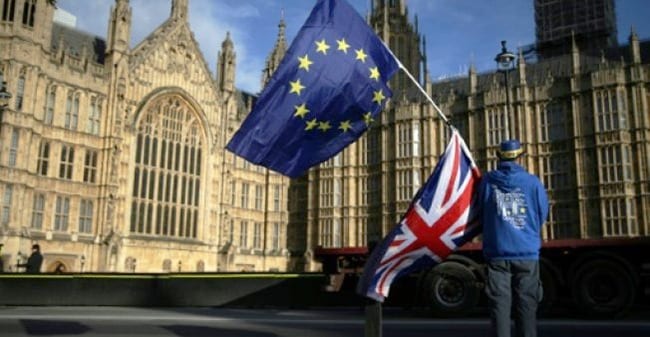 New anti-Brexit party
A new anti-Brexit party was launched in London Monday, lacking any big names but vowing to revitalise the centre-ground of British politics, inspired by French President Emmanuel Macron's En Marche movement.
Renew is one of several new initiatives by pro-European Union campaigners, hoping to capitalise on uncertainty over Brexit to pressure politicians into stopping the process.
The party's goal is to be "the vehicle for people who feel politically homeless", said James Clarke, one of three co-leaders.
The ruling Conservatives and opposition Labour party both back Britain's withdrawal from the EU in March 2019, while the smaller pro-European Liberal Democrats have failed to capitalise on anti-Brexit sentiment.
Renew said it had received informal advice about how to proceed from En Marche (On the Move), French President Emmanuel Macron's upstart centrist party which came from nowhere to sweep to victory last year.
"Mr Macron showed that it was possible to do something extraordinary in a short amount of time," Clarke said.
Asked about the absence of any high-profile names, he told AFP: "Renew is not a personality cult, it's not a vehicle for the ambitions of one or other politicians." Full Story
Other Articles of Interest
Stock Market Insanity Trend is Gathering Momentum (Jan 10)
Is value investing Dead (Jan 9)
Irrational markets and Foolish Investor: perfect recipe for disaster   (Jan 5)
Stock market Crash Myths and Realities (Jan 3)
Bull-Bear Markets & Arrogance (Jan 1)
Will The Stock Market Crash In 2018  (Dec 11)
Has US Dollar Finally Hit Bottom   (Dec 6)
BitCoin Has Done What Precious Metals Never Could (Dec 4)
Experts Making Stock Market Crash Forecasts usually know nothing  (Nov 17)
1987 stock market crash anniversary discussions- nothing but rubbish ( Oct 24)
Dow 22K Predicted In July 2017; Next Target Dow 30k? (Oct 15)
Anxiety and Greed Index Don't Support Stock Market Crash  (Oct 14)
Fed States Inflation is not an issue? (Oct 13)
Is Bitcoin a Bubble or Good Investment? (Oct 9)