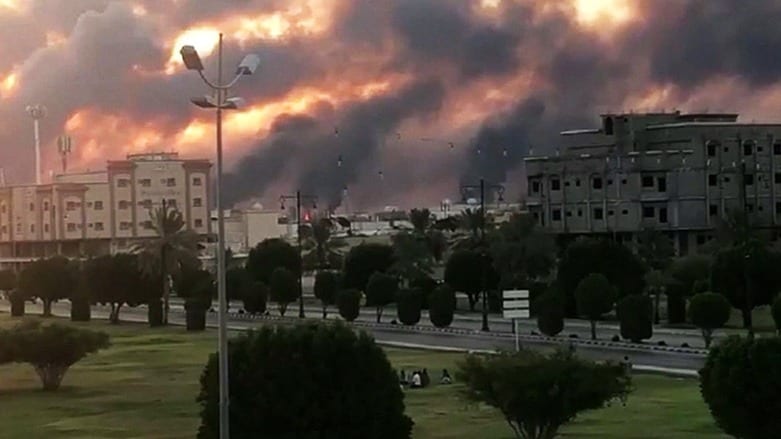 The United States has issued satellite images and cited intelligence to back its allegation Iran was behind attacks on major Saudi oil facilities.
Iran denies involvement in Saturday's air attacks, which were claimed by Iran-aligned Houthi rebels in Yemen.
But unnamed US officials speaking to US and international media say the direction and extent of the attacks cast doubt on Houthi involvement.
The incident has cut global oil supplies by 5% and prices have soared.
What is the US saying?
Secretary of State Mike Pompeo blamed Iran at the weekend, without providing any evidence, prompting Tehran to accuse Washington of deceit.
Tweeting on Sunday, President Donald Trump stopped short of directly accusing Iran, but suggested possible military action once the perpetrator was known.
Saudi Arabia oil supply was attacked. There is reason to believe that we know the culprit, are locked and loaded depending on verification, but are waiting to hear from the Kingdom as to who they believe was the cause of this attack, and under what terms we would proceed!

— Donald J. Trump (@realDonaldTrump) September 15, 2019
Unnamed US officials have been speaking to the New York Times, ABC and Reuters.
One official said there were 19 points of impact on the targets and the attacks had come from a west-north-west direction – not Houthi-controlled territory in Yemen, which lies to the south-west of the Saudi oil facilities.
The officials said that could suggest launch sites in the northern Gulf, Iran or Iraq.
A Saudi-led coalition fighting in Yemen has accused Iran of providing the weapons. Full Story
Why Saudi Arabia and Iran are bitter rivals?
Saudi Arabia and Iran – two powerful neighbours – are locked in a fierce struggle for regional dominance.
The decades-old feud between them is exacerbated by religious differences. They each follow one of the two main branches of Islam – Iran is largely Shia Muslim, while Saudi Arabia sees itself as the leading Sunni Muslim power. Full Story
Life-saving surgery but not by a doctor
It takes 10 years to train as a surgeon in Ethiopia, but Seida Guadu learned how to carry out emergency operations in just three.
Here she performs a Caesarean section to try to save the lives of a baby and his mother. Full Story
In numbers: Sackler family, Purdue Pharma and the US opioid crisis
The Sacklers have become one of the world's most controversial families.
They are the owners of Purdue Pharma, a pharmaceutical company that produces the opioid painkiller OxyContin.
As a result, the family has been accused of fuelling a deadly opioid crisis in the US that has killed more than 200,000 people in two decades. Full Story
Other Stories Of Interest
Stock Market Crash Date: If Only The Experts Knew When (Aug 26)
Swedish Currency: Worst Currency But Outlook Could Turnaround (Aug 8)
Nickel Has Put In A long Term Bottom; What's Next?  (July 31)
AMD vs Intel: Who Will Dominate the Landscape going forward (June 28)
Fiat Currency: Instruments of Mass Destruction     (June 18)
The Retirement Lie The Masses Have Been Conned Into Accepting (June 15)
Stock Market Bull 2019 & Forever QE  (June 13)
Forever QE; the Program that never stops giving    (May 31)
Trending Now News Equates To Garbage; It's All Talk & No Action  (April 24)
Americans Are Scared Of Investing And The Answer Might Surprise You  (March 9)