Insider Buys: Follow Their Lead
Updated Feb  2023
The V-readings are currently at exceptionally high levels, which is unsurprising given the extreme shifts observed in market sentiment. Higher V-readings indicate increased volatility. However, when the overall trend is positive (as is presently the case), larger upward movements are typically seen once the markets stabilize. In other words, after stabilizing, the markets tend to advance by two to three steps and then retreat by one step.
Therefore, it should not be surprising to witness 1000-point swings in the Dow, as they are likely to occur regularly. Just a couple of weeks ago, the Dow surged by over 3600 points in less than three days. There is a strong possibility that the Dow could still undergo a 3000-point swing in a single day.
The "mother of all buy signals" is dangerously close at hand. Another small downward move and our indicators will be in place to trigger this signal.   We will cover insider buying activity shortly; needless to say, they are pretty bullish on the long-term prospects of this market.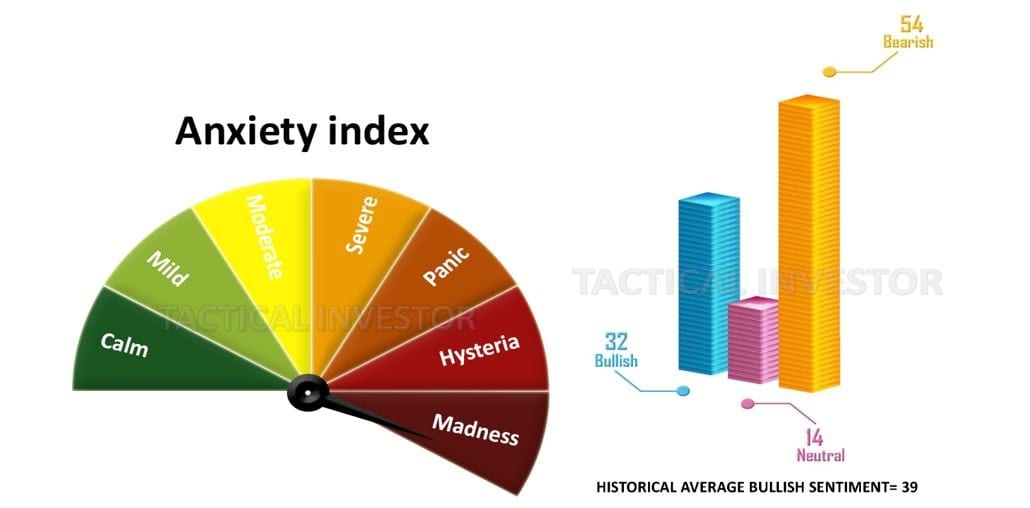 We are approaching a critical threshold in terms of extreme market behavior. It is important to note that prior to the pandemic, the gauge never even reached the end of the zone associated with heightened anxiety. Therefore, the current situation is unprecedented. With such a significant surge in the anxiety gauge, a drop in neutral readings to just 10% would be sufficient to trigger a "father of all buy signals." However, this would only be valid if our technical indicators indicate highly oversold conditions and the Trend indicator remains positive (indicating a bullish trend).
Three Weeks We noted that Insiders were backing the Truck Up.
Those with privileged information have taken advantage of this significant market decline to acquire shares. One method of gauging the intensity of their purchasing is by examining the sell-to-buy ratio. A reading of 2.00 is considered normal, while anything below 0.90 is considered exceptionally optimistic. The ratio is astonishingly low 0.35, indicating that these individuals are aggressively buying shares.
So, what are the current readings? Based on substantial trading activity, Vickers' standard NYSE/ASE One-Week Sell/Buy Ratio is 0.33, and the overall one-week reading is 0.35. Insiders aren't simply buying shares; they are voraciously acquiring them. This behaviour mirrors what occurred in late December 2018, following the stock market crash on Christmas Eve, in early 2016 during a market correction, and in late 2008/early 2009 amidst the depths of the Great Recession—those periods presented outstanding opportunities to purchase stocks. Insiders appear to be suggesting that today offers a similar prospect. .  https://yhoo.it/2TV0cE2
A small note on China
After thoroughly examining the data, China has blatantly lied about the total number of deaths and infected individuals. At least 45K people died on the low end, and 1.2 million were infected. On the high end, north of 5 million individuals could be infected with the coronavirus, and the death toll could be above 200K.
No matter how you dice it, there is no way Italy, Germany, France and the U.S. have higher death and infection rates than China. This means that there is going to be a massive pushback against China.
As a result, it makes no sense to have any exposure to China as its stock market or real estate market stands to get smashed when the U.S. launches a full-scale attack. And there is an excellent chance that most of the advanced nations in the world will join the U.S. in this offensive.  The situation is going to heat up rapidly; expect the pace of the attacks to pick up once the death rate starts levelling off.
Insider Buys: These Chaps are Still Buying Hand Over Fist
Corporate executives and officers have been adding shares of their firms over the past few weeks at breakneck speed, so much so that they're more bullish than they've been at most other points in the past decade, according to Sundial Capital Research.
During this period, which admittedly took place during a significant bull market, instances of peak insider buying have proven to be a positive indicator for stocks. The S&P 500 experienced a median increase of 20% over the following year. Taking a broader view back to 1997, the benchmark recorded a gain of 12.6% in the 12 months following robust insider purchases. Jason Goepfert, the president of Sundial, a research firm based in Blaine, Minnesota, noted that there is sufficient evidence to view insider positions as a positive signal. However, it should not be assumed to be a strong buy signal, as trends have been less favourable in the past decade." https://yhoo.it/2wmO3P6
The trend is clear, and the insiders know this; otherwise, they would not purchase shares aggressively.
Panic Sell-offs Culminate With Buying Opportunities.
Once the panic subsides, it is anticipated that a frenzy unlike anything witnessed before will ensue. Insider buying activity already suggests that the markets will experience significant upward trends in the upcoming months. The combination of zero interest rates bolsters this projection, the injection of trillions of dollars into the stock market by the Federal Reserve, and additional billion-dollar stimulus packages aimed at stimulating the economy. Consequently, the market is expected to surge to unprecedented levels by today's standards. Furthermore, zero interest rates will compel a considerable portion of individuals with fixed incomes to engage in speculative investments.
The initial phase of hitting the bottom is always challenging, as it aims to eliminate those with weak resolve. However, those individuals with the foresight to consider the larger perspective will reap the most significant benefits in the years to come.
Overview of Insider Purchases
A growing body of research suggests that following insiders, such as company executives and board members, can be a more effective game plan.
Insiders are individuals who are intimately familiar with the inner workings of their companies. They have access to information that is not available to the general public. As a result, they often have a unique perspective on the company's prospects and can make informed decisions about when to buy or sell their stock.
Studies have shown that insider trading activity can be a reliable indicator of future stock performance. In a 2013 study, researchers found that stocks with insider buying outperformed the market by an average of 7.7% over the next year. On the other hand, stocks with insider selling underperformed by 4.4%.
Additionally, insider trading data can provide valuable insights into a company's financial health and growth prospects. Insider buying can signal confidence in the company's prospects. At the same time, insider selling can indicate potential problems or challenges.
Following insiders can be a valuable game plan for investors looking to make informed decisions and outperform the market. By analyzing insider trading data, investors can gain a unique perspective on a company's prospects and make more effective investment decisions.
Research
The research suggests that following insider trading activity can be a valuable game plan for investors.
Expand Your Mind: A Selection of Intriguing Articles
Indoctrination: The Good, The Bad and the Ugly    (Jan 15)
Dogs Of The Dow Jones Industrial Average  (Dec 10)
Negative Thinking: How It Influences The Masses  (Nov 15)
Leading Economic Indicators: Finally in Syn With The Stock Market?   (Oct 28)
Dow Stock Market Outlook: Time To Dance or Collapse (Oct 25)
What Is Fiat Money: USD Is Prime Example Of Fiat (Oct 13)