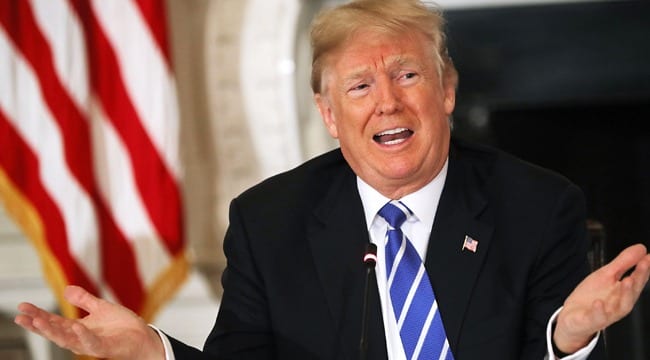 Editor: Johnathan Meyers | Tactical Investor
Donald J Trump Rebuffs Notion He Can't Assemble Top Team
Donald J Trump; Media Bias Is Huge
"Many lawyers and top law firms want to represent me in the Russia case," Trump said in a Twitter remark. "Don't believe the Fake News narrative that it is hard to find a lawyer who wants to take this on. Fame & fortune will NEVER be turned down by a lawyer, though some are conflicted. Problem is that a new lawyer or law firm will take months to get up to speed (if for no other reason than they can bill more), which is unfair to our great country — and I am very happy with my existing team.
"Besides, there was NO COLLUSION with Russia, except by Crooked Hillary and the Dems!" Trump added, employing his favourite epithet for the Democratic challenger he defeated, former U.S. Secretary of State Hillary Clinton.
Special Counsel Robert Mueller has been investigating the Trump campaign for months. He indicted 13 Russians on charges of carrying out an online campaign to sow discord in American democracy while securing guilty pleas from two Trump aides, former national security adviser Michael Flynn and foreign affairs adviser George Papadopoulos, for lying to federal investigators about their contacts with Russian officials.
Mueller's office and Trump's defence attorneys have been negotiating over terms of possible testimony by Trump about his actions linked to Russia and the ensuing investigation. Trump says he wants to do the interview, but no agreement on his questioning has been reached. Full Story
USA Today readers state Trump Investigation is waste of Money
— Larry Gilbert
Two grand juries based on location, very interesting. I think the extremely unpopular sitting president is going to wish he never took office.
— Stephanie S. Mullen Fudge
Nothing but the Washington establishment (Republicans and Democrats) getting opposition research on Trump before the 2020 election. They don't understand how mad Americans are with the lot of them.
— Stephen Thomas
It's unfortunate that the taxpayer has to pay for this boondoggle.
— Robert Louis Rasmussen
Grand juries can go on for years? Trump is right. This is a witch hunt! Where is the grand jury for Hillary Clinton?
— Sal Maggiore
Most of us actual patriots would like to know what a foreign country did in our election. We don't believe the lies from this administration.
Trump supporters accept alternative facts, the majority of Americans don't. This administration has no credibility. So yes, please, shine the light on these roaches, Mueller. Americans want the truth.
— Mike Bigalow
Mueller should foot the bill for ripping off American taxpayers with this ridiculous investigation.
— Tom Sfer
People only see what they want to see. That's the purpose of the special counsel, to see what happened and who did it.
Trump may have clean hands, Trump may not. Someone might have very dirty hands, and I just want to know who. I don't think anyone wants or hopes our president is dirty, but that may very well be the case. We'll see.
— Jim Marra Jr.   Full Story
Other Articles of Interest
Good Time To Buy IBM or Should You Wait? (Mar 15)
Is the Bitcoin Bull Market dead or just taking a breather? (Mar 8)
Is this the end for Bitcoin or is this a buying opportunity? (Jan 24)
Stock Market Insanity Trend is Gathering Momentum   (Jan 10)
Is value investing Dead   (Jan 9)
Irrational markets and Foolish Investor: perfect recipe for disaster   (Jan 5)
Stock market Crash Myths and Realities  (Jan 3)
Bull-Bear Markets & Arrogance   (Jan 1)
Will The Stock Market Crash In 2018  (Dec 11)
Has US Dollar Finally Hit Bottom    (Dec 6)
BitCoin Has Done What Precious Metals Never Could  (Dec 4)
Experts Making Stock Market Crash Forecasts usually know nothing  (Nov 17)
1987 stock market crash anniversary discussions- nothing but rubbish ( Oct 24)