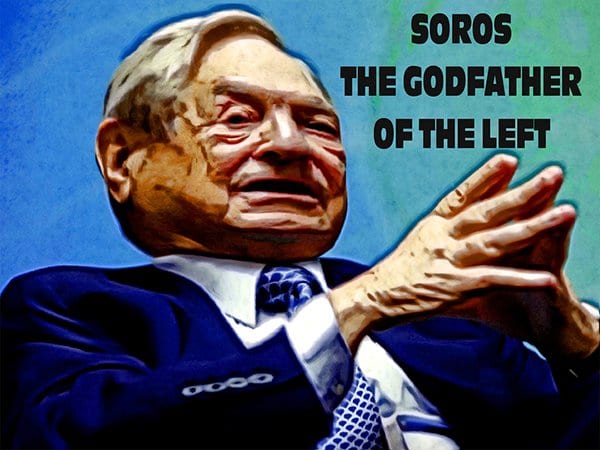 Editor: Johnathan Meyers  | Tactical Investor
Corrupt Merkel Warns Hungary in Clash Over Soros University
Merkel cannot keep her filthy mouth shut; after all the damage she has inflicted on Europe she has the nerve to tell Hungary what do do. The first question that comes to mind is who does this bitch think she is? Oops, we forget she is one of Soro's wenches and that explains her strong opposition to the bill the Hungarian Government passed in kerbing the powers of the evil that goes by the name of "Soros". Thank God the Hungarians understand that a Soro's University is nothing but a brainwashing machine.
German Chancellor Angela Merkel's government warned Hungary against obstructing democracy with a law that threatens to shutter a university founded by George Soros, renewing tension between the two European Union allies.
The extraordinary legislation "raises the impression" that the operation of foreign universities in Hungary will be made difficult, "or in individual cases impossible," Merkel's deputy spokeswoman, Ulrike Demmer, said Wednesday. She singled out Central European University, the Budapest-based institution Soros founded in 1991 to train post-communist democratic leaders in eastern Europe. Bloomberg
Hungary's parliament passes  bill targeting Soros-founded university
Against a backdrop of protests Hungary's parliament has passed a new law which critics say targets a university founded by billionaire George Soros.
The 199-seat assembly voted 123 to 38 in support of the draft legislation, which passes tough new restrictions on foreign universities.
Defending the fast-tracked bill, the Hungarian government minister Zoltan Balog said: ''To operate under this new law is not impossible. It applies to everyone and we expect everyone to comply. Even the organisations of George Soros should not be above the law in Hungary.''
Budapest's Central European University (CEU), which was founded by Soros and considered a bastion of liberalism, is thought to be the main target of the new law.
Staff and students fear the school could be forced to close.
"It was clearly an intention to pass this law as soon as possible and without listening to anybody, without listening to Hungarian citizens, Hungarian academics, Hungarian universities, without listening to international organizations, they didn't listen to anyone,'' Deputy Vice-Chancellor Liviu Matei said. Full Story
How Hungary Ran George Soros Out of Town
Orbán, whose right-wing, increasingly authoritarian Fidesz party secured another term in Hungary's national elections last month, has for years been waging an escalating war against Soros. The billionaire financier and philanthropist survived Nazi-occupied Hungary as a boy, and his foundation has been funding civil-society initiatives in Hungary and across Eastern Europe since before the end of the Cold War, as well as programs in Hungary and across Europe aimed at supporting immigrants. It's the immigration programs that have riled up Orbán. Ever since the migration crisis of 2015, Fidesz has been depicting the nation and Europe as besieged by foreigners. Before the elections, Fidesz spent millions on ad campaigns Open Society called anti-Semitic, including a doctored image of Soros with his arms around opposition leaders who are taking wire cutters to the border fence.
"Even though I'd known this was coming for a while, I'm still in a state of shock," about what just happened in Hungary, said Heather Grabbe, the director of the Open Society European Policy Institute in Brussels, a Soros-funded outfit. She pointed out that Hungary, like all European Union member states, had signed on to many treaties requiring respect for the rule of the law, the independence of the judiciary, and the protection of minorities. She worried that the law would make it difficult for any international organizations to operate in Hungary and would send a message that they shouldn't even try.
"I hope it will make people wake up and say, 'Do we want this to happen in the EU?' And that it gets a strong response, rather than, 'This is ugly illiberalism in one country,'" Grabbe added. "This is a threat to the whole EU system." Full Story
Legilsation Against Soro's University pushes brainwashed Millennials to riot on the streets
Other stories of Interest
How to build wealth in 6 steps  (March 28)
Religion is a dangerous tool that is used against the masses with deadly precision Video (March 24)
The difference between great and mediocre comes down to freedom (March 24)
Fake News is only Real News for Stupid People  (March 20)
Random Musings-Stock Market Crash or Stock Market Crap (March 20)
Another Name for Fake News Is Misinformation  (March 20)
Be wary-VPNs are purposely leaking your IP address & personal data (March 18)
The end of religion-Could New Discoveries upend religion (March 2)
American dream is nothing but the American Nightmare (March 2)
The misunderstood differences between light and darkness (March 1)
Why contrarian Stock Market Investors nearly always lose  (March 1)