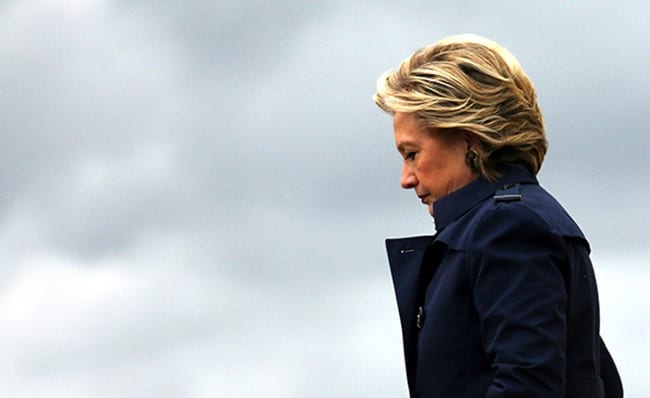 Editor: Philip Ragner | Tactical Investor
Supreme Court Justice Ruth Bader Ginsburg says the "macho atmosphere" of the 2016 campaign is what doomed Hillary Clinton. A more reasonable argument is that Mrs. Clinton wasn't macho enough to make it to the White House.
At a Columbia University Women's Conference event on Sunday, Justice Ginsburg was asked again about the 2016 election, to which she opined, according to Fox News Insider, " 'I think it was difficult for Hillary Clinton to get by even the macho atmosphere prevailing during that campaign, and she was criticized in a way I think no man would have been criticized,' Justice Ginsburg said. 'I think anyone who watched that campaign unfold would answer it the same way I did: Yes, sexism played a prominent part,' she continued." Read more
What Happened: The long list of who Hillary Clinton blames
The beauty of Hillary Clinton's new book title, What Happened, is it can be interpreted in so many ways.
Perhaps it's a definitive account of the 2016 presidential election. "Here's what happened".
Maybe it's an exclamation, like someone reacting to an unexpectedly loud noise (or an electoral earthquake). "Yikes! What happened!?"
Then again, it could be a stern mom, who just walked in on the mess her children (the voters) made in the living room. "Whaaaaat happened …"
Or is she the dazed boxer, picking herself up off the canvas after getting knocked out by a surprise punch from her opponent.
"Wha-, wha-, what happened???" Read more
Hillary Clinton has blamed her election loss to Donald Trump on pretty much everyone and everything, most recently telling CNN's Fareed Zakaria that sexism kept her from shattering America's ultimate glass ceiling.
It's the latest attempt by the former secretary of state and two-time presidential loser to recast her 2016 loss. So we decided to compile all the reasons Clinton has given for why Trump is sitting in the Oval Office instead of her:
Sexism
Barack Obama
Bernie Sanders
James Comey
Self-Hating Women
Russia 
and list goes on.. Read more
Other Articles of Interest
Stock Market Insanity Trend is Gathering Momentum   (Jan 10)
Is value investing Dead   (Jan 9)
Irrational markets and Foolish Investor: perfect recipe for disaster   (Jan 5)
Stock market Crash Myths and Realities  (Jan 3)
Bull-Bear Markets & Arrogance   (Jan 1)
2017
Will The Stock Market Crash In 2018  (Dec 11)
Has US Dollar Finally Hit Bottom    (Dec 6)
BitCoin Has Done What Precious Metals Never Could  (Dec 4)
Experts Making Stock Market Crash Forecasts usually know nothing  (Nov 17)
1987 stock market crash anniversary discussions- nothing but rubbish ( Oct 24)
Dow 22K Predicted In July 2017; Next Target Dow 30k? (Oct 15)
Anxiety and Greed Index Don't Support Stock Market Crash  (Oct 14)
Fed States Inflation is not an issue?  (Oct 13)
Is Bitcoin a Bubble or Good Investment?  (Oct 9)
Stock market crash; best time to buy stocks   (Oct 6)