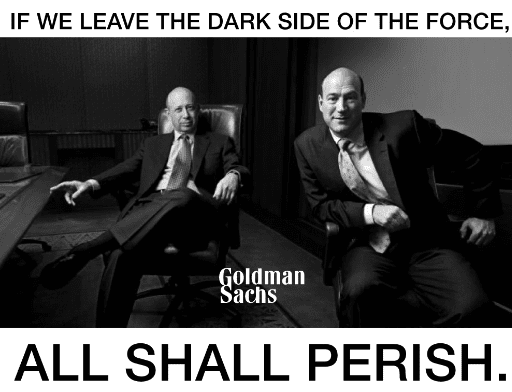 Goldman Sachs scandal:  The Big Bad Wolf?
Updated Feb 2023
Are you tired of so-called experts losing your hard-earned money while charging you a hefty fee? You're not alone. The latest data shows investors withdrawing a whopping $20.7 billion from hedge funds in June alone, making it one of the most significant outflows from the market since 2009.
This could be the beginning of a new trend where investors are taking matters into their own hands, refusing to pay for ineffective advice. Not only are these experts losing money in the markets, but the crowd is also negative on this market, failing to understand how it continues to trend higher against a backdrop of uncertainty. But perhaps this very anxiety is fueling the stock market bull that so many have overlooked. Want to learn more about this fascinating phenomenon? Click the link below to access the full article. Investor Anxiety; Rocket Fuel for Unloved Stock Market Bull 
Goldman's Rap Sheet
Goldman Sachs: Despite past setbacks, the investment banking titan thrives amidst adversity
In the early 2000s, Goldman Sachs faced its fair share of obstacles, with accusations of ethical misconduct thrown it's way. However, despite these challenges, the firm's tenacity and resilience have allowed it to overcome these hurdles and come out on top.
2002: Goldman fined for failing to preserve e-mail communications
In 2002, Goldman was slapped with a paltry $1.65 million fine by the industry regulatory body NASD (now FINRA) for purportedly failing to preserve e-mail communications. While this may have seemed like a damning blow, Goldman refused to let this setback define its future.
2003: Goldman pays a share of the global settlement for alleged conflicts of interest
The following year, Goldman paid $110 million as its share of a global settlement by ten firms with federal, state, and industry regulators concerning alleged conflicts of interest between their research and investment banking activities. However, this was merely a bump in the road for Goldman, which continued to push forward with its unwavering determination.
2004: Goldman fined for rule violations relating to high-yield corporate bonds
In 2004, Goldman was one of four firms fined $5 million by NASD for rule violations relating to trading in high-yield corporate bonds, with the firm also making restitution payments of around $344,000. But despite these penalties, Goldman refused to let these challenges defeat it.
2005: Goldman pays a civil penalty for alleged rule violations relating to the allocation of stock
In 2005, the SEC it was announced that Goldman would pay a civil penalty of $40 million to resolve allegations that it violated rules relating to allocating stock to institutional customers in initial public offerings. Additionally, Goldman paid a $125,000 fine to NASD for violating laws relating to the sale of restricted securities during initial public offerings. While some may have seen these fines as a cause for concern, Goldman Sachs stood firm in its commitment to success.
2006: Goldman fined in connection with SEC charges relating to auction-rate securities
In 2006, Goldman was one of 15 financial services companies fined a total of $13 million in connection with SEC charges that they violated rules relating to auction-rate securities. While this could have been a significant setback for many firms, Goldman refused to let these challenges define its future.
Despite these challenges and setbacks, Goldman Sachs has emerged as a powerhouse in the investment banking industry, demonstrating an unwavering commitment to success and an unbreakable spirit in the face of adversity.  Full Story
Other Articles of Interest:
Investor Anxiety; Rocket Fuel for Unloved Stock Market Bull (Aug 6)
Most Unloved Stock Market Bull Destined To Roar Higher (Aug 5)
Student Debt Crisis Overblown & Due to Stupidity  (Aug 4)
Despite Investor Angst Most hated stock market keeps trending higher (July 30)
False Information, Mass Psychology & this Hated Stock Market Bull (July 29)
Zero Percent Mortgage Debuts setting next stage for Stock Market Bull  (July 27)
Long Term, Stock Market Bears, Always Lose  (July 27)
Information overkill & trading markets utilising Mass Psychology  (July 27)