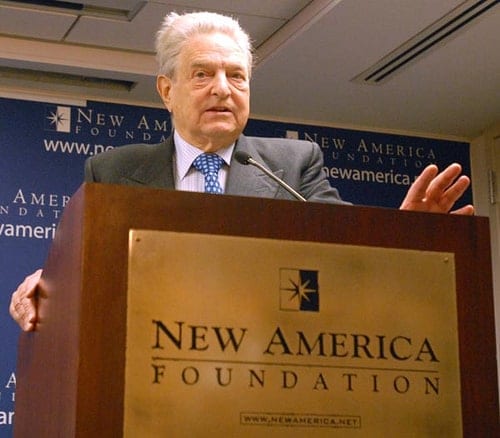 Editor: Philip Ragner | Tactical Investor
The Journal's Gregory Zuckerman and Juliet Chung cited people familiar with Soros' trading who said the billionaire became bearish after Trump's the victory, and those bets seem to have come back to bite him.
However, Soros' larger fund, Soros Fund Management, gained 5% over the year, according to the Journal.
Soros supported Trump's opponent, Hillary Clinton, and contributed millions to super PACs backing her campaign, so it may come as no surprise that he was sceptical of the market after Trump's upset victory.
Additionally, most Wall Street analysts believed that a Trump win would sow uncertainty and cause a sell-off.
Since Trump's election, Soros has criticized him, calling him a "would-be dictator" and warning about what his win could mean for the 
long-term health of democracy
.
The Dow Jones industrial average is up nearly 10% since Election Day, and all three major US stock indexes have set all-time highs after Trump's win.
Stanley Druckenmiller, a Soros protégé who worked at his firm until 2000, was much more prescient. Druckenmiller bet that the market would rally on a Trump victory, and that bet appears to have paid off – his firm gained 10% in 2016, according to The Journal. Full Story
George Soros has added to his losing bets against the stock market
His two primary plays — against large caps via the S&P 500 and small caps via the Russell 2000 — have a notional, or potential, value of $764.3 million, according to an analysis from S&P Global Market Intelligence. The plays are through his family office, Soros Fund Management.
They continue a trend he began in 2016 of betting against the market, moves that haven't worked out well considering the latest leg in the bull market. The S&P 500 is up 5.7 per cent this year while the Russell 2000 is up fractionally at 0.3 per cent.
As of the end of the quarter, Soros held 3.3 million shares of the iShares Russell 2000 exchange-traded fund puts, an increase of 36 per cent from the previous quarter and carrying a notional value of $459.6 million. He increased his holdings of SPDR S&P 500 puts by 162 per cent from the fourth quarter to 1.3 million shares, carrying a notional value of $304.7 million. Full Story
Other Articles of Interest
Gold Market Finally ready to breakout? Possibly it's putting in a very interesting pattern  (Jan 30, 2017)
Stock Market Bull destined to charge higher or is it time to bail out  (Jan 13, 2017)
Feds Interest Rate stance equates to Rubbish-Economic recovery is illusory  (Dec 24)
Stock Market Bulls, Stock Market fools-Market Crash next or is this just an Illusion  (Dec 21)
Trump Effect Rally-Useless Dow Theory and Stock Market Crash  (Dec 17)
Gold fools-dollar bulls and the long-term outlook for both Markets (Dec 9)
Inflation the Silent Killer Tax that's destroying Middle-Class America (Dec 5)
Dominant Stock Market Trends under President Trump (Nov 22)
Bears State Crude Oil Destined to Crash-Utter Rubbish (Nov 18)
50 Trillion in Cash illustrates Mass Anxiety-Dow Industrials will soar not Crash  (Nov 16)
Trump's victory Does not Sink Global Markets Proving Experts are Jackasses (Nov 10)
Trump-The New Stock Market vix Factor (Nov 6)
Crude Oil Market-Higher prices or Market Crash (Oct 28)
American's fear the Stock Market-Understanding Market Sentiment key to winning  (Oct 24)
Foreign banks Dump whopping 356 billion in US Debt  (Oct 20)
Corporate Americas Share buyback Binge only force Keeping Stock Market Bull Alive (Oct 13)
Stock Market Earnings Recession Nothing to Fear-Market Still Trending higher (Oct 7)