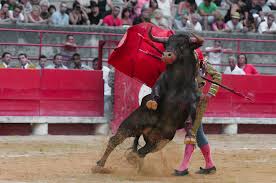 Market Sentiment Indicators
This week's sentiment data reveals that 35% of investors are in the neutral camp and an additional 25% are in the Neutral camp clearly proving that the Crowd is far from bullish.  What will it take to turn the crowd bullish? A very good question without a very good answer. This market falls into the insane category as well, and that is why we have been focusing so strongly on the trend indicator and market sentiment. Technical analysis comes in at distant a third.
Insane individuals have been known to do the unpredictable, and this applies to this market. It has defied all expectations. As a further precaution, once our key proprietary indicators ( on the monthly charts) of the DOW, SPX and Nasdaq start trading in the extremely overbought ranges, we will take a defensive posture. We have several Market Sentiment Indicators that we rely on to provide us with a clear picture of where the Market is headed.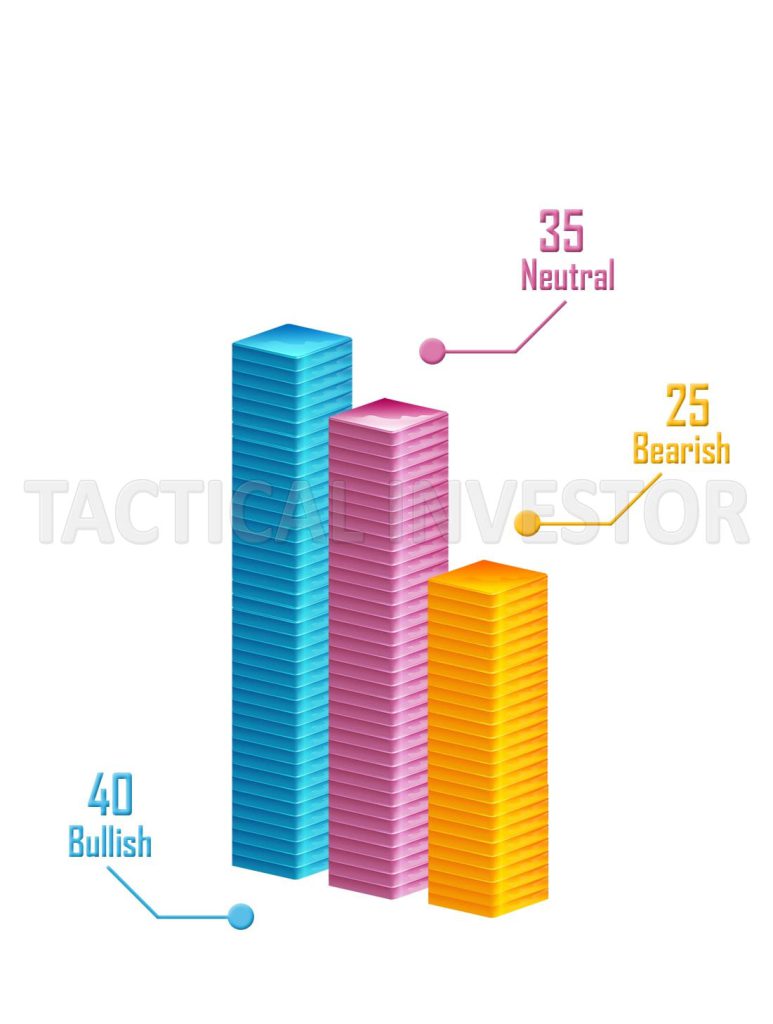 Moving Average of Mass Sentiment illustrates Masses Are Still Scared 
We decided to look at the moving average of one of Market Sentiment Indicators and the data below paints an interesting picture.  It looks like history is being made as we speak; the market trends higher and anxiety levels instead of dropping are trending upwards.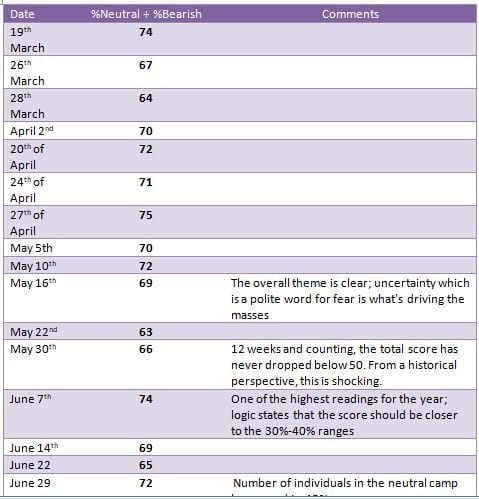 Tactical Investor Update  Aug 2019
The Dow is now at an inflexion point"; it either breaks through  27,000 and in doing so turns former resistance into strong support. Or alternatively, if it fails to hold above 27K (after trading above it) the pullback could range from medium to strong. A medium pullback would end in the 25,500-25,800 ranges. A strong pullback could take the Dow all the way down to 24,5K (plus or minus 200 points).
This outlook is based on the short to intermediate timelines; the long term picture is still bullish. We are not worried about a sharp or medium pullback for the only thing that changes is the opportunity factor. When the trend is up, strong deviations are viewed through a very bullish lens; in other words, the stronger the deviation, the better the opportunity factor.    It's amazing how when a market is soaring everyone wants to get in and pay more and more, but the same individuals that were willing to pay more are now afraid to pay less for the same stock.
 Masses are Still not Embracing This Market 
Another interesting development is that for the most of 2019, bullish sentiment has traded well below the historical average of 39. Market Update July 11, 2019
Bullish and Neutral readings both came in at 36 this week, and that is very telling as it indicates that the masses are still a long way from embracing this bull market. Secondly, it provides ammunition to the new hypothesis we are putting forward.
When we look at market sentiment, one thing sticks out sorely; bullish readings have hardly traded past their historical averages. It, therefore, forces us to consider another possibility, a possibility that would make no sense under different condition. We hypothesise that when the bears are asleep, and the bulls are barely awake (as is the case presently), the market will tend to drift towards the direction of least resistance and the path of least resistance is up.
Other Articles of Interest
Stock market crash; best time to buy stocks   (Oct 6)
Nasdaq's Achievement Topples Stock Market Crash Argument  (Oct 5)
Stock Market Crash 2018; Another Buying Opportunity  (Oct 5)
Masses Trained to fear Market Crashes; why not embrace them?  (Sept 27)
Buy When the Blood in the Streets is flowing Freely  (Sept 13)
Dow 21K Predicted In August 2016 (Sept  9)
Minimum wage hike ignores the impact of AI; companies will opt for Robots  (Sept 8)
Should You Be Worried About Inflation Rate In 2017? (Sept 6)
Wage Deflation here to stay: Robots Replacing Workers (Sept 5)
Price of Copper Signalling Inflation or higher Stock Market Prices (Sept 4)
Rate of Inflation, not an issue according to Bond Market (Sept 2)
Worst Stock Market Crash of our lifetime; is this a possibility? (Aug 23)
Did the Fed Screw up in raising rates; is inflation even an issue  (Aug 10)